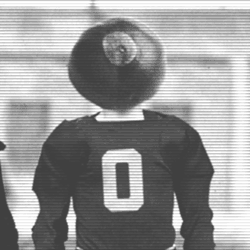 allbucksallthetime
---
MEMBER SINCE May 05, 2012
Recent Activity
One can only hope that is true. Go Bucks! Screw Blue!
DWright. You made my day! Thanks for your time and work. This is epic! Go Bucks! Screw Blue!
JSN had some eye-popping catches and games this fall. I'm very excited t see him in S & G. Go Bucks!cc
I'm very happy for Justin Hilliard! This young man has been through so much and just kept coming back. His play this year has been terrific. For Justin's sake I hope he can come back and be healthy next year. Go Bucks!
Justin Fields has far exceeded any expectation the staff or fans might have had for him this year. That 37-1 TD-INT ratio is amazing and his combination of size, strength, and poise/intelligence make Fields the ideal QB. Go Bucks!
Mike Valenti called them out on his Monday show about their complete and total hypocrisy in regards to Harbaugh and their football program. That link was posted earlier today and is worth a listen. Fwiw, it's about 13 minutes in length. Go Bucks! Screw Blue!
I agree completely. These three young men are maulers and have been terrific. We lose only Jonah Jackson and replace him with another young beast named Harry Miller. There will be no drop-off in my opinion. Go Bucks!
My hope is the Buckeyes kick the shit out of those rotten-rat bastards for eternity. Go Bucks! Screw Blue!
You make a good point but to me the difference in our WR's and theirs is Coach Hartline. Zone 6 runs crisp routes and competes like crazy for the ball when it is thrown their direction. I don't see that from them. Go Bucks! Screw Blue!
Best wishes to Coach Schiano. Maybe he can revive the rivalry RU had with those rotten-rat bastards to the north but beyond that it's gonna be touch sledding at RU. Go Bucks! crew Blue!
Year for what?! Coach Meyer was on the money wasn't he? Go Bucks! Screw Blue!
True BUT in _y world EVERY day is a bad day to be one of those rotten-rat bastards! Go Bucks! Screw Blue!
It would be a full-time job for me to list all the reasons I hate those rotten-rat bastards. May they never be relevant again and rot in their own arrogance. Go Bucks! Screw Blue!
Happy Thanksgiving to all! We all have much to be grateful for and this day serves to remind us of that. T-48 Go Bucks! Screw Blue!
The 69' game still haunts me! God do I hate those rotten-rat bastards! Go Bucks! Screw Blue!
My sentiments as well. Go Bucks! Screw Blue!
BOOM! Welcome aboard Miyan Williams. Go Bucks!
The 2018 TTUN recruiting budget: $1,397,784
Price of a B1G Championship Game Ticket: $80
Price of a Parking Pass @ B1G Title Game: $35
Those rotten-rat bastards never appearing in the B1G Title Game: Priceless!
Go Bucks! Screw Blue!
What an embarrassment to the NCAA and their archaic rule structure. Let's just hope this doesn't take long to resolve. Go Bucks!
Best wishes to Isaiah Pryor as he moves forward in his career. Go Bucks!
I'm very happy for Lovie Smith and his staff. They've weathered some big storms during their brief tenure and yet the Fighting Illini are playing good football heading into the November stretch. Go Bucks!
BOOM! Good grief is Coach Hartline ever killing it on the recruiting trail?! Marvin Harrison Jr. is yet another good young man who happens to be an outstanding WR prospect. Go Bucks!
That's such a shame for J.D. Johnson but best to find that out now than too late. Kudos to those rotten-rat bastards from the north for doing the right thing. Go Bucks!
My four greatest improvements include:
1. Penalties/greater discipline, which is especially seen in the lack of big plays the defense has given up thus far,
2. The 3 road graders we have in the middle of the offensive line continue to win far more battles than they are losing (Davis, Myers, and Jackson),
3. The very professional approach this staff has brought to Buckeye football (so many coaches now on this staff have been in the NFL; the polish and development on this year's squad is a reflection of that), and
4. The aggressive offensive approach. Go Bucks!
You are right about young men like Justin Hilliard making The Buckeyes great. While not a headliner, the character Justin has shown and his example of inspiration can't be over-stated. I'm very happy for him and hope he continues to earn time. Go Bucks!