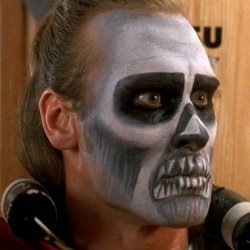 All Ok Jumpmaster
---
Afghanistan (via Dayton, OH)
MEMBER SINCE December 13, 2014
Favorites
SPORTS MOMENT: 2011 Wisconsin @ Ohio State, Miller to Smith Endzone Bomb, loudest I ever heard the Shoe, and it wasn't even close. Fortunate to have witnessed such a special event live. Go Bucks
COLLEGE FOOTBALL PLAYER: James Laurinaitis, David Boston
NFL TEAM: Bengals : (
NHL TEAM: Blue Jackets
NBA TEAM: TWolves
MLB TEAM: Reds
SOCCER TEAM: Juventus F.C.
Recent Activity
I wish he knew Buckeye fans love him, and appreciate him, and no one blames him for that last play.
I would not have a problem if they took Chase, keep Dalton, and tank again and get Lawrence.
I mean Jimmy G just said he viewed his ACL tear as a blessing because without it they wouldn't have gotten Bosa.
It's not like they tried to tank this year. They legitimate were trying to win. The dolphins were the ones that were supposedly going for "front Office tanking" by trading away all of their stars and accidentally won too many games to miss the first pick.
Joe Mixon is an awesome running back, and AJ Green is a beast.
I would take Chase Young 1st and offensive lineman / next best players on the board.
I would pay Mixon and Green and sit them next year, keep Dalton / Finley, lose all games, draft Lawrence, win the Superbowl. FTMFW
Some were "speculating" he said that because Gold Star is actually the "official chili" and long-time sponsor of the Bengals, soo he was being strategic...
I wont even be surprised if they take some random corner out of Oregon state or some dumb shit...perhaps the guy that runs the fastest forty time at the combine.
Random ones I seem to say all the time.
"Hold on to your butts" - Jurrasic Park
"When someone asks if you are a god, you say yes" - Ghostbusters
Welcome to 11W, where anything you say that might even be the slightest bit disparaging to OSU even if true get your downvoted until you are gray.
Everybody and their mother, including the committee, stated pretty clearly the reason LSU was #1, and that was the way they handled Georgia and that OSU had some adversity with Whisc
You may think that is bullshit like I do, but that is the reason they moved LSU up to 1.
Assault is not physical, Battery is the physical component. Assault is simply the threat of harm.
You dont need physical contact to assault someone, it is just an often misconstrued term because always yell "assault" when they have been touched.
The door is wide open for Day and the Buckeyes to make a run.
i'm sorry bros, i tried but i cannot do it. Good luck to you all, go Joe.
Listening to Haff on the coach feed makes me sad. Fingers crossed we at least get Coombs.
The whole "Clemson winning is better for OSU because it makes us look better" is trash right?
Id prefer to root for LSU because I mean the obvious:
1. Joe is an Ohio guy, former Buckeye, and possibly a future Bengal.
2. Fuck Clemson, fuck Dabo, fuck sunshine.
The only argument for rooting for Clemson would be that if they house LSU, OSU fans could feel better about our team since we basically were the better team on that field...with that said it could even be more painful, as in it should have been us and we could have been champs....if LSU blows Clemson out than maybe we can find solace in wondering if we would have had a chance and then, can feel better about the whole situation.
Im just trying to find the best way to cope with the still horrible pain from our loss
I guess when I heard this my first reaction was not so much I hope someday Vrable coaches for OSU, which I wouldn't hate if ended up that way, but more so, I was surprised to hear a successful NFL coach say, his ultimate dream was to coach his alma mater. I get that OSU is a special place, and certainly a cream of the crop program, but you dont hear too many guys in the NFL at the top of their game saying they dream of one-day coaching college again.
was Burrow ever rumored to be going to Florida instead of LSU, I cannot remember back that far?
Either way, dude needs to be put down the app for a while lol
Damnit Jeff, why did you have to go to BC, of all places, fuck.
at least we got some bucks on Houston
How / why the fuck did Bama not run DH more against us OSU in 2014? Even when they did, he ran on us...so strange, but no complaints here lol.
Rocky 4
Terminator 2
Predator
Black Hawk Down
Band of Brothers (series)
Saving Private Ryan
Under Seige (1&2)
Top gun
OG fast and the furious
Rudy (fuck off, dont want to hear it)
Ace Ventura I and II
Jessup wasn't wrong, but the code red wasn't supposed to kill the guy.
wow, I never heard that before, I wouldn't be surprised if it were true though. I've been around that type a lot in my sports and military career
Does anyone know if any of the alternate feeds are going to be streamed?
unsure how I am supposed to feel about this...
Do you mean like where a person was actually "flatlined" or "dead" or just a moment where someone came close enough to death to experience the life flashing before your eyes type deal?
That 1.5 seconds the ball was in the air on the last play of the game, what do you call that? LOL. Either the greatest moment of all time or the worst moment of all time and the anticipation condensed into a 1.5-second window.
I'm still not over it. It might be my most upsetting moment with 2010 Wisconsin, and 2015 Mich State.