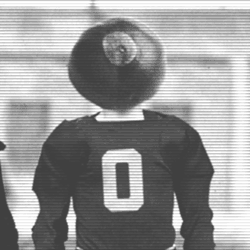 Alex Ranttila
MEMBER SINCE May 09, 2016
Recent Activity
If you've ever talked shit about coach Stud comment below and eat your crow.
I honestly think he might have had a stroke at some point in time.
What year are you living in, friend?
Don't get your hopes up because Milton is fine with a second RB no matter who it is. He see's it as a plus getting Evans.
This isn't a one or the other type thing though. There is no correlation between the receivers we bring in and Bijan coming here. I know you're attempting to find a silver lining and I appreciate that, but it makes no sense.
Watch Le'Veon high school tape. He wasn't very good. I think he was just the latest bloomer of all time.
I think the problem with Browning is he lacks the instincts that you need at LB. He gets lost a lot. I hope he figures it out because he's a heck of an athlete.
Food for thought: QBs block for themselves when they are as talented as Haskins. Punishing teams when they blitz makes them drop LB's in coverage more. Getting the ball out quick instead of hitching 4 times in the pocket helps you avoid hits and sacks. I think not having JT back there is what made a huge difference.
Robinson is a more athletic Leveon Bell
Impossible. When you talk to a coach at a powerhouse school with a lot of talent, you ask them who you should be looking at. They will give you the names.
I played against Fitzgerald Toussaint in high school. We had a good (and better) team and our defense was pretty tough. We shut him down and I think he went for 250 yards. Dude was really good. We probably would have beat them by 35 without him. They beat us by a few points with him.
I'm very happy with Bijan. I think he's dynamic. Especially after watching his routes at The Opening. I think his ceiling is the roof.
That'd be a nice birthday gift. I would accept.

I Ike the optimism and I hope you're right, but Rondale Moore is a generational talent.
Yes, it is all fake and pretty easily done at that.
Sure. If you look at that account the (Bol fan account) it has like ten total tweets and one of them is drumming up support for one of the the troll account. The person who runs the Bol account and CFB account are clearly the same person.
https://t.co/OXluGqVb6z Its attributed to you as the source... and Bleacher report

— BOL BOL 2019 ROY (@basketbolszn) June 22, 2019
Fake as well. I pointed it out earlier in the thread but people were eager to DV me.
I'm from the tinder dating era. I've had to dodge catfishes in my prime. My internet sleuthing is second to none. I'd love for this to be real, but I had to be fair.
Yall really lying on bro name he aint say that, he did what he had to do now let him be https://t.co/eVEnyirIO4

— Ricks (@Eliasricks2020) July 1, 2019
Here is Elias Ricks calling out that account for lying about the Bru Mccoy tweet.
No. Nothing was ever tweeted either time. It is all photoshop and a twitter account that spreads fake next to either troll or gain clout. Even the facebook comment from his sister is a photoshop job. The bio literally says "meme page".
This account did a fake Chris Steele transfering from USC too. Good photoshop jobs, but a bit heavy handed at times.
This is a troll twitter account.They did this to Bru Mccoy too. They photoshopped a tweet saying he made a mistake and wanted to go back to Texas. Don't believe everything on the internet folks.
I would guess Mohammad Sanu, they are like family and from the same area.
He still woulnd't beat Goodwin.