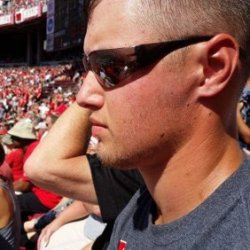 AJHawksGoldenlocks
---
from Delaware ,Ohio
MEMBER SINCE January 06, 2018
Favorites
SPORTS MOMENT: 85 yards through the heart of the South.
COLLEGE FOOTBALL PLAYER: A.J. Hawk
COLLEGE BASKETBALL PLAYER: John Deibler
NFL TEAM: Browns
NBA TEAM: Cavs
MLB TEAM: Tribe
Recent Activity
80% ft shooting and six turnovers that is how you win basketball games
"Thomas checks in at 6-foot-5 and about 220 pounds so he's definitely a player who could grow into a pass-rushing specialist" Umm yes please. You can never have enough pass rushers.
That pi was bullhonky.
Good thing they don't throw to the Tight End in the NFL! Jokes aside. Good luck in the NFL Coach!!
Choosing the right coach for the o-line, wether it is retaining coach "Stud" or hiring someone else will be critical to the sucess of Ryan Days teanor. As coach Meyer liked to reiterate The oline is the life blood of the program. We have all seen what it has done for the program to have coach Johnson on the other side of the ball.
The silver bullets were shooting blanks all game
Purdue fans might want to avoid The "Smooth Jazz" bar
I wonder if that is a function of not developing a third rb. Maybe they just dont trust the young guys in pass protection. If we are going no huddle it woukd easy to wear out jk and webb with nobody to spell them. Not to mention the depth at wr.
Yeah it would seem to make them more vulnerable to screens as they were playing off the line.
I agree on that one. With one caveat, it seems to me that Ohio State does have a diverse set of blocking techniques especially for a college program. That is why our o-lineman are preferred in the draft. However your point on having to practice another blocking technique is still valid whether or not we already practice few or many techniques. In fact it is more valid if we already have a diverse set of blocking techniques. And would make more sense.
I think that is it in nutshell. Consistency, doing your job on every play. 11 guys on the page every play.
The plan is destroy them so Tate can play in the second half. I'm sure we will see him early in the game. Red zone, possibly another series with him and haskins at the same time
80 yards through the heart of the south. So beautiful
42-7 at half. Tate plays most of the second half
I think it is more a question of consistent accuracy/ball placement. Probably more of an mechanical problem then a lack of physical ability
I think that has as much do with the fact that Tressel always seemed to have a good kicker, Like Nugent. We really have not had a good field goal kicker under meyer
Integrity- which I will define as doing,the right thing when others are not watching. I beleive is what ultimately will determine the success of this season. Or more specifically the degree of sucess of this season. Both individualy and as a team. Some things most certainly are not going our way as a program. But that is part of life. There is still work to be done, responsibility to be achieved. Yes it is a difficulty. But also an opportunity. An opportunity for people to lead. Coaches as well as players. In practice and off it. Verbally and in action. When the pressure hits you find out what you are made of. The World is watching. The pressure is on. What are you made of Buckeyes?
I dont mean to egg you guys on but these puns are great. If anybody thinks Bob Evans is not delicious, well I bagel to differ. Hopefully the defense hangs alot of dounuts on the scoreboard this year. With Bosa on the field these big ten qbs are toast. Hoepfully a go to wr steps up this year to get us out of a jam.
Well that escalated quickly
Shout out to,all the retirees for keeping Bob Evans in business. Love me a border scramble.
He is one of the best if not the best to ever play the position. How many times did he take an interception back to the house. Granted it was against my Browns often. But still have to appreciate greatness
Iowa, Illinois, Indiana- yes please. ichigan- blah. Ichigan state- looks great in white. Purdue- good. Northwestern- kill with fire. Ohio State no thanks. As for the rest, I've seen worse.
Ed Reed looking like a homeless uncle Drew
Went to get some water