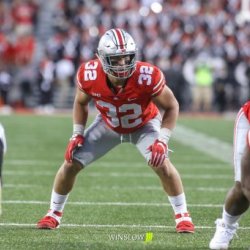 AJBor41
Plain City (via Circleville)
MEMBER SINCE February 10, 2012
Favorites
SPORTS MOMENT: Watching Miller hit Smith in the endzone against Wisconsin in 2011 with my wife and friends... Sylvester's game-winning shot against undefeated Illinois... Smith to Gonzo in Ann Arbor in 2005...
COLLEGE FOOTBALL PLAYER: Current - Tuf Borland / Jerome Baker
COLLEGE BASKETBALL PLAYER: Current - Whichever one shows some effort in 2017
NFL TEAM: Cleveland Browns
NHL TEAM: Columbus Blue Jackets
NBA TEAM: Cleveland Cavs
MLB TEAM: Cleveland Indians
SOCCER TEAM: USMNT
Recent Activity
My exact list too... (assuming I don't "cheat" and bypass a WR to get Vrabel AND Bosa)
Looked at some online lists of who other people had ranked as OSU's top DL and QBs ever... then put it to paper. No bad choices, and lots of damn good value in these lists!
Not enough to go around... a testament to how good this D has been over the years.
True story: I attended one of those meet & greets in The Shoe back in the day and my friend's grandpa pointed us to a freshman sitting with his buddies and said, "Go get that guy's autograph." We walked over to him, asked, and he signed, but not before saying, "Lots of better players here today, you sure you want this?!"
Pretty glad we got Shawn Springs' signature that day!
More than 6 people, but a damn good roster on a budget.
In today's game, Jack might only be on the field for a quarter!
That's the only reason I didn't include them. Figured almost everyone would dish out the $5 for Pace.
My own (somewhat against the grain) picks would be:
QB – $1 Braxton - As many have noted... that's a huge steal for all that he can do.
RB – $3 Zeke – Considering the output in his last two years, I'll gladly fork over the $3.
WR… pass. Did you see my QB/RB? No, thanks, I'm running.
DL – Here we go… $5 Mike Vrabel AND $1 Joey Bosa. That pair on the ends. Game over.
LB - $5 Chris Spielman. GOAT.
DB - $3 Winfield. Best pound-for-pound DB at locking up the run and pass.
There's would just be a photo of Tom Brady with ($15) beside it.
There were so many of those... Braxton, Jenkins, Bosa (shrug).
Tough Impossible to pick a bad team.
I think you mean the BGSU INT in the 2nd quarter, right?
Thanks. Wondered the same.
Stay healthy and perform as a senior and he'll be playing big time ball somewhere.
True, though a Hilliard Davidson alumnus definitely earned a football scholarship while on campus!
Please drop to 12. Please drop to 12. Please drop to 12. Please drop to 12. Please drop to 12.
Stick with what we do best: use our 3-headed rushing attack to slowly beat them into submission, while utilizing our short passing game to frustrate them. If that doesn't work, have Cam pin them deep in their own territory and let the Bullets do their thing.
My fear with doing what you suggested is that we're essentially telling the young men that we don't have a lot of faith in what they've done all season to get to this point in the playoffs. If the "new plan" doesn't work, we've shot ourselves in the foot. Just my $.02