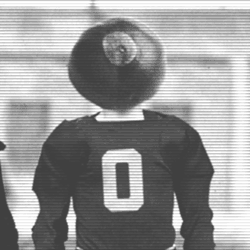 airborne082385
---
Member since 22 December 2012 | Blog
Favorites
COLLEGE FOOTBALL PLAYER: Braxton Miller
COLLEGE BASKETBALL PLAYER: Laquinton Ross
NFL TEAM: Baltimore Ravens
NHL TEAM: Washington Capitals
MLB TEAM: Baltimore Orioles
SOCCER TEAM: USMNT
Recent Activity
Thanks Birm always on point!!!
I swear to God FSU is the luckiest damn team alive. Tipped 3rd and goal pass caught for a Touchdown!!! FSU is going to win again.
Gordon deserves the Heisman!! What a performance today.
Funny thread, if we had lost the game on the muff i.e. Philly Brown in the Orange Bowl everyone would be singing a different tune. I do believe however Jalin is an upgrade on Dontre provided he can hold on to the ball.
Also, Jalin has muffed continous punts this year and the coaching staff continues to allow him to field punts. It's one thing if you have a Jacoby Jones type Kick Returner and P/R who actually take kicks to the house however neither Dontre nor Jalin do this. As some of the other posters have stated put Devin or Evan back there.
Jalin Marshall doing his best to keep us out of the playoffs today!! Dude cost us 14 points at least. Now we have a 7 point win.
I agree man all these big time recruits and were running the damn zone reads and OB Runs the whole game. Shit you watch a Bama game you watch them get their play makers in space etc. Its said this game is a mirror image of the Michigan State game last year.
For the life of me I cannot imagine how someone would DV this post. Maryland is garbage as was Kent State and Rutgers while talented has an extremely undersized DLine. Our OL when faced with a somewhat competant pass rush is garbage.
I think its more our OL is really that atrocious with regards to pass protection.
This team is awful that is all!
Not condoning the fan by any means. Mr. Smart is a kid at the end of the day however from the link above it looks like he is a liar. You can clearly hear at the 20 second mark that Mr. Orr calls him a "Piece of Crap". Marcus immediately begins moving towards the fan then the rest can be viewed on ESPN as back away no racial slur was uttered. There is a multitude of audio equipment below the basket as well as the outcry by fans around Mr. Orr if he uttered a racial slur. I think its a big deal Marcus uses a lie about a racial slur lie to condone his behavior.
Amir actually looks like he wants to play today!!
Jamal Marcus playing like a stud way to step up kid
Figured Minnesota would take DT at 52 with the pre draft workouts etc. No biggie here's hoping DT at least gets drafted.
Props for the Natty Boh Profile Picture. Boh's and O's bro!!
"The Wire" was epic transforming Baltimore Maryland into "Bodymore Murdaland" great series!!!
I don't understand the disdain for Maryland. They have a National Championship in 2002 in Basketball and another final four in 2001. Anyone else watch them this year they just missed out on the tourney and beat Duke twice. Additionally they are on the rise recruiting wise with Turgeon in a super rich area of talent. They are a powerhouse in Men's Lacrosse as well as a women's Natl title in 2006 in Basketball. What does NW, Iowa, etc bring us in Basketball same argument. As for Rutgers I got nothing.