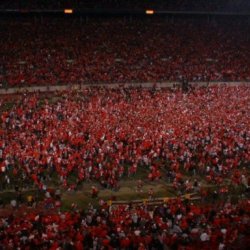 AgriBuck08
---
Akron, Ohio (via Bethel Township, Ohio)
MEMBER SINCE October 22, 2014
Favorites
SPORTS MOMENT: 2006 Michigan vs. Ohio State Game
NFL TEAM: Browns
Recent Activity
I agree. I think ratings play into the committee's decision quite a bit. I think that could be the tipping point of putting OSU in over Alabama.
How's the ol' Miami Valley Centre Mall? I used to work there back in the day.
My parents love Loretta's! The pie!
One of my favorite articles every year DJ. Your commentary is the best!
Ramzy always brings the wisdom to keep us in check.
Love this! Favorite part of the video was Kevin laughing and repeating the guy who said "Hopefully at a bowl game."
Great article giving Tyvis the credit he deserves. Always rooting for him!
What a cool freaking dude.
You still have a week to get divorced.
Love #1 obviously. But #9....Still gives me goosebumps. Amazing 8 yards.
Harbaugh said on the Dan Patrick Show how his team drinks 2% and whole milk. Then Dan Patrick said that Urban drinks 1% and Harbaugh said ""We refuse to drink the candy-ass skim milk" also he has tweeted about FairLife milk.
From the University's statement:
"The restoration also supports the university's compelling interest, shared by student leaders, in seeing the recent practice of a Mirror Lake jump ended."
Child rape is a little different than "Hey I saw Bob stealing some post-its."
100%
Accountability. Make people accountable for their actions or lack there of. These poor innocent children.
All the upvotes for you!!
I am really trying not to get my hopes up, but it would be goddamn glorious if Lebron and the Cavs win on Sunday.
I read this morning that it was Andrew Forbes, son of minority owner Nate Forbes.
Sorry didn't see the above comment until after I posted!
I am worried about the "past college age" people that already act like assholes at games. I suppose assholes can always find ways to be assholes though.
After checking back, I realized your comment wasn't directed at me. Sorry for the defensiveness!