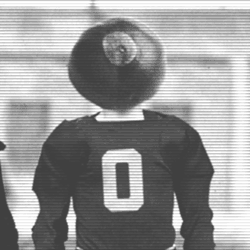 AGAB
---
MEMBER SINCE November 01, 2012
Recent Activity
Totally awesome !! So pleased and proud !! Congratulations Jordan !!!!!!!
All I can state to the Clemson faithful is the name of one of Ohio's most venerated sons, William Tecumseh Sherman. Enough said !!!
BTW- My favorite 11W t- shirt is the one with Sherman's picture. I love wearing it in Ala, Ga, and SC !!! Lol !!!
Ohio State University's "But For Ohio State" fundraising campaign is ending with a record-breaking tally of more than $3 billion.
University President Dr. Michael V. Drake announced the total -- $3,004,563,961, to be exact -- to key donors Thursday night.
The campaign had already blown past its goal of $2.5 billion in December. Once that happened, Drake set his sights on that nice, round "3." "It was a goal that I had for them," Drake said after speaking to the Columbus Metropolitan Club about the campaign on Wednesday. "Only a handful of educational institutions have achieved that in a single campaign."
It is evident that individuals and organizations with real $ have appreciated Dr. Drake's leadership. I seriously doubt that Ohio State would have received record breaking donations if there was so much distrust of his leadership. Congratulations to Dr. Drake on his upcoming retirement. He has certainly earned it, and the accolades that accompany it.
I don't have a grudge with Joe for leaving. It was definitely the prudent choice to make, however, It is where he chose to enroll that is problematic. I detest, abhor, and hate all things SEC. Unfortunately, Joe has resurrected an SEC dinosaur that poses a threat to my beloved Buckeyes not only for the Heisman, but also for the Natty. With that said, honestly, if he was anywhere but an SEC school, I probably would not be as salty with his achievements. But we have an Ohioan, and a Yankee, delivering success for the South. I think our venerated native son, WTS would be roiled.
Hoosiers will give TTUN a tussle next week !
Oops ! I am on the wrong site ! I did not realize I was on Tiger Droppings. Sorry, my fault !
Thanks, Skunk Bear Blood for the best JF post ! We are fortunate to have JF and his family as Buckeyes !
Geaux Jeaux ! I am a believer ! Actually, he should probably thank UFM, and RD, for selecting Haskins as the starter last year. Since he is now in the SEC, he has a much better chance to win the Heisman, and the Natty. Some may recoil at that statement, but given the media bias in favor of the SEC, it is not implausible. Many sports talking heads have already speculated that LSU could lose on Saturday, and still be selected for the CFP.
Good comments from I'm Ron Burgundy !! I am also expecting nothing but SEC and ACC bias from the CFP Committee. I will be totally shocked and surprised if the rankings are to the contrary.
Congratulations Jordan ! Wishing you much continued success in all facets of your life !
Since I live in metro ATL, and am very familiar with SWD's great athletic tradition, I am truly excited about this commitment.
Congrats to Coach H ! Welcome to TOSU Eugene !
Great achievement !!! Congratulations Buckeyes !!!!
Must be a slow sports news cycle ! This story is not even worthy of a post on this site. Most fans don't even remember the guy. I could understand if this was a former Buckeye star. Life happens, sometimes positively, and sometimes negatively. I prefer to focus on the upcoming pro day for our current stars, rather than on the post football misdeeds of some irrelevant former player.
Excellent achievement !! Congratulations Antwuan !!
Thanks for acknowledging the courageous contributions of those two Buckeyes !!!
The Beanie and Boom Podcast is awesome !! The commentary is always refreshingly candid, and it provides a frank perspective that we seldom hear from former players. There is no walking of "the company line". One insightful sentiment is seemingly always apparent, Tress is still truly loved and respected by his former players. Check out the podcast ! There are 11 archived episodes. Go Bucks !!!
Sorry, I still miss Coach Coombs !! KC was so awesome ! He built such a great legacy here, and now it is languishing. I was hoping for a more splashy confidence inspiring hire. I am taking a wait and see attitude but, for now, I find this hire somewhat blah.
Good luck and best wishes for a very successful NFL career !!!!!!
Whew ! Thanks ND ! Looking forward to the Rose Bowl ! OSU has never beaten Clemson, and I am not sure the result would have been different if we were in over ND. GO BUCKS ! BEAT UW !
Tired of supporting the lame B1G ! SEC SEC SEC !!
Clemson is the site of a former plantation. That fact says it all. Go Irish !!
It would be a terrible mistake for DH to return. With the core of the receiver corps and several key o linemen leaving, it will be difficult to replicate this year's level of success. Frankly, fans are fickle, and I don't trust the fanbase to be supportive, if DH returns and doesn't meet or exceed this year's numbers. I remember the negative comments that were posted on this site during games this year. Why should he return and once again be called everything but a "child of God" ? This was the best passing season in the history of OSU football, and the likelihood of duplicating it is slim. I am thankful I was able to witness his amazing record setting season, and wish him fame and fortune in the NFL.
Very impressive !!!!!! Congratulations Jordan !!! Buckeye Nation is proud of your accomplishments both off and on the field !!!