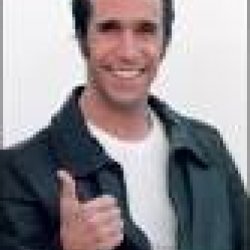 Afonzai
---
Ohio (via U. S.)
Member since 14 July 2014 | Blog
1994 OSU Graduate. Navy Vet. Love the Buckeyes.
Favorites
SPORTS MOMENT: 2015 National Championship Run
COLLEGE FOOTBALL PLAYER: B B Landers
COLLEGE BASKETBALL PLAYER: Dennis Hopson
NFL TEAM: Patriots
NBA TEAM: Cavs
MLB TEAM: Reds
Recent Activity
Why are you looking to spoil a surprise. I want no part of this.
I hope these comments make you feel better about yourself. Didn't mean to single you out, plenty of others.
Yes, yes and yes!
I actually said to my wife last night, Hubbard's stock went up, when she said something to the effect he was a beast.
Wondering if anyone else out there heard the interviews and came away with same thoughts.
Haverfield my freshman year 1990. Lots of memories. I dont believe it was coed back then, but next door were the ladies.
I agree with your feelings but don't think I can pull for TTUN.
Maybe I will actually be productive and get something done on New Year's Day.
Then they put 2 B1G schools at 5 and 6 to ease the pain and make you feel better.
And what is going to be said if we don't?
Point being. Win, we are in. If not, consolation prize...Bama in NY6
I don't believe there will or should be 2 teams from one conference...ever.
I like your thoughts C-town and have similar feelings about Jones. My additional thought is- QB is the position where I believe full buy in and decisiveness is crucial for success. Not sure this is the guy, because of his indecisiveness. Don't think I want him leading my team.
Yes, Please let's be real here, "Dude". It's a college football game and we lost and It sucks. Think about every other team in the country, less a handful, who do not have the year in and year out success that we enjoy. Entertaining, I would bet most of the country was entertained watching the Buckeyes get beat handily, just as I would enjoy watching Bama or TTUN get whooped on primetime.
That's disappointing. Love them only when they win? No dv, but ...
My theory, the qb competition between JT and Cardale in'15. Both of those guys were and played afraid of making mistakes and It carried over.
Is a Juco transfer treated the same as a recruit coming out of high school? We have had attrition, can't he just transfer in. Sorry, i don't know the rules and regs on Juco transfers.
" OSU never gets to play the underdog role." What was the 2014 season B1G championship and playoff run?
I have been wondering for some time... Do coaches and recruits sit on announcing commitments as a strategy to get other recruits or keep other coaches/teams guessing? Example: Coach 1 wants high profile recruit A, who is being recruited by many high profile schools. Said recruits wants to play for coach 1. Does coach 1 ask recruit A to delay commitment announcement in order not to scare away recruit B and/or keep other coaches' hopes up that recruit A may commit to his team? Ethical? Good strategy? Trust between the 2 parties? At same time, getting a huge commitment early helps further recruiting. A lot of scenarios to strategize where and how to recruit I assume. Just curious...thanks.
Kickoff returns are pretty rare for OSU for 2 reasons... 1. Opportunity- not a lot of scorings on or defense. 2. Touchback- opponent's coach knows our talent. Now the punt... there are lots of opportunity but we have struggled just catching the ball cleanly to make a return. Bright side - Pick 6 a plenty.
I also thought he (Dylan Thompson) had a medical issue and was taking a medical hardship...if I recall correctly that came out before this past season. Could have been someone else, but that's my recollection.
Ever heard of Renaldo Nehemiah? Pretty sure he was a world record holder in hurdles before playing in the NFL.
According to reports he was already hired. That being said however, he was making some serious $ from OSU which in my book would be an obligation to work my tail off till the job is done.