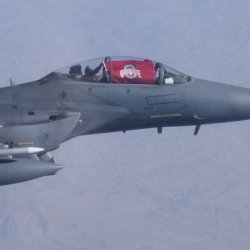 aeronaut
Athens, AL (via Lebanon, OH)
MEMBER SINCE March 26, 2015
2005 Graduate Ohio State University School of Engineering (AAE)
Favorites
SPORTS MOMENT: Watching Cardale Jones incinerate Wisconsin in Lucas Oil Stadium
COLLEGE FOOTBALL PLAYER: Eddie George
NHL TEAM: Nashville Predators/Columbus Blue Jackets
MLB TEAM: Cincinnati Reds
SOCCER TEAM: USMNT
Recent Activity
Because FOX didn't have the first pick for B1G games this weekend
Last time he was on the ISS was 2011
I think this one is an age thing as well. In college I was in the Family Guy camp, but as I grew older and my humor more sophisticated I realized Futurama is the one true king
They've only had a 5 years heads up... who could have possibly seen this coming
It absolutely doesn't. Think about how much Rondale Moore is worth on Purdue's team vs how much he would be worth surrounded by the talent in Columbus
Why would anyone have gone to McDonald's when Flying Pizza was right there?
I'm not sure there is a worse insult you could have hurled at Mr Connelly....
Chase Young was notoriously bad at over pursuing his freshman year as well
Are you unaware of how sports lines work?
Last week was not much fun? Were you watching the same games I was?
He says being an assistant coach or a coordinator at Ohio State is better than being a head coach at some programs.
Paging Mr Hafley
Real football has a great game tonight between Houston and Tulane

There are several personal favorite sax solos that I am patiently waiting for
Careful on your Charlotte slander.. they were the top ranked defense on Clemson's schedule (using total defense, which I admit is a flawed statistic, but go with it for the humor)
You have lots of bad takes on this website.. but this takes the cake
All students at UC pay an "atheletic fee" added on the cost of tuition. Nothing is free
If you don't want the students that attend the game to pay, you have to put it in a student fee that all students pay instead. That seems pretty unfair to those who don't care about football
What? Student tickets haven't been general admission for more than 20 years
They ran "4 Verts" at least twice, once was in the 4th quarter though. Neither time resulted in a completed pass
Its only used if the player has already earned his degree
Saban isn't going to beat a coach he respects by 5 TDs. Tua will be done after one drive in the 2nd half and the benches will be emptied in the 4th quarter
He's not picking against them