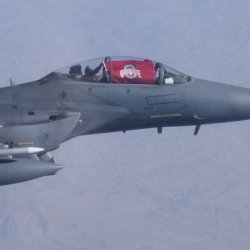 aeronaut
Athens, AL (via Lebanon, OH)
MEMBER SINCE March 26, 2015
2005 Graduate Ohio State University School of Engineering (AAE)
Favorites
SPORTS MOMENT: Watching Cardale Jones incinerate Wisconsin in Lucas Oil Stadium
COLLEGE FOOTBALL PLAYER: Eddie George
NHL TEAM: Nashville Predators/Columbus Blue Jackets
MLB TEAM: Cincinnati Reds
SOCCER TEAM: USMNT
Recent Activity
I've bought several electronics from Unclaimed Baggage. Everything is wiped clean and factory reset
People think I'm joking when I tell them The Wiggles and Yo Gabba Gabba Live are among the best concerts/live events I've ever seen, but its legit
I'm getting 415... 45-25-45-25-25-10-10 for the plates on each side
I still have my unused ticket for this game. I decided to work an event at home instead of drive to campus. I have regrets
I'm not sure Deans of the College of Engineering have any say in how the basketball team operates
Your opinion is the correct one, but the opinion expressed by Gene Smith in his press conference listed a whole bunch of people he would include, and students weren't on the list
Sophomore year I got a job re-shelving books in the stacks.. amazing how desolate some of those floors are
I was very happy to see the weird spaceship attached to the west side of the building demolished. The new look is so much more appealing and more practical as well
That is contractually obligated, there isn't much you can do to change it
No love for Ohio State opponents Miami University and the FAU also gunning for championships this weekend?
That happened in Ohio, and in my home town.
I doubt he's on the travel roster
Are you under 12 years old?
I would be perfectly fine with their justifications if they didn't brazenly contradict themselves from year to year
Except that isn't at all what they voted on. They voted to "consider updates" to rules surrounding compensation for name, image and likeness for college athletes. This hasn't changed anything yet, and they still maintain the bill that California passed isn't legally binding to them.
Because FOX didn't have the first pick for B1G games this weekend
Last time he was on the ISS was 2011
I think this one is an age thing as well. In college I was in the Family Guy camp, but as I grew older and my humor more sophisticated I realized Futurama is the one true king
They've only had a 5 years heads up... who could have possibly seen this coming
It absolutely doesn't. Think about how much Rondale Moore is worth on Purdue's team vs how much he would be worth surrounded by the talent in Columbus