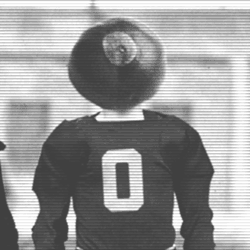 aerobuck
---
Member since 03 March 2014 | Blog
Recent Activity
not true. for some people there is only one standard... whatever makes me feel good.
what you got against effective offense?
but that's what he wants to believe, so it must be true.
I come here every day to see if there are any new bball threads. Unfortunately i don't start any threads myself. Need someone to act as the fire-starter (campfire analogy, not fire the coach). There are so many football recruits to keep up on in the off-season... right now we are in a dry spell for bball because of timing. somebody that is more knowledgable than me could start some threads on:
- Holtmans's preferred offense
- Holtman's preferred defense
- what type of player is Holtman looking for?
- clips from past Holtman games
- how is recruiting being divided up?
- comments on this season's opponents
- posters bball experiences while growing up (playing or watching)
- all time OSU bball 1st, 2nd team
good choices abound for Jeremy.
does Tyreke have the frame to play DT effectively or is this Jashon Cornell v2.0?
understand where you are coming from, but going forward I expect a major upgrade in talent. Hard-nosed, scrappy, unselfish are all good, but talent is the difference maker. Holtmann's staff called OSU a "monster" for a reason.
looks to me like he is raising his hand after fouling. the ref in the background has called something.
OK as long as it's not a "dumpster fire".
IMO coach of the year is given to the coach who does the most with what he has. I don't like that, bu thats the perception.
Joey Lane? Have you lost your mind?
makes sense. Matta's recent teams have been (e)mailing it in anyhow.
"We cannot catch a break."
This makes it sound like our problems are just bad luck.
and some coaches are great despite not having first rounders.
yep, those NBA 1st rounders make Thad a great coach.
maybe Urbs was channeling his inner Bazely.
someone forgot to tell the volleyball, wrestling, and tennis programs that they can't be top notch at a football school.
which program looks better now?
How would he fit in the roster in two years?
Already have Wesson, Potter, Funderburk, and Bazley at 4/5 spots. I guess there could be room for another big.
Matta team with an NBA first round pick = good.
Matta team without an NBA first round pick = not so much.
Exception I can think of is the Dial/Foster/Sullinger team.
Matta will start Potter at the 5 spot next year. Write it down. Cripes he started Potter ahead of Thompson this year... and Thompson may have been the most improved guy on the team.
maybe it could read "getting talent to play together wins".
it's not a coincidence that the best recruiting teams finish near the top.
I expect that OSU competes at a level that results in finishes in the top half of the B10 every year, with an NCAA invite almost every year.
Every coach at OSU since Taylor left has had a brief level of success... Miller, Williams, Ayers, O'Brien, and Matta. Eldon had some unbelievable talent (mostly in-state), but he didn't maximize it. Nevertheless we were in the top half of the league until the year he was fired. If Gary Williams had stayed we would have been a perennial sweet 16 team. Ayers success was the result of Williams laying the foundation (led by in-state stud Jimmy Jackson). O'Brien got us to the Final Four, and after he finished in the lower half of the B10 in back-to-back seasons, he was fired.
Matta is more the rule than the exception. Back to back lower half of B10 finishes, and he's gonzo, like the rest were.
I don't think Funderberk gets many minutes at all. Tate and Diop are your starters, with A Wesson first off the bench at forward.
Disagree.
Playing with effort, yet losing is not acceptable.
Effort is non-negotiable. Add talent and coaching to effort and you get what we should have.