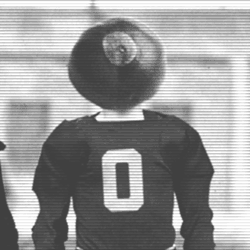 aerobuck
---
MEMBER SINCE March 03, 2014
Recent Activity
and he will share carries with Pryor. Isn't that the plan according to all involved?
well we get to see if "old and small" wins.
Young, Sueing, Liddell, Walker, Muhammed are your starters.
Dude was a level above everybody else in the Ivy League...
and the B10 is two levels above the Ivy league. Pump the brakes.
Virginia's top minutes in NC game:
Diakite 6'-9" 25 minutes
Guy 6'-2" 45 minutes
Hunter 6'-7" 44 minutes
Jerome 6'-5" 42 minutes
Clark 5'-9" 33 minutes
Key 6'-8" 29 minutes
In addition Jack Salt, who didn't play much in the game against Texas Tech, but helped get UVA to the Championship game, was 6'-10". He played 34 minutes against Purdue, of the B10, in the Elite 8.
OSU will not be successful playing Liddell at the 5 spot in the B10. I understand how small-ball is popular now, but going through the B10 wars with 6-6 or 6-7 guys in the post is going to be a problem.
Liddell is not a 5. Young is probably going to get most of the minutes at the 5.
in-state legacy... turning Etzler away would be a high risk game.
of course it works out. It's how it works out that is the issue, at least with me.
both coaches complaining about the officiating. Turgeon comments are obvious, Holtman compalining about flops as well.
so we take the worst of two worlds... our TE keeps another WR off the field, and also keeps another OL off the field, so that we can not throw to the best TE recruit we've ever had.
have you seen Diallo play? you can answer your own question.
I know what the poster said... why can't we get a bigger post player? Other teams do it.
Holtman is going to need to earn his salary next year. Going to war in the B10 with a 6-8, 6-6, 6-6 front court will be a huge challenge. Hoping Gaffney does his work in the off-season. He has the height and length, but needs to be much stronger. Diallo needs another two years of learning the game to be a factor.
whats the issue with signing a bigger, more athletic Kaleb Wesson?
How about "what coach Holtman needs to do"?
This team is short on talent, and there is nothing that can be done about that now. However, going forward, if coach can't construct an effective offense that can shoot, run some sets, and not turn the ball over, maybe he needs to go the Matta route and get some D'Angelos on the roster.
but somehow its OK to play 3 vs 5 on offense.
Kaleb picked up his second foul at the 7:30 mark. Score was 15-15. (I don't even want to talk about what CBB has become). Anyhow we get outscored 23-5 with Kaleb on the bench. We have no size right now. Young is not a 5, and Diallo and Gaffney aren't ready. Maybe they will be next year. Diallo probably needs another two years. If Holtman wants to play small... 3 guards, he better get some quality size to go with them. Real questions about his roster construction.
I'm guessing NBA isn't in the cards because Kaleb doesn't have what it takes. He's a good college player, but not NBA material. He goes to play in Europe, or somewhere else.
our selling point is "if football doesn't work out"?
did he get the dunk in a half court set? Hope so, because there are no fast breaks at OSU... it's against the school bylaws.
I so enjoy articles about the bball team that start with harping on Kaleb's and Andre's defense. We struggle to score n 60 points in a game. and somehow the problem is with the defense.
Holtman needs to phone up Knight and ask how to install a half-court offense.
Andre Wesson is not B10 quality. Nor is Ahrens or Jallow.
top 5 positions by need:
1. RB
2. CB
3. another CB
4. DT
5. OT
you are wrong here sir... there is a Saturday evening square dancing group in Iowa, the Dubuque Cankles, that blows our doors off!
GMAFB... Craft didn't know where our basket was , let alone how to score.
Your suggestion makes our current situation appear not so bad.