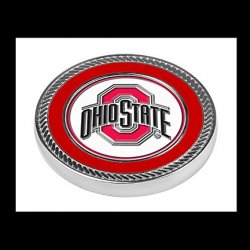 AdvancedBuckeye
---
Advance, NC (via Elyria, OH)
MEMBER SINCE July 04, 2018
Born and raised in the Cleveland area. Joined the Army on my 18th birthday. Spent the next 22 years being "from" Ohio but never actually living there. Retired from the Army, met the love of my life and settled in NC.
Favorites
SPORTS MOMENT: 2014 Football season
NFL TEAM: Browns dammit
NBA TEAM: Cavs
MLB TEAM: Indians (or whatever we're allowed to call them)
Recent Activity
Okay, real world name on front....if you can get close enough, user name on flip side.
There is a similar concept in the Armed Forces. There are a great many people who cannot distinguish between a "right" and a "privilege".
Please change our "weight in" to a "weigh in". I know I know, 10th grade English was my major so I have to show it off whenever I can.
Ryan Day is a genius. See, Heather Dinich is secretly on the coaches payroll. She puts this locker room material out and Day plasters it all over the WHAC!
Just a masterpiece of motivation...
Either I need a pronunciation guide or we're "X-ing" out more than "M"s around here now.
"Here he comes! Here comes Lane Kif-fin! He's a demon on wheels!"
Everybody who got this reference raise your hand if you can still reach that high.
Our Day is complete...and he's gonna keep on completin'.
Wow! I don't remember my hair being that curly.
Oh cool!
I found a way to tap into Barf's upvotes.
600k here I come!
Does "ttun" stand for "the tears up north" now?
Dude, you need to get that looked at.....
I think it's sad we even have to define sad behavior.
I've been thinking about this and I believe he just screwed up his OSUs when he was ranking them.
Well I got "Odorous dumb mutant " out of that unless my Latin is off. Nice call.
That damn accent mark always gets me.
Is this poll used by the playoff committee to determine seeding?
Wow!
Very interesting read. I'm not even sure how to pronounce "Gonculators" but I feel smarter having even tried.
I don't know, I think that made it even sweeter.
I really don't think it's a matter of "trust" so much as Haskins having his trust validated with live game experience.
If Finebaum thinks Urban lacks "credibility" wait until he sees the reaction when he walks back onto the field for Tulane.
Finest display of sportsmanship I've ever seen. And to think it happened in "The Game".
I spent over twenty years in the Armed Forces and I am simply in awe of this woman's courage.
I don't know how long she was in that situation but to live in mortal terror like that and still somehow find the strength to drag yourself out and seek a new life is beyond my comprehension.
Wow, kind of stunning to see all these familiar, some highly touted, names that are no longer with the program.
I'm thinking if we can lose all that and still be feared by the non-Buckeyes we'll be just fine this season.