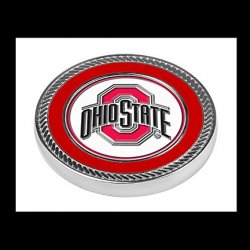 AdvancedBuckeye
---
Advance, NC (via Elyria, OH)
MEMBER SINCE July 04, 2018
Born and raised in the Cleveland area. Joined the Army on my 18th birthday. Spent the next 22 years being "from" Ohio but never actually living there. Retired from the Army, met the love of my life and settled in NC.
Favorites
SPORTS MOMENT: 2014 Football season
NFL TEAM: Browns dammit
NBA TEAM: Cavs
MLB TEAM: Indians (or whatever we're allowed to call them)
Recent Activity
Our Day is complete...and he's gonna keep on completin'.
Wow! I don't remember my hair being that curly.
Oh cool!
I found a way to tap into Barf's upvotes.
600k here I come!
Does "ttun" stand for "the tears up north" now?
Dude, you need to get that looked at.....
I think it's sad we even have to define sad behavior.
I've been thinking about this and I believe he just screwed up his OSUs when he was ranking them.
Well I got "Odorous dumb mutant " out of that unless my Latin is off. Nice call.
That damn accent mark always gets me.
Is this poll used by the playoff committee to determine seeding?
Wow!
Very interesting read. I'm not even sure how to pronounce "Gonculators" but I feel smarter having even tried.
I don't know, I think that made it even sweeter.
I really don't think it's a matter of "trust" so much as Haskins having his trust validated with live game experience.
If Finebaum thinks Urban lacks "credibility" wait until he sees the reaction when he walks back onto the field for Tulane.
Finest display of sportsmanship I've ever seen. And to think it happened in "The Game".
I spent over twenty years in the Armed Forces and I am simply in awe of this woman's courage.
I don't know how long she was in that situation but to live in mortal terror like that and still somehow find the strength to drag yourself out and seek a new life is beyond my comprehension.
Wow, kind of stunning to see all these familiar, some highly touted, names that are no longer with the program.
I'm thinking if we can lose all that and still be feared by the non-Buckeyes we'll be just fine this season.
As long as alt-left and alt-right are new luxury seating sections at the shoe I think you're good.
Apologies Navy, it was not my intention to drag you into a defensive position of your viewpoint. I was using your comment to illustrate that I thought there were some serious perception differences in what people think they are defending or supporting as the term "domestic violence" was concerned.
I was just trying to set an accepted definition of what we are all talking about. Over the last week I've come to the conclusion there are a vast number interpretations of what we expected Urban to know about and act on.
Actually I don't find this a bad move at all. Urban expressed an apology to Courtney and the kids which I took to mean that they were in the limelight at all. (even though that is Courtney's fault-sword fallen on again and no "victim" shaming)
He was also able to clearly and unequivocally state his personal standards and the standards he holds his program to as it pertains to as he termed "relationship abuse". I believe the way he separated this from the apology is that he does not believe it applies in her case but is nonetheless something he has high regard for.
You'll never be able to take a hot enough shower...
I'm curious. Is there a clinical or legal definition of "domestic violence"?
If my previous annual sexual harassment training is any indicator it's likely something along the lines of using bad language and throwing your best brandy snifter into the fireplace. I think most of us envision it as a much nastier version of bruises, black eyes and bloody lips. I don't think anyone would question the latter as DV but there are probably those among us who would question the former.
We may be looking at this through different lenses...