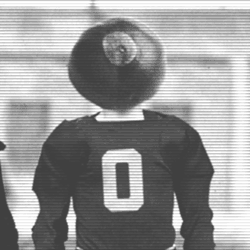 Adam21
---
Member since 12 November 2012 | Blog
Favorites
COLLEGE FOOTBALL PLAYER: Drew Basil
NFL TEAM: Green Bay Packers
NBA TEAM: Minnesota Timberwolves
MLB TEAM: Chicago Cubs
Recent Activity
Beth mowins might get a last name right, then...
I agree with everything you said except one small thing. This is not entirely true.
You're protected by the first amendment to be able to express yourself without the fear of reprisal.
People think the first amendment protects you entirely with free speech. I just wanted to clarify that your free speech is protected from the government, nothing more. If Tyreke did lose scholarship offers over the shirt (and I am in no way saying he should), he could not claim free speech. However, if the government said he could not get a scholarship due to the shirt, that would be the violation of free speech.
I just wanted to clear up a very common misconception that I see very often.
Graham HS in St. Paris sure doesn't hurt either...
The only scholarship offer I want rescinded over a t-shirt is when a commit wears a bama shirt to Friday night lights.
I know you are limiting it to taking a job from a starter barring injury, but maybe there was a reason that player was the starter- he was better?
Anyways, how about the younger guys who beat out older guys for the starting positions? JT Barrett, Darron Lee, Mike Weber, Michael Jordan, Isaiah Prince, Taylor Decker, Dontre Wilson, and Sam Hubbard are all guys who Meyer had starting as underclassmen over older guys. These are just guys off the top of my head, as I'm sure the list can be doubled, if not tripled.
Andrew, I need to know. Is it pronounced Wood-Bay or Wood-Bee?
I keyed in on White during warmups for the spring game. He definitely impressed me and I felt that he belonged in that unit (no way saying he wouldn't with the DB's).
Am I the only one who remembers UT WR Josh Smith's domestic violence arrest? http://www.knoxnews.com/story/sports/college/university-of-tennessee/football/2017/05/06/vols-receiver-josh-smith-arrested-domestic-assault-charge/101365570/ Or OL Mack Crowder's child sex ring sting? http://archive.knoxnews.com/sports/vols/football/former-ut-player-mack-crowder-arrested-on-felony-charges-2bf11637-117b-27f4-e053-0100007fbbff-369067041.html Or top WR being arrested for drug possession? http://allfortennessee.com/2017/02/02/tennessee-vols-report-02-01/
I was in the exact same shoes as Kyle Davis, but at a smaller school. I started out as a manager as a freshman, and was the head manager by senior year. People have no idea the things they have to do. Nothing like going to the store or restaurant and ordering food for 20-30 people, half of whom are college athletes. It worked out for me though as it got me a sweet internship with the 76ers.
Which lineman is more of a lock to the good guys? Jackson Carman or Micah Parsons?
Why do so many assume Babb will land at tOSU? Is it because he is at the top of the Buckeye's WR list or something else?
Andre Smith, Cedric ogbuehi, Jake Fisher, and Kevin zeitler were all top 2 round draft picks.
Which OL should they have drafted instead of those guys?
Great article on the child with autism. I have had the pleasure of teaching three kids with autism over the past two years, and I am almost guaranteed another next year (and I am not a special Ed teacher). Every single one of these kids were special in a different way, and I can't imagine any of them being isolated from other kids.
Do they though? Antjuan Simmons, Danny Clark, Todd Sibley, and Bruce Judson were all expected and just in the most recent class. In the previous class, Kareem Walker, Terrell Hall, and George Hill were all expected when Tristen Wallace was the only unexpected. Actually, contrary to your statement, most decommits often come by NO surprise.
Jamie Wood and Duron Carter are also two more I expected more out of.
Jamaal Berry, Ricquan Southward and Cam Burrows were three guys I was super excited about that never panned out.
I don't understand this logic. If JT wins, he can only be here next season. And if a QB transfers, they are sitting out that season anyways. I believe if JT doesn't win the QB competition, either one of the underclass QBs could transfer because they won't be the starter for longer than just next season. Why was the reason those bama QBs transferred? Because the younger guy won the starting spot.
That and if you throw $5 into a March madness bracket pool, you are considered gambling.
The only thing impressive about Manley was his height. He was a non-factor defensively so much, in fact, the coach took him out on defense towards the end of halves. He ended up with 12 points, but I think half of those points came late in the 4th quarter when the game was already decided. He doesn't move real well or jump at all. I could have just seen him on a bad day, but if that was his typical day, I don't expect him to contribute for UNC for a long time.
Goodwin impressed me. He had 34 points and 13 rebounds against a decent Garfield Heights team. He scored from anywhere on the court and has a knack for positioning to get the rebound.
Isaiah Prince 2.0?
Corey Kluber Greg Oden AJ Hawk
He'd pick all the games from last week!