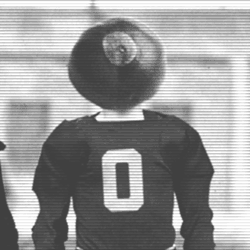 Adam21
---
MEMBER SINCE November 12, 2012
Favorites
COLLEGE FOOTBALL PLAYER: Drew Basil
NFL TEAM: Green Bay Packers
NBA TEAM: Minnesota Timberwolves
MLB TEAM: Chicago Cubs
Recent Activity
90 days? I'm a HS basketball coach and we've been having workouts since June 1st.
Andrew Dakich and CJ Jackson (and possibly Jasean Tate if he passed his Covid testing) will play Dayton Alumni and Trevor Thompson at 2 today. Carmen's Crew is at 4. Winner's play Friday.
Definitely enjoying this first game. For some reason, I thought there would be more Buckeyes on Big X, but I'll still root for a team with quite a bit of Big Ten players.
I take it you didn't read the write up on him? I'm guessing Toutant is the most flexible OL on the team.
You keep saying we only have depth on paper, not actual experience. What team in the country currently has actual experience for their team 2 years from now along the OL? Not one.
Make sure you watch El Camino then Better Call Saul when you are done.
I upvoted this post before I even read it because I enjoyed the Gamble one so much. This one didn't didn't make me regret that decision! Another great job!
JH doesn't suck, although I think he's above average, just not elite.
What part of 0-5 against your rival and 1-4 in your bowl game is above average?
JT Barrett never put up 40 TDs.
His first and last years. Rushing TD's get you 6 points, just like passing TD's.
Rudock improved from his junior year to his senior year the same rate that he did from his sophomore year to his junior year. I am very confident that Rudock would have made that same improvement if he stayed at and was not beat out at Iowa.
I'm not sure how big of a Pack fan you are. Most Packer fans know that the Packers don't draft for immediate results/help, but they draft for the long time help. Gary was drafted to sit behind and learn from the two biggest FA gets in a long time (because we know he didn't get the coaching up north), so looking at his first year stats to define his talent is absurd.
Also, not a good first round pick since Rodgers? While they have done much, much better in the second than the first, I wouldn't say Alexander, Savage, Clark, Bulaga, Matthews, Raji, and our own AJ Hawk were bad picks.
Am I the only one who read "an opposing player" as "a player who the Buckeyes played against"?
Patterson DID have a pro day. Although, the article doesn't say how many/if any NFL teams were there.
https://www.wtol.com/article/sports/shea-patterson-holds-pro-day-in-rossford/512-cfa8b07b-b361-4b4d-92f5-d3980d44adc4
Just last year, Clemson signed the #1, #7, #33, and #93 overall players along the DL.
Apparently, ball handling, moving without the ball, rebounding, and help side defense aren't necessary.
Justin Sueing was hurt?
I can buy this take. I took the original statement as the staff didn't know if there was a hard 25 max limit or not.
I find that very hard to believe.
On Zach Smith's podcast (and I believe corroborated by Hill himself), it was revealed that Bert Bielema called Urban right before Hill was supposed to be in Columbus. I believe Hill was currently committed to Arkansas. Bielema told Urban that Hill was canceling his visit. Hill was furious when he found this out, because it was a flat out lie. Smith said he has never heard of a coach calling another coach about recruit visits.
I'm just glad Urban didn't believe Bert's phone call that said KJ canceled his official visit...
I disagree. I don't think he is playing harder, I just think he is playing better. Last year, he was playing so hard he was jumping offsides every other play. He is more disciplined this year. That doesn't come from playing harder, that comes from playing smarter.
I am about a month behind. Does he ever stop saying "dive into"?
JT was the reason the receivers didn't meet their goal in the weight room?
Trey Sermon. A guy I REALLY liked at FNL.
Colin, have goy watched Etzler play in person? If so, what are your thoughts on him?