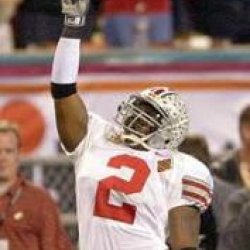 acBuckeye
---
Dallas, TX (via Columbus, OH)
MEMBER SINCE July 29, 2011
Born in Columbus, family moved to Texas at 3 years old and been here ever since. Dad graduated from Ohio State, so naturally, the choice of my fandom was easy to make.
Favorites
SPORTS MOMENT: Cie Grant slinging Ken Dorsey to the grass like a cheap doll, and watching the football flutter helplessly to the turf. Commence celebration.
COLLEGE FOOTBALL PLAYER: Chris Spielman, Mike Doss
COLLEGE BASKETBALL PLAYER: Scoonie Penn, Deshaun Thomas
NFL TEAM: Browns
NHL TEAM: Blue Jackets
NBA TEAM: Cavaliers
MLB TEAM: Indians
Recent Activity
Lol, well done.
I'm with you man.
Are you thinking the rising temps may help kill it off?
Of course it's hard to look that far into the future, but let's be real.... anyone who thinks that the start of the season or the season itself isn't in jeopardy is lying to themselves, or knows things not even the medical experts know. This is unprecedented waters we are in right now. Nobody alive has seen anything like this, at least in terms of the global response. College football is so far down the priority list, it's not even visible. Fall camps are supposed to start in 5 months.......
Ross Homan.... basketball analyst??
Uhhhh, not sorry?
The NFF is or was regarded as one of the 5 major consensus voting groups along with the AP, UPI, USA Today, and FWAA. That mattered at the time. Plus it's the only disputed championship in OSU history. There's several other seasons they could make a legit claim for a natty. I don't understand why the fan base gets so upset over this 1970 championship. It's not like we're Bama.
I fucking forgot about that KJ Hill play because of all the officiating dumbfuckery that took place after that. I'll NEVER get over that game even if we win the next 5 Nattys.
This is incredible! Great news with all the unknowns in the real world going on. There may be a social segregation movement going on, but there's no stopping the Ryan Day BOOM TRAIN!!
Or fewer injuries because of less contact? Master Teague injury doesn't seem as big of a deal from a team standpoint now since he isnt falling as far behind.
And awful coaching.
Awesome guy too. The TV station in Dallas I used to work at interviewed him. I went up to him and chatted for a bit. He signed a picture of my baby daughter decked out in Buckeye gear that I had in my office. A total whim, but didnt want to miss the opportunity.
An "it wasn't my fault, I don't make mistakes" attitude in life won't get you very far. You have a chance to learn from your mistake when it's staring you square in the face and you deny instead. Very sad.
I know it's Twitter, but what about that clown ass "reporter's" writing/grammatical sloppiness? And he had the nads to respond to a guy calling him out by claiming he's a professional?? Not a good look, sir.
In today's game, I think it's actually more beneficial to have an abundance of DBs and D linemen than LBs. You can get away with only having 1 or 2 LBs on the field. If you're short at the other 2 spots, you're screwed.
What a very non-SEC looking schedule....
He really needed those reps too as most assume the production from the RBs will drop off a bit this season already. Sucks to hear.
I think speed mismatches make more sense in the slot bc the defense's fastest guy is rarely a safety.
I can't WAIT to see Taron Vincent.
I can absolutely see them using Olave in the slot in certain situations. He beat that clown Clemson safety for a TD in the slot, and would've beaten him again had he not cut off the route.
Mark Turgeon..... the guy who said it does no good complaining, but yet continues to complain.
The only one that comes close is Lebron's miss over Draymond Green's bitch ass in the Game 7 win. I wanted him to make that SOOO bad.
No Slam Thompson??
"Gentle reminder that the officials tried to take this away from Ohio State too. They lost the battle, but they won the war. Blah." Gentle reminder that the officials took away a JK Dobbins rushing touchdown to look at this play again. FIFY
With occasional snaps at safety, I'd say yes. But in a limited capacity. I think a true Bullet is less LB than Werner, and more DB.