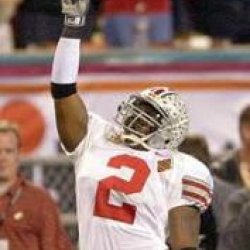 acBuckeye
---
Dallas, TX (via Columbus, OH)
MEMBER SINCE July 29, 2011
Born in Columbus, family moved to Texas at 3 years old and been here ever since. Dad graduated from Ohio State, so naturally, the choice of my fandom was easy to make.
Favorites
SPORTS MOMENT: Cie Grant slinging Ken Dorsey to the grass like a cheap doll, and watching the football flutter helplessly to the turf. Commence celebration.
COLLEGE FOOTBALL PLAYER: Chris Spielman, Mike Doss
COLLEGE BASKETBALL PLAYER: Scoonie Penn, Deshaun Thomas
NFL TEAM: Browns
NHL TEAM: Blue Jackets
NBA TEAM: Cavaliers
MLB TEAM: Indians
Recent Activity
It was like driving a Porsche over a cliff for no reason in particular.....
That we'd win every game in 2015 by at least 2 scores because we had a fucking NFL team playing college football.
Jaxon Smith came to my son's youth practice last week and spoke to the boys. What a phenomenal young man. Had the chance to chat with him for a few minutes. Very respectful. Will get to see him play several times this year. My son and I are so excited for him to get to Columbus!
This. Cooper's teams talked all the time. We know how well that worked for them.
I'll take that Most Annoying Fanbase title to the grave.
Which is crazy considering USC has gotten away with so much shit over the decades. They're the Miami of the west coast. But for some reason the Bush saga ended that streak.
Rarely is a bad thing when Auburn gets fucked.
I don't want to take his words too literal and I appreciate his desire to wanting to be the best pass-rusher in school history, but what would really terrorize the opposition and keep opposing OCs up at night is if he strived to be the best DE in school history. If you have to account for him every single play whether you're running or passing, it screws up your cohesion as an offense. I wouldn't be surprised if he ended up being that guy. Love him.
Every time I read a Ramzy article, and it starts with "Pat Forde....," I grab my popcorn next.
Not 100% sure on this, but I believe every single Ohio State fan alive today has a lifetime winning record against TTUN starting from the year they were born.
I certainly did, Grand. Also, little did we know that it would be Tressel's final home game.
You make good points, but with the amount of talent we have, even I could coach them to 10 wins.
My first game in the Shoe was one the NCAA says was a "fake game." The 2010 ass kicking of TTUN. I remember Jordan Hall returning a kickoff for TD, and also remember Boom Herron scoring a 95+ yard TD run that would've been a program record had it not been for the phantom penalty on Dane Sanzenbacher.
My amazing wife got me those tickets for my 30th birthday. I'd been a fan for about 20 years. Born in Columbus but grew up in Texas after we moved there when I was 3. Still have family in Zanesville. Dad has a degree from OSU.
Their schedules are a joke.
So is ours.
Talented players, but we need a guy who can pound the rock on 3rd or 4th and short. I'd rather go all in on Trayanum. Anyone else with him would be a bonus.
Mainly due to the safeties' inability to make up for the LBs mistakes, who were, as you said, constantly put in poor positions b/c of the coaches. Having said that, many of the safeties OSU has had in the past were talented enough to make up for those types of mistakes. Sadly last season was not one of those seasons. The talent was average at best. The inability to judge a ball in the air (TCU) and to take proper angles on short passes/runs (take your pick) was mind-boggling.
I love Beanie, but I don't think he's stiff-arming his way through that D. Clarett flat-out ran harder than Beanie. Give me Mo.
Exactly. We've seen that movie already. Smith was the best Tressel QB, but for just this game I'd go with Pryor. I'd also have Mo Clarett instead of Beanie.
I also wonder.... Haskins, for all his greatness, wasn't a QB that fit Meyer's offense. I wonder if Braxton would've been a better fit in this game.
What an incredible game it'd be to watch though.
As long as Harbaugh's Tell-It-Like-It-Is self keeps getting his ass kicked by any Bullshit-Mountain-Talking OSU coach, I'm completely on board.
"National
Communists
Against
Athletes"
-Brian Bosworth
The 3rd play of Jameson Williams is almost identical to Terry Glenn running away from Notre Dame DBs. The 2016 draft.... further proof that our coaches royally effed the 2015 season up.
Not that it matters, but seems to me ESPN has QBs a little too high and D line too low. The fact the RBs dont even appear is absurd.
Ginn's punt return against TTUN in '04 is just as enjoyable, probably more so. Absolutely electric.
10 top 60.... that's insane!! One out of every 6 top 60 players in the country is slated to be a Buckeye. BOOM!!
I understand the situations are very similar, and I appreciate Day trying to be as prepared as possible, but it still irritates the hell out of me that all 3 times OU got into the playoff, it was basically over Ohio State. I'll give them the '17 instance since they beat us head to head, but last season and especially the '15 season, the more talented team was left out. Given the fact OU has shit the bed all 3 times they've been there further supports my view.