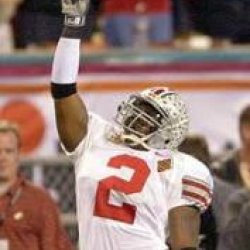 acBuckeye
---
Dallas, TX (via Columbus, OH)
Member since 29 July 2011 | Blog
Born in Columbus, family moved to Texas at 3 years old and been here ever since. Dad graduated from Ohio State, so naturally, the choice of my fandom was easy to make.
Favorites
SPORTS MOMENT: Cie Grant slinging Ken Dorsey to the grass like a cheap doll, and watching the football flutter helplessly to the turf. Commence celebration.
COLLEGE FOOTBALL PLAYER: Chris Spielman, Mike Doss
COLLEGE BASKETBALL PLAYER: Scoonie Penn, Deshaun Thomas
NFL TEAM: Browns
NHL TEAM: Blue Jackets
NBA TEAM: Cavaliers
MLB TEAM: Indians
Recent Activity
JuJu off dat beat....
Ha, for about 3 seconds I was.
The last time Ohio State returned a kickoff? 2006.
Even though the NCAA says the game didn't count, I was at the Shoe in 2010 when Jordan Hall took a kickoff to the house against Rich Rod and those bums up North. That's also the last return I remember.
EDIT: I guess it would help if I continued reading before commenting. Sorry DJ.
and nobody is holding a pistol to his head making him watch, either.
Exactly what I was thinking. If you don't like it, then stop watching. I did.
Was about to say the same thing. I bet he still will anyway.
In regards to Herman, that's why it's always safer to commit to the school/program than to the coach.
You don't need a chip in a football to know that JT converted that 4th down. I'm getting tired of this topic very quickly.
The best outcome for us would be Wisky putting a beat down on the fighting Franklins.
You don't maul in pass pro, you move your feet, which he struggles to do.
The one positive to think about is that no matter where they end up playing for their bowl game, the weather should be better. JT clearly struggles to throw accurately when the weather is sour like it has been for the last several weeks.
I've been saying it for a while now, and the last play of The Game shows that it bears repeating.... instead of trying to throw to Samuel so much, let him take the ball from the backfield. He is literally a TD waiting to happen when he has the ball in his hands and blockers in front of him.
Finally, Prince cannot be put on an island consistently when JT drops back to pass. It's pretty clear that he needs someone to help him protect on a regular basis. I hope he improves over the next few weeks, but that's hard to do in a short amount of time.
I fully agree. Watching the game in real time, I never once thought that JT didn't get the first down. After the hysteria in my household following the win had died down, I was very surprised to see so many people online questioning that spot. I felt like people were turning a non-issue into an issue.
But he plays every position!
You would be setting up a USC-Bama rematch. Do we really need to go down that road again?
but Arizona State beat Michigan in the Rose Bowl, 22-15.
I believe that was John Cooper's Arizona State team.
Work at the local ABC station here in Dallas. We ran that this morning. I had a good laugh.
Oh yeah, and f*** *ichigan. Sparty too.
Unlike most of his other poor games in the past where you could place most of the blame on the O line, JT doesn't get a free pass for yesterday. His line played well enough for him to play better than that. I usually give him the benefit of the doubt, but not this time. He flat out sucked. I don't know what's going on in his head, but he better get that shit fixed quickly.
The Spartans won three of the last four meetings between the two programs
I believe it's 3 of the last 5. The good guys won in '12 and '14.
It most definitely wasn't a sham. Players on both teams will tell you, they truly believed the two best teams in the country played in Columbus that night, and that game took a lot out of all of them. What I believe plagued both teams heading into their bowl games was strictly mindset and lack of preparation due to complacency. It wasn't because Florida and USC were that much better.
How would you change the rules? Head-to-head should be the first tie-breaker. We had a chance to put that game away, and our coaches and special teams wet the bed.
I'm with you. I think he's nowhere near someone like Skip Bayless who says stupid stuff for ratings. I really think Cowherd says what he believes, and I usually agree with him. He had a oouple of inaccuracies in the video above, but I agree with his overall message.