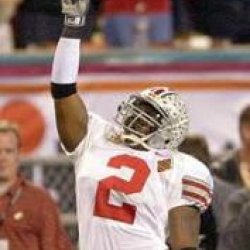 acBuckeye
---
Dallas, TX (via Columbus, OH)
MEMBER SINCE July 29, 2011
Born in Columbus, family moved to Texas at 3 years old and been here ever since. Dad graduated from Ohio State, so naturally, the choice of my fandom was easy to make.
Favorites
SPORTS MOMENT: Cie Grant slinging Ken Dorsey to the grass like a cheap doll, and watching the football flutter helplessly to the turf. Commence celebration.
COLLEGE FOOTBALL PLAYER: Chris Spielman, Mike Doss
COLLEGE BASKETBALL PLAYER: Scoonie Penn, Deshaun Thomas
NFL TEAM: Browns
NHL TEAM: Blue Jackets
NBA TEAM: Cavaliers
MLB TEAM: Indians
Recent Activity
Monster game for a hell of a player. So happy for him.
Many things to improve upon. Fields was amazing, but he has so much room to improve. Still have concerns on D, but gimme that #1 seed.
You win
39th. Screw the NCAA.
I think Coan is dead on the turf. He's not talking shit now.
Bruh.... I made a wardrobe change and expected half time adjustments. This team is special.
They look oddly happy in that pic.
I've said it before.... if you need shitty past performances to motivate you, you've got problems.
'02 Buckeyes needed OT to beat an average Illinois team and probably should've lost to Cincinnati. But your point is valid.....
Based on the fact they're just as talented as we are and are coached by a 2-time NC coach.
Who is beating Chase Young for any defensive award???
Clemson worries me more than any other team in the country. By a mile.
There was a season in the 70s I believe, when the Buckeyes had 3 of the top 5 Heisman finalists. So not necessarily anything new for the program. Someone know which season?
I totally agree. I also still think Fields and Lawrence have a higher ceiling than Burrow, as much as I root for Joey B.
Please TTUN. Never fire that man they call Jim Harbaugh.
Which is crazy because forever The Game was played the Saturday before Thanksgiving.
I expected LSU blowout too then when I started thinking about it, Georgia's D and running game will give LSU all sorts of problems. Close game.
Your Innovich?
This comment is a mirage.
You shouldn't need an ass kicking to get you motivated for The Game. The elite know how to motivate themselves without outside influences.
If you need an ass kicking of epic proportions to fuel your motivation for The Game, you're in the wrong rivalry buddy.
I mostly agree, but we were moving the ball on the ground early. Then the rain started, went up 21-0 and kind of unraveled for a while. I'm sure Day took all that into consideration. I think we could've been more aggressive downfield in a few instances, but Fields had several underthrown balls.
I will go back and watch, but I may have exaggerated. I just remember seeing a clip before the 2nd half started and it was pouring.
Bingo. Not elite.
A ton of breaks. Browning had a fumble go right through his hands....