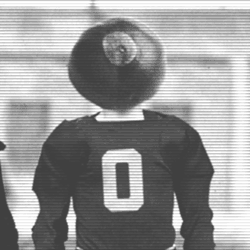 AC1972
Louisville, CO (via Canal Winchester, OH)
MEMBER SINCE October 05, 2011
Proud graduate of tOSU in Engineering. MBA from UD. I have lived all over the country and love being back in the mountains.
Favorites
SPORTS MOMENT: I have two:

1) Being on A Deck, 45 yard line, when Eddie George ran all over Notre Dame and the crowd started chanting "Ed-die, Ed-die, Ed-die!"

2) Being in the Louisiana Superdome and mockingly chanting "S-E-C, S-E-C, S-EC!" when Ohio State beat Arkansas. It DID happen. I was THERE! You can wipe the record books, but not my memories.
COLLEGE FOOTBALL PLAYER: Eddie George. He belongs on Mt. Olympus.
NFL TEAM: Denver Broncos
NHL TEAM: What's the NHL?
NBA TEAM: Cavaliers
MLB TEAM: Reds
SOCCER TEAM: Manchester City
Recent Activity
When I think "Wolverine Slayer" I think Troy Smith...
I keep going back and forth when trying to determine the second best team in the B1G. Wisconsin? Penn State? Wisconsin? Penn State?
Just win them all...
Everything Ryan Day touches turns to gold...
Uh, yeah. Mike Tressel. Heir apparent to Dantonio.
In that hypothetical it is not illegal to fire for any reason the company wants. Pot is legal in Colorado. Every single company I have worked for will fire you if you use pot. It's in their code of conduct. I've fired folks for testing positive for marijuana. Similarly, Colorado is a conceal carry state, but every employer I have ever worked for will fire you for bringing a gun to work. So yes, the NCAA runs collegiate competition and they set the rules if you are eligible or not, which can be more restrictive than what the law allows.
The California law is simply forcing the conversation which the NCAA should have had years ago. Every person in the world should be able to profit from their likeness, athlete or not. Yeah Capitalism!
I agree with not having the government intervene. It is between the NCAA and the member schools, and the government (state and federal) typically screws things up. So the general rule is this: private organization, you get to set your own rules, so long as you are not violating anyone else's rights.
That said, this is not really a "pay for play" law...I read it as saying that all persons are allowed to profit from their own image and likeness, and the NCAA should not be violating an individual's right to do so.
So in this case, I am glad that government intervention is forcing the NCAA's hand, I favor individual liberty above all else. Any normal student gifted in any other skill can leverage those skills for profit, and we should all be fine with that. Students are there to get better educated at their craft and life. So no, they should not be paid - they are receiving a lot of value from being a student athlete; but the NCAA needs to make better rules and enforce them so that this does not turn into corruption, while maintaining a student athlete's individual freedom. If they spend all their time doing endorsements and fail at being a student and/or an athlete, then they will destroy their value and the market will take care of that. I think that will be self correcting...athletic programs and the NCAA need to work within this context to help students understand this - it can be yet another excellent educational opportunity.
Please, please, please Ramzy: Write a "Bourbon and Football" book. I'd snatch that up in a second. You can donate part of the proceeds to charity if ya like.
It's obvious JF was ahead the whole time, but I think Ryan has a "minimum standard" for what a starting QB must demonstrate, and JF got there last week.
Just not how you respect the rivalry. When you start saying those things, you start believing those things, you start preparing that way, and you start losing.
Its not like the last few games haven't been competitive. The difference has been what makes Ohio State and that rivalry what it is. It is what motivates Ohio State to victory.
He needs to fix that mindset. I chalk that up to simple ignorance and perspective. He'll get there.
Yea, I know ya had to write this article, but it didn't tell us anything we didn't know.
Also, a long time ago, Pat stole Johnny's lunch money.
I'm totally with Kevin on his assessment of Harbaugh. May he coach up north (and lose to tOSU) forever. He is wildly entertaining.
It appears like a strong case of misplaced priorities, but it's not.
Issues of tuition cost and debt, healthcare, etc are driven by completely different factors. It not that lots of $ spent on athletics takes away from other things. In fact, programs like tOSU's actually fund other campus priorities.
The athletic department is run like a well organized business. Most institutions of higher education are not. The spend recklessly on adminstrative endeavours, count on an endless supply of "free money" in the form of government student loans, and in many cases don't deliver a product in line with costs. The return on investment is not there.
Same with healthcare, which has a whole set of issues re: health insurance, administration, etc.
I appreciate getting the video, but, uh, I was looking at back of Dave Biddle's head the whole time...
---so I just popped over to Bucknuts to watch it. :)
"If I had an institutional path towards hanging out with Gloria Estefan, my body would be shaking and doing the conga until I couldn't control myself any longer right there with him"
That's a weird reference, Johnny...
You would think all those bowl games we've won in AZ would start to pay off at some point.
At my age, I wish I was 25 again! But I know what you mean, Kevin. Turning 25 hit me harder than turning 30 or even 40. Once you hit 25 you stop thinking of yourself as a young dude that can relate to the college crowd and start thinking about marriage and kids and mortgages. By the time I hit my 30's and 40's I was a firmly entrenched adult and had gotten over the psychology of it all. Don't worry man. Life goes on and it's even fun!
Talented tight ends, talented receivers, talent running backs, talented QB. The problem of spreading the ball around and getting everyone touches can be solved like this: Score more, and faster.
Grow the offense, make it simple but diverse, everyone wins.
Fields at 8 feels right, but Shea Patterson at 7 feels wrong. I get that Justin hasn't taken a snap for the Buckeyes, but would you trade Shea for Justin? I think no.
I also don't want to sound like a fuddy duddy, but I kind of agree with EB. And yes, I'm a small hypocrite because when I got my first job out of college the first thing I did was buy a new car. Except mine was much cheaper. And my college care was about to literally fall apart.
So Haskins has a big paycheck, and he could have bought a lot of nice cars... something just under 100k no one would have batted an eye at. Lots of sweet Mercedes and BMW's and Audi's. But you only buy a Bentley or Maclaren, etc because you want to make sure people know you are a big deal. If you drive one it's because you ARE a big deal OR a shallow fake.
So while I don't think less of Haskins (who's to say I wouldn't have done the same thing) this is one of those things that wisdom tells you is a bad move out of the gate.
I was thinking the Italian mafia support staff.
Saban would recruit white walkers? Did anyone ever doubt this?
So I just wasted a part of my life reading the overly histrionic story about the dude who was surprised his cousin tried to kill him. I mean, clearly his cousin was a d-bag his whole life. The kind of relative you try and avoid (we all have them). The author is an overly dramatic numb-skull and I feel bad I will never get the precious minutes I spent reading his stupid story back.