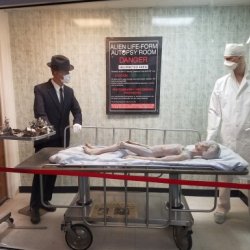 aboynamedtracy
---
Madison
MEMBER SINCE March 09, 2012
Favorites
SPORTS MOMENT: Holy Buckeye! there were tears in public
COLLEGE FOOTBALL PLAYER: Spielman
NFL TEAM: Steelers
NHL TEAM: yawns
NBA TEAM: yawns
MLB TEAM: yawns
Recent Activity
Indeed, he has joined the ranks of ninjas and the Spanish Inquisition...
I'm going to provide another viewpoint, though I definitely understand this take. Living near friends isn't a concern because there are people you can be friends with whatever you go. So that leaves family... As for me, I like having a bit of separation from family and the drama. I visit regularly, but am not interested in taking sides in stupid disputes or even having to deal with the noise. Whenever I visit, I'm agnostic to the nonsense and enjoy always being the 'good guy' without the stress of the bickering.
The design of the cars / restraints in many newer coasters mitigate any chance of knee banging.
He had a Bama offer. Would you be whinging if he already had been committed to them and then Day flipped him? Offer list > star rating.
Alexander Keith's from Nova Scotia is Canada's best mass produced beer. It's a pounder much like Shiner, Fat Tire, and Spotted Cow.
Yes, minus the unlikelihood of multiple undefeated teams AND assuming that hypothetical loss isn't a colossal tank job. There is some debate regarding Urban having a knack of losing a game he shouldn't every year. But it's very difficult to run the table and he seems to coach better as an underdog / with a chip on the shoulder. So to me, it was the magnitude of the losses the last couple of years that made me question if something was a little bit off.
I'm fairly confident you are referring to 'Busy Bee', which is pretty great. Not a pizza joint though.
Best pizza - loads of places in Naples Best in US - Roberta's (Brooklyn) Best in Ohio - Paulie Gee's (Columbus)... their original location in Greenpoint, Brooklyn is #2 for me in the US Best memories with ok pizza - Death Metal Pizza (Austin, TX)
Well pitter patter then...
Go to the 11W charity bash and the game afterwards. Don't think it's been announced yet which game it will be, but typically there's plenty of advance notice. And I have a strong suspicion based on precedent that it will either be Sparty or the Badgers.
Ha, I'm from Marietta and the next good pizza joint there will be the first.
I think a lot will be framed around how they react to those last handful of goals. If they are more muted, then expect even more criticism of USWNT. If they celebrate with bombast, then that truly will be a litmus test to see if they are similarly criticized or if an anti-US bias is behind a lot of the nay saying.
So an all expense paid trip to one of the worst cities in the country is without question the only correct answer? No doubt, the actual stadium environment is top notch, but that's only part of the consideration.
Colorado - Boulder is a great town, very picturesque, and can go hiking in RMNP.
Yeah, but theoretically one should have 2 hands at the ready should shit go down while using bluetooth. And how does it compare to having a passenger, which I suspect is at least equally distracting.
But I thought he was known as UFM: Urban Flippin Meyer...
'I can do this all'...
'go ahead, make my'...
'Rome wasn't built in a'...
'Sunday bloody sun'...
'never put off until tomorrow what you can do to'...
'never skip leg'...
So... we like ESecPN now?... Again? And I thought today was Friday... guess I can't keep up...
Bad news for Slow-piercer...
The design was inherently unstable in that an increase in temperature resulted in an increase in reactivity addition, which caused an increase in temperature... a viscous cycle. Compare that to a reactor with water as the moderator. As temperature increases, fewer neutrons are thermalized resulting in less reactivity... inherent stability. Engineering Controls are the best line of defense against failures and subsequent safety violations.