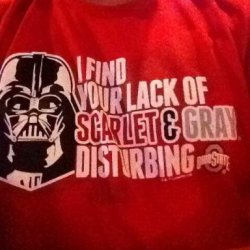 Abe Froman
Hilliard (via Middleport, OH)
Member since 13 February 2011 | Blog
Grew up in a small town, went to OU and now I am a Regulatory Consultant for a large utility. We vacation in Mexico. I have the largest CO2 footprint of ANYONE on 11W and I probably like Bacon more than you. Married with a daughter and we have one pug (Beanz) who get gassy.
Favorites
SPORTS MOMENT: High school football undefeated of course, but didn't make the playoffs.
COLLEGE FOOTBALL PLAYER: Mike Doss
COLLEGE BASKETBALL PLAYER: Jim Jackson
NFL TEAM: Bengals
NHL TEAM: Blue Jackets
NBA TEAM: What is NBA (use Russian Voice here)?
MLB TEAM: Redlegs
SOCCER TEAM: Not a fan.
Recent Activity
You mean wheel? Ezekiel and wheel...
Gin and Juice will always top their charts.
Technically they are Dick Cheese & Lounge Against the Machine. Entertaining as any band can be!
Hey, the power companies used to give you an oven when you signed up.....
Same thought here. I had never heard of them and although I am not all-knowing, 20+ years in the business generally means you hear of the big ones (RWE, EON, etc). Personally, I think it's kind of risky to lock in rates instead of following the market, especially one that could result in low prices.
OSU also had 10 blocked shots to their 2..... So there! We owned that stat!!!!!
Not surprising. Either you weren't around for the 90's or it wasn't that big of a deal to you. Think about all of the teens and twenty year old kids who say that they hate Xichigan. They don't really hate them, they just really dislike them. You don't get that hate from beating a team all but twice in the last 15 years. You get that hate regenerated and fueled by having your dreams smoked by the bad guy. Until that happens (and 2011 was not that year) the hatred isn't real. When it does happen, we will welcome the new fold of OSU fans into the cage match.
DJ, There would be one bright spot is Xichigan wins: the souls of thousands of kids would burn hot to see the tears of the Wolverines. Just as you have noted that Wolverine fans don't know what it is like to beat OSU, the opposite is true, there are scores of OSU fans (a generation) that doesn't know the pain of that 'dream snatching smelly rodent from up north' stealing a win and halting the train of destiny. Try living through the 90's when OSU had better teams but managed to lose 3 games theyou should have won. Feed off of the new generation.....
Sorry, just threw up a little in my mouth. I'm more of a Alyssa Milano type of guy. Don't get me wrong, Spears would be fine and all if you were into bat$hit crazy chicks that run afoul with razors and umbrellas.
Well, I wouldn't go that far. I'm just a Not So Young Man with a dream. A dream that involves bacon. Bacon and sausage. Maybe some BBQ rub too.
Thanks DJ! It's a great event for a great cause. Maybe next year, I won't eat the rest of the leftovers....
This is one of the wife's favorite events. I also like it! Great job once again and thanks for dialing up warmer weather than Black Saturday (last year).
Abe is good. Bacon wrapped spicy sausage was even better! But of course it is when you cover it in brown sugar and BBQ sauce. Next year's concoction was devised as we sampled the morsels. Think Bacon Explosion on a toothpick.
Yeah, I went to that game. If I remember correctly, it was a nice day with a slight breeze. Maybe 70F-75F in the 'Shoe. It was a total beat down. I went to the game expecting a decent test, but it became a laugher real quick. I immortalized the game day ticket (with the score on it) by placing it on my bar and covering it with resin. Maybe a million years from now, someone will find it and say, "Yeah, Mark May is a ass-hat."
253 pieces of bacon.... yeah, that's it.
Yeah, I am sure anyone with kids that read that WMD would agree. The only bright side is that football returns soon. On the other hand, it doesn't seem so important. F$€K Cancer.
I agree. He made things right by apologizing and signing some balls for him. Sometimes, the reaction and subsequent action(s) tells us more about ones character than we would expect. In this case, he didn't have to apologize, but it was the right thing to do.
I am a little surprised that Marconi and Spring is not on the list. It seems that every two weeks, someone wraps their car around the tree on the sw corner.
What? We dare challenge the elements for a second year? Last year the golf outing was almost destroyed by lightning as several people were nearly struck. If I play this year, I might have to wear a rubber suit if the weather appears malevolent. Please, I beg you, no tennis balls this year.
I think the Rhine Steakhouse (?) was a good one. Might be pricey as I am sure Jason and the 11W 'luminati keep a tight purse. Oh well, there is always Hooters.
Birm is hitting the River Walk all week? Mad Dogs better watch out! Assuming of course that Mad Dogs is still there. It's hard for the casual fan to get a read on these games since the rotation of players yields only a few touches. That is why Birm being on site is a valuable source...
It seems like they care less about making the right call and more about not making the field referees look bad. By restricting the flexibility of what can or cannot be reviewed, they pigeon-hole themselves into bad calls. Apparently, on this one they could only review whether or not there was contact, not "who" inititated the contact or if the receiver came back in bounds as soon as possible (hate to give Mark May credit on this one).
That is tough. I feel for you, I really do. I've been to 4 birthday parties at the Mouses House and each and every time I walk out of it with the one thing you forgot to mention: some virus that can't be cured by modern medicine. Usually the stomach kind that hits you at 3 AM and hangs on to destroy what is left of your r weekend.
Wear gloves and a mask.
Blue or Red in the White House, there is no other country in which I would want to live. That's why the flag has those colors.