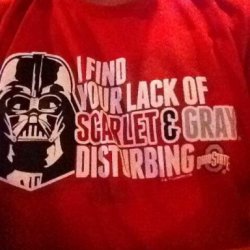 Abe Froman
Hilliard (via Middleport, OH)
MEMBER SINCE February 13, 2011
Grew up in a small town, went to OU and now I am a Regulatory Consultant for a large utility. We vacation in Mexico. I have the largest CO2 footprint of ANYONE on 11W and I probably like Bacon more than you. Married with a daughter and we have one pug (Beanz) who get gassy.
Favorites
SPORTS MOMENT: High school football undefeated of course, but didn't make the playoffs.
COLLEGE FOOTBALL PLAYER: Mike Doss
COLLEGE BASKETBALL PLAYER: Jim Jackson
NFL TEAM: Bengals
NHL TEAM: Blue Jackets
NBA TEAM: What is NBA (use Russian Voice here)?
MLB TEAM: Redlegs
SOCCER TEAM: Not a fan.
Recent Activity
The kid wants to be called "Fat Boy." That's called fuel folks....
You mean the celebrities won't be coming over for dinner? They stopped calling? Yeah, I am with you, this impacts me in no way shape or form.
This will surely get some downvotes but I can't be the only person out there that thinks this is the first death of ANYONE that many of you have seen. It is great that it is making you guys realize that there is a life you need to lead and it should include your kids (girls and boys) but it took a guy who 99% of you have never met and never would have met. The reality is that death is what makes living enjoyable. Knowing that you have to jam as much time in as you can with your loved ones (parents included) because you never know if you will be here next week, or even tomorrow for that fact. I have worked for the same company for 28 years. About 5 years in, I saw a guy carried out on a stretcher. He had drowned. About a year later, a co-worker had a massive heart attack sitting at his desk. Sometime around there, another co-worker nearly died (industrial type of job). How did this affect me? I learned early to have what they call a work-life balance.
It could be this realization that your having. Kobe seemed to get it although when he was 40. I'm not getting into the difficulties of a pro-athlete have balance, but others seem to do it. I guess my point is, it is time to sack up and get out there an enjoy those you are with (family and friends). You've just wasted time reading this article because you haven't let go of this weird affection.
Also, when I die, if it's at work, I have asked my co-workers to drag me outside in the sun.
He is a fun guy to watch in action. This is true, but don't get caught up in the flotsam and jetsam, you could likely end up regretting it, assuming your self-control is similar to mine.
Sure come early they said..... come before 9 AM they said..... have beers and Tito's Vodka they said.... give all of the bacon wrapped potatoes with jalapenos to Ramzy he said..... Good times, and I can't wait until next year and the year after that.
There is usually other items that people bring. If you are lucky enough to see the Sausage King (I will be the one with my right hand bandaged and probably shoulder-high) before Lauderbeck and Nazrallah steal all of his bacon, you might get some. Remember the follow-up to "BLACK LABEL"
...
...
BACON.
Kid is an Anomaly..... an Outlier.
So someone best start planning for the 11W 11th Annual Dubgate now...... That will be an abundance of 11s.
There it is..... the details. This year we might drag along the petulant 10 year old (going on 15).
I dunno, I try not to watch them. I used to really like FoxSports with Jay and Dan.... then they stopped updating sports. Then I reverted to twitter.... then certain people stopped tweeting about steak and things and start whining about politics so I stopped following them. Now I pretty much just drink and dream of fine culinary bacon delights for this years Dubgate that my wife will insist we go to.... She likes to see me serve Chris L. the meat.....
I was okay with the comments. In fact, I think down-voting is overplayed. You should be able to down-vote someone if you disagree with their comment, but not our of disdain. Consequently, the comment shouldn't be shaded, just show the math. Now if it is an offensive comment (rare), then site mods take care of it and if not Preistas dons the black robe and comes for your keyboard (picture him with a scythe).
Too often these days people can't hold a conversation. You can disagree and still converse. It's easy, ask any married man.
He deserves a break. Few kids at that age have had to buy new tires for the vehicle due to wear. I like the analogy he is using, but as you noted, it was bass ackwards.
You two are running out of population quickly. Literally....
I agree. Not an NFL scout or anything, but Prince and Jordan pressed less than I would have expected. Don't we have a freshman coming in that does 225 lbs. 23 times or something already?
Well, now is the time to show your recipes. Although food is included, the staff always appreciate some extra morsels. The wife and I are hoping to once again make the event, which would be our 5th I think. I recommend Uber Black to this one, you want to arrive in style.
Not sure what bacon delicacy I will be whipping up, but if I attend, there will be bacon.
When you flip the bacon after 15 minutes (if in the oven) sprinkle on brown sugar and crushed red peppers then bake another 15 minutes. You can also do this in the pan or electric skillet. Just make sure it is crisp. Trust me, nobody worth their weight in bacon wants a limp piece of meat. :)
This is probably the simplest of all of the recipes. Use the bacon for burgers, sandwiches, Bloody Mary's or whatever you want. The flour acts as sort of a "chicken-fried" action as in Chicken-Fried Steak. It makes it crispier and soaks up all of the Bacon Juice, or what you call grease. Be careful, once you have it this way, you won't want it another way (except maybe Millionairs Style).
I call it Cheaters Bacon for the simple reason that IF YOU HAVEN'T BEEN DOING IT THIS WAY, YOU ARE CHEATING YOURSELF AND YOUR LOVED ONES.
It's got to be red or green bell peppers. Note the instructions call for it. Four seems like quite a bit. I think I'm going to try this one, but add in some BACON and skip the cayenne but maybe add a sprinkle (1/2 teaspoon) of brown sugar (why do you taste so good?)
Dang right Scooter. That's no way to go through life without tasting flour-drenched bacon. You're cheating yourself. Also, if you prepare bacon for someone who does not have your condition, you are CHEATING them if you don't drench it in flour. It's almost as if you don't love them.....
Easy big daddy. You have to hop in the pickup truck at the parking lot, travel over Hospital Hill, and jump on Route 143 to get to his hometown of Harrisonville, Ohio. For those youngin's out there, it's near Snowville, that is also some famous creamery for a fancy ice cream.
I don't know about the picture in the high school, and I don't remember one in Meigs High School, although I was a legend there as a co-founder of the Instigators of Corruption and a 10 letter winner in varsity sports. I also caused the evacuation of the 3rd floor one day when I snuck out some buteric acid (sic).
Cheaters Bacon
Flour Drenched Bacon good for eating, decorating deviled eggs, or as a sandwich topper.
• 1 cup of White Flour
• 1 pack of Bacon (recommend Hormel Black Label due to consistent cuts)
Directions
1. Pour the flower in a large bowl
2. Cut a pack of bacon in half (vertically)
3. Drench each half-piece in the flour. If you don't know what that means, just roll it around in the flour, heavily coating each side.
4. Place on a cookie sheet and bake in the oven at 400 F.
5. At 15 minutes, using a spatula for safety, flip each piece. Bake for another 15 minutes at 400 F or until crisp. Nobody like a limp piece of meat.
(Alternate) sprinkle brown sugar and crushed red pepper flakes after flipping for Millionaires Bacon.
If you havent been doing this, you are Cheating Yourself!
I put the CD player in it in 1995 and it only plays songs from the 1990's or earlier. Look for the dark green Wrangler (Rio Grande) with the white OSU tire cover on the back. All original, no extras.
I STILL have a 1995 Jeep Wrangler with a CD Player (no Aux or Bluetooth) with a detachable face on the stereo. When I drive it (it's in excellent condition) I never lock it as someone cutting through a window would cost more than what is inside of it (a 22 year old stereo).