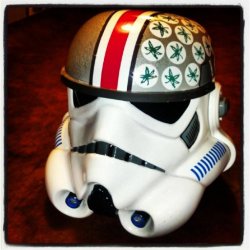 97Buckeye
---
Newark, OH (via Nashport, OH)
Member since 26 April 2012 | Blog
Favorites
SPORTS MOMENT: The entire 2002 Ohio State football season. So many close victories that had my emotions at a peak all season.
NFL TEAM: Cleveland Browns
NHL TEAM: Columbus Blue Jackets
NBA TEAM: Boston Celtics
Recent Activity
Though, we did play UNLV.
Hahaha... of COURSE it will! Go Bucks! Fire Fickell!
I have never before seen this gif and it has immediately vaulted into my top 5. Love it.
Army had 0 passing yards in their first game. They'll likely go for 200+ against us next week.
You must really enjoy being average. Congratulations on your ability to be happy with settling.
I'm hoping Oklahoma puts up another 14 on us. An ass kicking might actually force some sort of change. Awful.
JT Barrett is a helluva young man... smart, modest, and honorable. But he hasn't been a great quarterback since his injury at the end of 2014. He doesn't have the decisiveness or accuracy to throw open any receiver. It's time to move on from this kid. Let him mentor Dwayne Haskins or Joe Burrow as they play this season. This offense just has zero spark with Barrett at the helm.
For a receiver 2 feet taller.
Absolutely nothing has changed. I used to defend JT. I was clearly wrong. He is not a good quarterback. Also, it's clearly time to get rid of #Zone6 Zach Smith. He's taking 4 and 5 star WR recruits and doing absolutely NOTHING with them. Dumpster fire.
Barrett... grade A awful. WRs are never open and when they get lucky enough to BE open, Barrett misses them by a mile. Embarrassing.
No. Just... no.
Wow. Well played, but wow.
With the 25th pick in the 2017 NFL Draft, the Cleveland Browns select... Joshua Dobbs, Quarterback, Tennessee.
All these bad "one year wonder" picks... and they're all gonna be multi-millionaires. I'd say these players made the right decision, Coach Gruden.
I honestly have no idea who you're insulting here or what you mean.
To San Diego goes Bosa... where we will never hear from him again. So long, Joey.
I'd have to imagine it takes most of a full day to replace all that turf, man. ;)
Really not sure what you're talking about, man. Troy's sign is right there. Just look a little closer.
Whoa! They changed it, again, today!
... or the photo is real, but from 2013 ;)
For point of reference, this photo was taken yesterday, April 1, 2016.