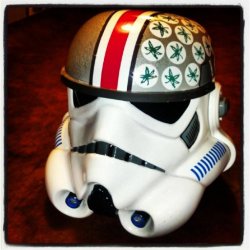 97Buckeye
---
Newark, OH (via Nashport, OH)
Member since 26 April 2012 | Blog
Favorites
SPORTS MOMENT: The entire 2002 Ohio State football season. So many close victories that had my emotions at a peak all season.
NFL TEAM: Cleveland Browns
NHL TEAM: Columbus Blue Jackets
NBA TEAM: Boston Celtics
Recent Activity
No. Just... no.
Wow. Well played, but wow.
With the 25th pick in the 2017 NFL Draft, the Cleveland Browns select... Joshua Dobbs, Quarterback, Tennessee.
All these bad "one year wonder" picks... and they're all gonna be multi-millionaires. I'd say these players made the right decision, Coach Gruden.
I honestly have no idea who you're insulting here or what you mean.
To San Diego goes Bosa... where we will never hear from him again. So long, Joey.
I'd have to imagine it takes most of a full day to replace all that turf, man. ;)
Really not sure what you're talking about, man. Troy's sign is right there. Just look a little closer.
Whoa! They changed it, again, today!
... or the photo is real, but from 2013 ;)
For point of reference, this photo was taken yesterday, April 1, 2016.
Would you like to make a second attempt at your usage of "their", also? :)
I will never NOT laugh at this gif. It just makes me smile so much :)
Was that Muttley the cartoon dog taking the video?
My first reaction was "home run!", but this article has me a bit concerned. http://www.nfl.com/news/story/0ap2000000268792/article/greg-schiano-loses-tampa-bay-buccaneers-with-autocratic-style
He just needs a little fine-tuning with Tim Beck whoever the next QB coach is.
I fixed that for you.
The next two teams into the B1G need to be midwest/west powers to balance things out. Give me Oklahoma and Oklahoma State or Notre Dame and Texas.
If Coach Herman goes to Georgia, he'll be able to develop some great southeastern ties to the high schools. That will really benefit us when he returns to coach the Buckeyes in 2024 (when Coach Meyer finally retires).
Except Warinner will be a head coach somewhere else next year. There are a LOT of head coaching vacancies this year, and Coach Warinner is sure to pick up one of them. The question is, does Coach Meyer want to go into a new year having to replace both Warinner AND Beck.
It's 4:12PM... AND MICHIGAN STILL SUCKS!!!