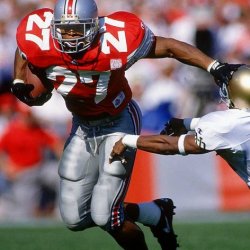 904buckeye
---
Jacksonville, Fl. (via Canton, Oh.)
Member since 02 February 2012 | Blog
Favorites
SPORTS MOMENT: Winning the first ever college playoffs by beating Alabama and destroying Oregon with our 3rd string QB
COLLEGE FOOTBALL PLAYER: Carlos Hyde
COLLEGE BASKETBALL PLAYER: Aaron Craft
NFL TEAM: Jaguars
Recent Activity
This is the first thing my dad said when watching the game.
Unless it was a drunken dispute between friends. Which is the only way I see a guy not wanting to go public with it.
Thats close with Kyle Khalis (not sure how to spell his name correctly) Lol Next time I'll read a lil further down before posting.
This should be Charlie Sheen...
Yes. And kid is a baller! He is easily the best player to come out of our area since Derrick Henry
He has to put up with Hairball so that alone may be woth it..
Is that Fickell or Adam Sandler? /s
Agree to disagree... Kwon is the truth, he caused the first pick if im not mistaken and he was all over the field and making plays that arent on the box score.
302
Congrats to Big Pat. A well deserved honor.
Congrats to Big Pat. A well deserved honor.
So glad we dont have the Walrus to hold this line back from its potential.
448
355
I know I did, and I'm a Jags fan!
this is awsome!
I worked with a good friend of Wade's, he told me Wade has been a buckeye fan his whole life and was gonna stay committed for it was a dream of his. I personally think he will stay committed but recruiting has its surprises.
IIRC we are undefeated and they lost to Utah. Or am i missing something?
Not sure if it applies but how tall is Steve Smith? Isn't he an outside receiver? He was one of the best in the league at Carolina, so i'm sure height isn't everything for that role. Dontre has jets!
We've only played three games! I understand that we grew into the best team LAST year and expectations were higher than ever but we have almost the entire season left to grow. Considering the job the coaches did last year I believe they'll right the ship again. I too am a firm believer that Barrett is the best option but I trust Urban to make the right decisions
I lol'd at this post.
Richard Sherman and Deon Sanders disagree with you.
I still believe Dantonio and his boys are our toughest games year in and year out.
You could just read the Houndie here every week.
I love the picks the jags made this year, although i would've taken the guy from USC ahead of Fowler, but overall I think they did well. Bennett just made watching the jags that much easier!