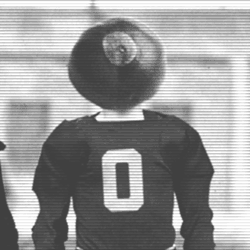 85ThruTheHeart
---
MEMBER SINCE July 29, 2015
Favorites
SPORTS MOMENT: Check my ID
COLLEGE FOOTBALL PLAYER: Braxton Miller
Recent Activity
It's 9 days until kickoff and Xichigan stills sucks.
My inner monologue after reading this:
We should definitely have more players on there! Another snub by the media for OSU.
Oh ho! It must be because we're pumping so many players into the NFL.
Wait, so are Bama and Clemson.
Okay, so who would I add? Maybe Okudah and...
eh, I guess this list is fine
You and my 2 year old would get along well.
I hate to tell you but they've had this exact article for the past few years.
*looks at list*
Davis is heaviest at 313.
*scrolls down*
Good lord Dawand Jones is enormous!
I get your point but stars aren't always noticed/utilized as they should be before they're in the league, i.e. Micheal Thomas. I have nothing else to say about that.
I can't help but to read that with lots of emphasis on the first 2 words...
I can actually hear that VT guy saying "WTF!?" as he's whiffing all the way to the ground.
I had to pause there. I'm still debating whether or not he did that on purpose.
The crazy thing is that Dobbins and Weber still had over 2000 combined yards. Even with all of the record breaking passing, the yards were still there. Yes, Dobbins' production dropped, mainly due to bad run pro, but again, the yards were still there for the taking. Hopefully Dobbins can have good solo numbers because... math is hard?
Thanks for the write up. Based on that, I'd have to agree with you about their college production. That said, things may have been different if 2015 wasn't such a huge coaching flop. The talent on that team was insane and I completely blame the season on mismanagement by the coaches.
Major, I should have clarified "them". My comment was directed toward nutinpa saying 68 is the only "super" class, case closed. Not sure why he rules out 13 so easily.
I'm not an older guy so I'm genuinely curious as to what makes them so much better than the 2013 class?
because I'm not leaving here with zero interceptions on the stat sheet,
Now why'd he have to go and make me root for no interceptions? I guess 100 tackles and 20 TFL will have to suffice.
Hers to seeing him play like his Harrison fire!
Ask and you shall receive https://www.scorehere.com/product/ITEM-0041309/Home-Accessories-Game-Room-Ohio-State-Buckeyes-Football-Helmet-Chair.htm
Nope, they went back and added that. Definitely was not there before.
Though we're still scratching our heads, no one was calling for Urban to leave after inexplicable losses to Iowa and Purdue. Overlooking Indiana and/or Cinci would be inadvisable.
Most people don't realize this. Check this out to see a visual of your thoughts about time. NOTE: Works better on pc than mobile
Nobody in Ohio State history has ever recorded double-digit sacks in multiple seasons. ... vrabill in 95 (13) ... Vrabill in 94 (12)
you disputed your own fact?
Yeah! Put down your damn devices and go talk to real people. Spare time should be about learning life skills. In my day, we'd be out playing by the stream or in the park every chance we got.
*hits submit and continues browsing the 11w forum*
There was recently an article where they predicted who'd be in the class. They expect 25 but even had 27 on their list.
That was an interesting section. Especially,
like Skyline Chili shreds...
I really thought that was going in a different direction
Latissimus Doors Strain
yikes, sounds serious
I bet McMurphy is shaking in his boots after reading those articles. How will he ever step up his game to write that well?