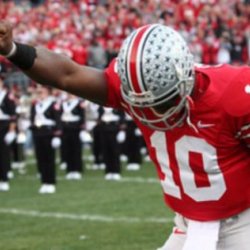 85_HoTS
Vandalia, OH (via Germantown, OH)
MEMBER SINCE August 26, 2015
Follower of Jesus Christ. Husband. Father of a beautiful little girl. Student Pastor. And a huge Buckeye football fan!
Favorites
SPORTS MOMENT: So many to pick from but Braxton Millers 40yrd launch to Devin Smith against Wisconsin has to be there.
COLLEGE FOOTBALL PLAYER: Troy Smith
COLLEGE BASKETBALL PLAYER: JJ Redick
NFL TEAM: Colts
NBA TEAM: Lakers
MLB TEAM: Red Sox/Reds
Recent Activity
We may look like stormtroopers, let's just hope JT doesn't fire like one..., Beat Xichigan!
Did anybody else count 9 touchdowns off of rushes instead of 8? I fell like the last one he had was pretty significant... ;)
its good to be back home....
Lets bounce back this week fellas! Go Bucks!
I hope they play angry football and this is a fierce bounce back game that sets the tone for the rest of the season!
When you continue to be in top 10 in recruiting year after.... you just go ahead and keep doing what your doing.
Im glad we have "professionals" as Urban calls them, to make the right half-time adjustments. And to think that Wisconsin had been preparing for this game since spring!

Here is the helmet to with it. I guess you can buy one on Ebay if you are interested.

http://www.ebay.com/itm/Ohio-State-Buckeyes-Riddell-Speed-Pro-Combat-Leather-Rivalry-Helmet-2016-/112167200251?hash=item1a1dafa5fb:g:TaIAAOSwYIxX7u1w
Giving them Beck (which I'm ok with) means that Tom Herman can have his seat back!
#wishfulthinking
What a class! Cant wait to see what they do. Its only Feb.3rd and I cant wait for the season to start...
Mike Thomas we would gladly take you again!
Did you notice the sound of the shotgun being racked as Cardale is throwing at about the 1:20 mark?? Love it!!
I love Darron Lee! I think he is underrated. He's such a beast!
I didnt get to watch it on ESPN. Mainly because I was there.... And if I can direct you attention to the "big screen" in this photo I took, that would be highlights of the Bucks scoring against that team up north. It was a great night ¯\_(ツ)_/¯