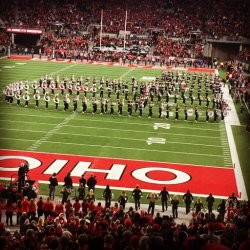 82spencer
---
from Westerville, OH
MEMBER SINCE October 02, 2014
Favorites
SPORTS MOMENT: Blue Jackets Game 4 comeback win
COLLEGE FOOTBALL PLAYER: Devin Smith
NHL TEAM: Blue Jackets
Recent Activity
Very possible. Hopefully someone with more info than me can tell us.
I would say the opposite is true. The harder it is for someone to motivate themselves, the less successful they are going to be.
While a good phrase for maintaining effort throughout the game, I wish the Bucks would care more about the score at halftime (i.e. not waiting until the fourth quarter to pull away from inferior competition).
In order of most entertaining to me:
1. Alabama
2. Florida
3. West Virginia
4. Tennessee
I could have missed it in the articles, but I wouldn't be surprised if he starts it for the fall semester. This would be a pretty quick turnaround.
I guess he is the best things for the money people and sucking up to ESPN.
I don't think you're familiar with how the B1G Network started. It was basically the world's biggest middle finger to ESPN.
FUUUUUUUUCK. Fucking McMurphy you know without that prick this wouldn't be happening.
McMurphy sucks, but he didn't put a cyst on Urban's brain.
If Davis and Stud are gone, they make it. If they aren't, they won't.
Texas has four losses and you can't talk about losses without mentioning we were ripped apart by a 6-6 team.
IS NOTRE DAME REALLY A LOCK FOR THE CFP?
Yeah
59-0 repeat, we jump OU
Nah
1. Clemson
2. UGA
3. ND
4. OU
Who would you leave out instead? At the end of today, there will be five teams with a legitimate claim to be in the playoffs and Ohio State will be the only one to have been ripped apart by a borderline bowl eligible team.
Nothing fans do matter. This is an internet discussion board. People are going to make predictions and assumptions.
I believe Paul Brown. I know the run of coaches being fired or "resigning" goes back to at least Wes Fesler, whose last year was 1950.
I don't think Washington will have much trouble tonight.
Ohio State is being penalized for getting an ass kicking at the hands of a 6-6 team. The playoff committee and the coaches voting in this poll don't give two shits about the Zach Smith thing.
I don't think you understand what head to head competition is.
For anybody watching the USC ND game, I highly recommend checking out the skycam option. It really gives you an appreciation for the speed of the game, plus you don't have to listen to announcers.
You're forgetting Notre Dame
Rascal Flats would be great.
He wouldn't do it for ESPN, he would do it for Ohio State. However, I doubt ESPN would want him and he is still trying to display himself as more than a former football coach.