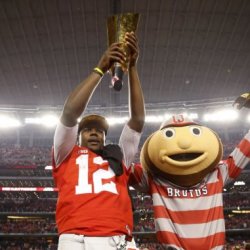 81Alum
---
from Columbus
Member since 25 January 2013 | Blog
Favorites
COLLEGE FOOTBALL PLAYER: Keith Byars
COLLEGE BASKETBALL PLAYER: Kelvin Ransey
NFL TEAM: Multiple
NHL TEAM: None
NBA TEAM: Multiple
MLB TEAM: Reds
SOCCER TEAM: Germany and Italy
Recent Activity
OK, I get where you're coming from.
Your fellow M fans disagree. From MGoBlog "Shane Morris Incident"
"The booing you hear in the background is fans demanding that Morris be removed, as it was even more obvious Morris was not right if you were looking at him for those 20 seconds uninterrupted. The only guy in the stadium who didn't know was Hoke.
Bluntly, anyone arguing that we shouldn't jump down Hoke's throat because of the slight possibility Morris was not concussed is an idiot."
http://mgoblog.com/content/shane-morris-incident
I hardly ever comment on this site any more, but logged in just to say "Hear, Hear". Well said! The guys at 11W do much better than any sports channel or magazine out there...and in their spare time, for free. They deserve to be appreciated, and I for one do.
I may be mistaken, but I thought Q was from Mississippi, not NJ. Congratulations to both him and Scott.
Same issue here. However, the cover (banner) can be swiped to the right to check out the parts that are cut off in the original screen. Rest of the site (paging down) works great and all the stuff that's on the right in the desktop version (poll, buckshots, forum topics) appears at the bottom. FWIW, I also access 11W through the Flipboard app and it works great (being doing so for ages) - the only thing is no banner appears when going through Flipboard, only the posts.
Using Sony Xperia Z phone, Android 4.3, Dolphin Browser.
http://gregghenson.com/?p=8506
Wow, just wow! Not only did mom kick MM out of her house, but Mark Dantonio too. Wonder what Coach D did. Story in the link above.
"Last night, Malik and his mother had a falling out over his decision to attend Michigan State. When Malik informed his parents that he would attend MIchigan State against their wishes, his mother threw him out of the house. Malikt welcome at his announcement today.
I'm told this situation started during Malik's official visit to Michigan State. While at Michigan State, according to Malik's mother, Mark Dantonio approached Malik in an "inappropriate manner" while his mother was not present. This apparently angered his parents and ruined their portion of the official in East Lansing. The "in-home" visit was suppose to address the situation in East Lansing but only inflamed the feud and cause Malik's mother to throw Dantonio out of the house."
Awesome piece...and you hit the nail on the head. Fuck _ichigan a thousand times, stomp em, and wrench their guts out.
I'm nervous because this will be their bowl game, and I'll enjoy it only if we beat them, and if we win big, that'll be icing on the cake. Remember the first game of the season when we went for 2 after TD's, I hope Urban was preparing for this game..."because we can't go for 3".
To quote from Johnny "Part of me hates to watch this. Michigan is beset by injury, incompetence, and a coaching staff that seems utterly baffled how to manage a team filled with directionless talent. They're supposed to be our eternal rivals dammit, not a poorly coached JV team.

Another part of me says screw that, this is what you get when you let hubris and nepotism catch up to you with little to back it up. Every single thing that Ohio State fans told Michigan fans would catch up with them in terms of coaching and personnel has in fact caught up with them..."

This sums up my feelings exactly. Never forget the 90's, and how they were going on about how this isn't even a rivalry any more!! Dantonio was correct "pride comes before the fall" Muck Fichigan!
That's going to be one tough game coming up Saturday. I trust Matta will use this game as a learning experience and the Bucks will be ready.
Yeeeessssss!!! Well done on the gif.
I thought TTUN looked good and if they continue to take care of business, The Game in November could be between two unbeaten teams, and we'll play again in the BIG championship game.
Agree, Kenny is a good role model for others on the team.
This is also what I suspected - he broke the curfew. Additional contributing factors could have been some small incidents along the way, none of which, by themselves, were anything serious, but they all added up in the end. That being said, there could also be some truth to some of the comments about creating scholarship space.
This is why I hate all things Wisconsin. These rodents, be it the Wolverines or the Badgers must be put in their place, or destroyed, and Urban's the man to do it.
Regardless of the politics, it's cool to know that Obama also calls them TSUN.
I realize its April fools, but that statue of Tressell with Carr is priceless and should be installed pronto.
While I agree, I think people are forgetting the shot clock, especially when it's 5 seconds or less. Even if you don't grab the block, forcing the other team to reset its offense with limited time on the shot clock is pretty effective.
The secret ingredient to Matta's success. Looking forward to more championships.