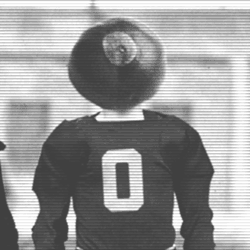 810Buck
---
MEMBER SINCE October 24, 2016
Recent Activity
Gattis is a really strong recruiter. Great guy to have on staff.
He is total unknown as a play caller. I suspect Harbaugh isn't giving up control despite what he says publicly.
I honestly think Flemming had something to do with the hire and TSUN thought they could get back in with him.
I go with tiers in no order:
Texas, OSU, Bama, UF
UGA, PSU, ND, USC, AM, LSU, Michigan
Clemson, Auburn, Washington, UCLA
Take Moeller kid as preferred walk on. Go get linemen instead.
Fields - Baldy - Chug - Moeller. if we're down to QB 4, we got serious problems.
He was in there prior to announcing medical.
No one reported on it because no one cared.
Would be really surprised on Grinch and it would mean something has gone really wrong or maybe he just really doesn't get along with Day. This was absolutely a destination for him.
Washington and Day are somewhat chummy -- and I really like Al -- but it's confusing as to how this is all coming together. My guess is he is looking for serious bump in pay.
The schedule is tougher and roster is leaner than anyone cares to admit next year. 9-3 is realistic and boy oh boy that would make the ice thin.
So I hope I'm super wrong on this, but his window is really, really, really small. Imagine a week 2 loss next year?
And Urban's shadow looms large. If you honestly asked my gut reaction for how I would expect next two years to work out? 9-3, 9-3, Urban coaching again in 2021.
Easy answer: Rick Neuheisel.
Leadership
Discipline
Linebackers.
Fix those.
And gentlemen in Ohio now-a-bed
Shall think themselves accurs'd
they were not here,
And hold their manhoods cheap
while any speaks
That fought with us upon the Purdue game.
He looks like a LB playing a safety position that requires a TON of athleticism in OSU's scheme.
I hate to call out a individual player tho. You can see the flashes of what probably makes him pop as individual practice player.
I am worried about back 7.
This was always the problem and I didn't think OSU had an answer for it.
And yes - everyone around the program (including media types who are there on daily basis) knew about it. And it's why you wanted media digging on Urban Meyer and not ZS. If you asked me Friday night after it broke I would have said 10% chance Urban remained coach because there was no satisfactory explanation of why ZS didn't get fired then. Keep in mind the moron was brazen enough to show off photos at a NW Columbus Country Club so it extended beyond walls of WHAC. McMurphy I think rushed the story out so OSU couldn't play the "Urban didn't know card."
With the way things have played out though there must be a response - maybe ZS got sent to rehab ? Regardless, the stroke of luck for OSU is that the secretary doesn't want to play -- if that is because she was paid to go away or whether she doesn't want to rehash event that sent her into tailspin - I don't know.
Thamel is Urban's mouthpiece.
You have to grasp that this doesn't matter. The scope is now broader.
Had first college class in Sullivant Hall - still my favorite now even post renovation.
I'm going to bury this here - even tho I've posted it at other points in the past 3 years. And let me preface all of this, by saying as a fan, I hope Urban keeps his job.
The scope of the investigation allowed this to extend beyond DV and that's trouble for OSU. If you were employed by a company - and got caught having sex on company property with a subordinate and documented it and showed it to other co-workers and your boss didn't see it but knew about it and it was documented internally - would you keep your job? 100 out of 100 times - no you would not.
So the damning part isn't that Urban was supposed to know - it was that he did know and reported it ...and nothing happened.
This is incredible. They should just keep this format after this mess.
This is a problem for OSU and everyone involved.
ZS had a very bad 2015 -- and literally everyone knew. The confusion is over what is fireable/legal vs what is moral/ethical.
Don't mix booze with aderol and "libido max"
2015 is going to get WAY more embarrassing for everyone. But realize this is two camps waging war before court for a settlement -- and limited involvement for OSU/Urban. Bruce family uses Snook/105.7. CS uses McMurphy who she is tied to now. Minor players involved elsewhere trying to make name for themselves.
Now could we get to a point where OSU has to cut ties because it becomes too much that Urban kept such trash around the program? Possibly.
Same as I felt before.
He's a great communicator to kids and coach. He will never coach here again.
But his flaws are almost identical to Urban at UF. Ultra-competitive alpha that has trouble turning it off and that gets you into trouble sometimes.
It's at least one current player. It's also not as easy to prove as people think.
Impacts basketball wayyyy more than football.
Dumb rule, but a rule. How about the situation where a guy transfers and sells his merch from former school?
Go back and look at his performance reviews. Personal affairs was included in room for improvement -- including something I think he easily should have lost his job over before. There's a reason he didn't get a raise some years and was on a short leash. But he had the longest leash of all with his grandfather.
My gut tells me Urban and others didn't know about the May incident right away. Dude's personal life is a mess -- good luck to him with two kids involved. He really needs to focus on getting his stuff together.
He's gotta go.