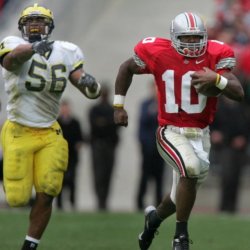 741
---
Columbus, Ohio
Member since 30 August 2010 | Blog
Favorites
SPORTS MOMENT: In the park grand slam HR in the 7th inning to advance to the championship of the Dublin, Ohio Tuesday night Co-Rec Softball League (2004).

Oh, you mean best "actual" sports moment? Storming the field after Will Allen's interception on the end line with 0:01 remaining on the clock to beat Michigan and advance to the National Championship (November 23, 2002). Best moment ever.
COLLEGE FOOTBALL PLAYER: 1a.) Troy Smith, 1b.) Cardale Jones
COLLEGE BASKETBALL PLAYER: Greg Oden
NHL TEAM: Blue Jackets
SOCCER TEAM: USMNT
Recent Activity
Bro, all the assclowns are also here.
I'd like it if someone got me a juice.
You absolutely will not (if they are fair about the "market pricing" system they have been experimenting with the past few years). Those tickets are always available in the secondary market below face value. I say that as a season ticket holder who is offended by being forced to pay full price for a game that is nowhere near worth the face value.
Also, if we ever play YSU again in my lifetime that will be a travesty. I barely give any more credit to Kent and Akron. Some of the MAC schools are fine every now and then, but not every year. We have to be better than that as fans, and as a FBS 1-A elite football program. I don't care if 'Bama or whomever isn't doing it right... Ohio State needs to do it right.
Where's the "keep the money in Ohio" crowd? F'ing Akron and YSU need the money. /s
This young man is only 16? Sounds incredibly mature for his age. Size and athleticism aside, this guy sounds like he would be an amazing teammate.
One of the better articles posted on 11W. The human being behind the jersey number. Great stuff.
Great landing spot. Make that roster young man!
Who's got it better than us?
Adults dressing in clownface makeup is universally wrong - unless you are in Cirque du Soleil.
And, it is important to note, no face paint for Neutron Man.
False. A hipster would never be caught dead in Panera.
2020. There might be a new internet by then.
I wasn't speaking to you in particular, more a larger audience of people who seem to think getting a "free" education is more than enough for these guys. I humbly disagree with that idea. It's not "free" if you work your ass off and generate a huge amount of revenue for your school/company/what have you. The average OSU FB player pays it forward many times over for the university and fellow student athletes. I'm amazed more people don't see it that way.
I humbly suggest that some folks ought to quit complaining and instead pay it forward by networking with or hiring a former OSU football player when you have a chance.
These guys generate multiples of the revenue it costs to pay for their Ohio State scholarships. In fact, they generate the revenue to pay for every other sport at OSU (with the exception of Men's basketball which most of the time is revenue positive). They should absolutely get a reasonable stipend of some sort commensurate with their contribution, and also have access to resources like Real Life Wednesday's. Why is this such a difficult concept for so many to grasp?
Yeah, I paid my own way through Ohio State (with the assistance of Federal Student Aid and Pell Grants). But these guys pay their own way, plus pay for many other student athletes way as well. And then some!
Thank you KBD. On to the next challenge!
'Iron Man' in the highlight reel music? Wow!
I hope this is true. This kind of thing should happen, and should be totally kosher with the NCAA (but probably for some dumb reason isn't).
Great Buckeye. Great example.