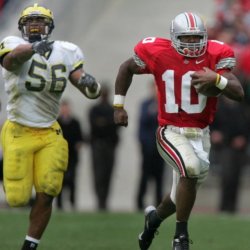 741
---
Columbus, Ohio
Member since 30 August 2010 | Blog
Favorites
SPORTS MOMENT: In the park grand slam HR in the 7th inning to advance to the championship of the Dublin, Ohio Tuesday night Co-Rec Softball League (2004).

Oh, you mean best "actual" sports moment? Storming the field after Will Allen's interception on the end line with 0:01 remaining on the clock to beat Michigan and advance to the National Championship (November 23, 2002). Best moment ever.
COLLEGE FOOTBALL PLAYER: 1a.) Troy Smith, 1b.) Cardale Jones
COLLEGE BASKETBALL PLAYER: Greg Oden
NHL TEAM: Blue Jackets
SOCCER TEAM: USMNT
Recent Activity
False. A hipster would never be caught dead in Panera.
2020. There might be a new internet by then.
I wasn't speaking to you in particular, more a larger audience of people who seem to think getting a "free" education is more than enough for these guys. I humbly disagree with that idea. It's not "free" if you work your ass off and generate a huge amount of revenue for your school/company/what have you. The average OSU FB player pays it forward many times over for the university and fellow student athletes. I'm amazed more people don't see it that way.
I humbly suggest that some folks ought to quit complaining and instead pay it forward by networking with or hiring a former OSU football player when you have a chance.
These guys generate multiples of the revenue it costs to pay for their Ohio State scholarships. In fact, they generate the revenue to pay for every other sport at OSU (with the exception of Men's basketball which most of the time is revenue positive). They should absolutely get a reasonable stipend of some sort commensurate with their contribution, and also have access to resources like Real Life Wednesday's. Why is this such a difficult concept for so many to grasp?
Yeah, I paid my own way through Ohio State (with the assistance of Federal Student Aid and Pell Grants). But these guys pay their own way, plus pay for many other student athletes way as well. And then some!
Thank you KBD. On to the next challenge!
'Iron Man' in the highlight reel music? Wow!
I hope this is true. This kind of thing should happen, and should be totally kosher with the NCAA (but probably for some dumb reason isn't).
Great Buckeye. Great example.
Draw me like one of your French girls.
He's a lock to go in the top 10. I'll be shocked if he makes it past #4 (but the Browns front have been known to fuck up a cup of coffee in the past).
Hey, remember those guys named Ezekiel Elliot and Todd Gurley?
Great Buckeye. Hoping he won't be the first Buckeye the Browns have signed in forever (haha).
Are you a Giants fan? Maybe there's a Giants blog where people will be excited to discuss various theories about the Apple family dynamics.
Lots of unnecessarily hot takes here.
Light a fire to do what, will himself younger? If you are questioning his motivation or effort you are not paying attention.