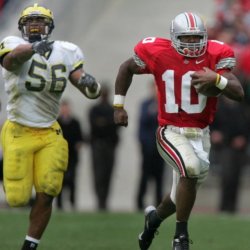 741
---
Columbus, Ohio
MEMBER SINCE August 30, 2010
Favorites
SPORTS MOMENT: In the park grand slam HR in the 7th inning to advance to the championship of the Dublin, Ohio Tuesday night Co-Rec Softball League (2004).

Oh, you mean best "actual" sports moment? Storming the field after Will Allen's interception on the end line with 0:01 remaining on the clock to beat Michigan and advance to the National Championship (November 23, 2002). Best moment ever.
COLLEGE FOOTBALL PLAYER: 1a.) Troy Smith, 1b.) Cardale Jones, 1c.) Dwayne Haskins
COLLEGE BASKETBALL PLAYER: Greg Oden
NHL TEAM: Blue Jackets
SOCCER TEAM: USMNT
Recent Activity
Transfers to Oklahoma, plays one fantastic year, becomes Cleveland Browns first round draft pick.
These sports bloggers/writers do not appear to be living in their mom's basements for the most part. Huh.
I am guessing OP is a Browns fan.
So mods can go "off topic" and make political commentary on hot button issues not based in fact, but others can't Jason?
If Ohio State runs the table there is a 0% chance they are not in the top 4. All is well.
I am incapable of understanding the accents in that show to have anywhere near the level of understanding necessary to get these references.
Wow, just watched the longer "Changes" video and that is a masterpiece. There are some LEADERS on this team. Makes me proud.
That video has it all: laughs, catharsis, hype. A thing of beauty.
5) Hear the lamentation of their women
Solid article. Thank you.
Steelers fan here (sorry, not sorry). How the hell was the Bengals game NOT televised in Central Ohio?
He's a man, and made a decision, and I respect it.
If I was in Wade or Davis' shoes I would like to think the decision to return was primarily about winning a championship this year, with the added benefit of maybe improving my draft position slightly. But with each week Clemson, Alabama, and a handful of other contenders get to play and the Buckeyes don't, the odds of being able to compete in those playoff games diminishes. Add to that seeing your brothers making plays in the NFL and competing for championships at the next level - the decision to begin preparing your body as a professional for the next level totally makes sense to me.
Don't forget dick pics from the White House.
I am hard pressed to see a scenario in which 6 presidents that voted "no" change their votes to being in favor of playing this fall, and subsequently all 14 teams in the B1G playing. Wouldn't it be within the realm of possibility that the B1G members vote to temporarily amend the bylaws to let the 3 (or however many) teams that have the means and the ability to play safely go out and play? Wouldn't that be a reasonable approach that benefits the association as a whole? I find it surprising no one is talking about this.
Gotta find 6 more university presidents in the B1G to buy in...
It seems like no one is discussing the possibility that the B1G presidents might have a re-vote and still have a 60% majority vote against playing. I am of the opinion Ohio State should be seeking a legal injunction allowing them to break away from the B1G for this season and seek to schedule games with any willing partners - whether they are in the B1G or not. Let Nebraska and Iowa (and whoever else votes to play) to do the same. There will still be money to be made together in future years as a conference. This is nuts.
The last time I had a glass of milk with a steak dinner I was probably 8 years old. What a fucking weirdo.
Thank you. That finally sunk in for me. Fuck.
Oops I see I messed this comment up. I meant we reside in FBS of course, and that FCS is not under the purview of NCAA. Sorry all.