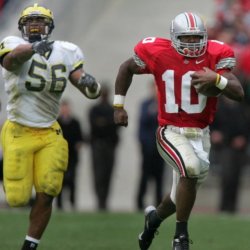 741
---
Columbus, Ohio
Member since 30 August 2010 | Blog
Favorites
SPORTS MOMENT: In the park grand slam HR in the 7th inning to advance to the championship of the Dublin, Ohio Tuesday night Co-Rec Softball League (2004).

Oh, you mean best "actual" sports moment? Storming the field after Will Allen's interception on the end line with 0:01 remaining on the clock to beat Michigan and advance to the National Championship (November 23, 2002). Best moment ever.
COLLEGE FOOTBALL PLAYER: 1a.) Troy Smith, 1b.) Cardale Jones
COLLEGE BASKETBALL PLAYER: Greg Oden
NHL TEAM: Blue Jackets
SOCCER TEAM: USMNT
Recent Activity
Draw me like one of your French girls.
He's a lock to go in the top 10. I'll be shocked if he makes it past #4 (but the Browns front have been known to fuck up a cup of coffee in the past).
Hey, remember those guys named Ezekiel Elliot and Todd Gurley?
Great Buckeye. Hoping he won't be the first Buckeye the Browns have signed in forever (haha).
Are you a Giants fan? Maybe there's a Giants blog where people will be excited to discuss various theories about the Apple family dynamics.
Lots of unnecessarily hot takes here.
Light a fire to do what, will himself younger? If you are questioning his motivation or effort you are not paying attention.
Shelly Meyer is a treasure.
Great Buckeye. And a really amazing run we have had with great, NFL caliber o-line guys. Billy will probably be starting in the NFL at center next year like those that recently preceded him.
The only reason necessary to hate Iowa: Drew Tate and his fucking windmilling ass.
A reason to love Iowa: Vodka Samm.
So if we get Franklin County, or the City of Columbus, to make Precourt an offer he can't refuse and buy the team to keep it here forever, then will we get folks to be OK with building say an $80-million stadium for the team down in the Arena District? Columbus Crew SC could truly be the "Green Bay Packers of MLS" in that scenario.
Haaaahahaha you beat me to the punch with that bro.
Also, the area inside the white rectangle is the former planned location of the casino, and I believe is currently owned by Nationwide.
My understanding is Nationwide built the Arena (and then not coincidentally well over $1-billion more in commercial, residential development around it, which later was followed by other development such as Huntington Park, etc.) and in recent years have agreed to sell it to Columbus for less than it cost to construct. They have provided incredibly favorable financing - basically allowing the loan to be repaid with revenue collected from casino taxes. (Casino revenue has been less than expected, and Nationwide's loan terms are flexible enough that this has not become a problem.)
Nationwide in turn made a large capital investment in the Blue Jackets to shore up the team's finances and keep them in Columbus. They further made a long term commitment to pay to have naming rights on the arena.
Yet people are still bitching that 20 years ago they "voted down" financing the arena and now they "are paying for one with their tax dollars" - completely closing their eyes to the massive investment in the City of Columbus made by Nationwide and all the tax dollars generated over all these years. The "Arena District" is called that for a reason, and the city is massively better off because it is there. It is so far from being a failure it's laughable anyone would label it as such.
General comment to the detractors of "publicly financed" stadiums... Many Columbusites are fond of complaining about Nationwide Arena (declaring it as some kind of failure - which I challenge anyone with actual knowledge of commercial real estate to prove). Where are the complaints about Huntington Park - which is owned, operated, and built with "taxpayer dollars" by Franklin County?
Why is it such a leap to assume that an investment by our city (or Franklin County) might actually be good for the city, and over many years might actually generate tax revenue, operational revenue, and quality of life in our city that far exceeds the initial investment? We are not talking about building a billion dollar NFL stadium here - it's a soccer stadium that would seat 20,000-25,000.
Huntington Park was built for $70-million ($78-million in 2017 dollars adjusted for inflation). It has continually been rated one of the best facilities in the nation of it's type since opening. Why was this public investment embraced by Columbus yet the idea of a new soccer facility is met with derision at every mention - even amongst the community of soccer fans for the most part!
This.
The capacity of the stadium is not the issue - it's the lack of revenue generating amenities, a total lack of surrounding entertainment and dining venues, terrible parking and overall poor access to getting in and out of the area before and after games. I suspect if there was commitment from the City of Columbus, Franklin County, and local business leaders to invest in the area surrounding Mapfre Stadium this situation might be different. (Or, maybe Precourt is just a douchebag and intended all along to move the team to Austin.)
Young fella getting bizzy with that peanut butter sandwich.