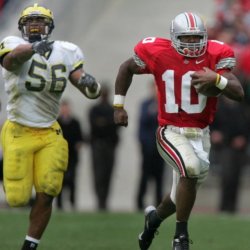 741
---
Columbus, Ohio
MEMBER SINCE August 30, 2010
Favorites
SPORTS MOMENT: In the park grand slam HR in the 7th inning to advance to the championship of the Dublin, Ohio Tuesday night Co-Rec Softball League (2004).

Oh, you mean best "actual" sports moment? Storming the field after Will Allen's interception on the end line with 0:01 remaining on the clock to beat Michigan and advance to the National Championship (November 23, 2002). Best moment ever.
COLLEGE FOOTBALL PLAYER: 1a.) Troy Smith, 1b.) Cardale Jones, 1c.) Dwayne Haskins
COLLEGE BASKETBALL PLAYER: Greg Oden
NHL TEAM: Blue Jackets
SOCCER TEAM: USMNT
Recent Activity
Let's get 6 in a row this year, men.
THE Ca$h Money University.
A smoke screen to throw off Cincinnati? lol
Yes. I realized my error after hitting submit.
FAU staff made good adjustments at halftime on both sides of the ball.
There were some very mild boos from the "faithful" in the Shoe a couple of times today. It's embarrassing.
He looked pretty damn good to me from 26A. Really only missed one open receiver, and made some good decisions to throw balls away. A couple of reads he could have made a fraction of a second faster. That first quarter was glorious.
This new "DJ" that's supposedly part of the new fan experience this year has to be late 30's at least.
Is that where the Pizza Boy moved?
UCLA's qb handed the ball over to UC without having a finger laid on him two times inside the 10 yard line. Those turnovers were totally unforced errors. That was the difference in the ballgame.
They do offer up unsold seats first to season ticket holders before the public sale. As a season ticket holder I look when my window opens and sometimes buy more seats to certain games. This year I looked at picking up a couple more for Wisconsin but there was nothing but C deck way up high, and if my memory serves me correctly no pairs were available.
Yeah, of course there were decent seats likely available for FAU. And yeah, imo it will be relatively easy to buy tickets in the secondary market for that game below face value.
With respect, Kurt Coleman has not been to two Pro Bowls nor been named All-Pro.
Some solid instances of #disrespek here. Some of these men will use it as fuel.
They made it exciting early! Vandy has too much firepower though. Go Bucks!
So, are you unhappy you can buy a beer inside Ohio Stadium? I'm not.
Including the height of their last two QB.
Is the no player names on the jersey a new thing for the season, or just for spring game?
No information about the actual game in this article. Game time and so forth...
This take is ass my dude.