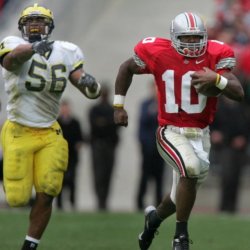 741
---
Columbus, Ohio
MEMBER SINCE August 30, 2010
Favorites
SPORTS MOMENT: In the park grand slam HR in the 7th inning to advance to the championship of the Dublin, Ohio Tuesday night Co-Rec Softball League (2004).

Oh, you mean best "actual" sports moment? Storming the field after Will Allen's interception on the end line with 0:01 remaining on the clock to beat Michigan and advance to the National Championship (November 23, 2002). Best moment ever.
COLLEGE FOOTBALL PLAYER: 1a.) Troy Smith, 1b.) Cardale Jones, 1c.) Dwayne Haskins
COLLEGE BASKETBALL PLAYER: Greg Oden
NHL TEAM: Blue Jackets
SOCCER TEAM: USMNT
Recent Activity
Is Coach Coombs down there? Otherwise, let's get that story posted boys.
That's a real person's name? LOL
Not "crushing" at all. Take a breath.
Second word of the day: Sate.
/sāt/
verb
satisfy (a desire or an appetite) to the full.
"the over abundance of talent at Ohio State and the high quality of life available in Columbus, Ohio is more than enough to sate Mark Pantoni's desire to seek other professional opportunities"
Great job! Golden age continues.
People talk about this two year commitment thing a lot. How do you think one would enforce it? Fear? This (Hafley taking a HC job) is what happens when you hire the best candidates. Sometimes you lose one earlier than expected. Next man up. (Congratulations to Hafley.)
Request for article: Someone at 11W should do an in-depth dive into the nutritional program Coach Marotti puts together for a player or group of players, and how it is actually executed (i.e., how many meals are covered by scholarship, where those can take place, and what portion is handled by the student athlete or their family). I'm curious if all or the majority of their meals and snacks are served at team facilities or if some occur via meal plan swipes at campus dining facilities, and whether any support is provided for them at their residences. Also, what about summers? I would assume meal planning and training is a year-round focus for all of these men - does the NCAA allow the university to feed them properly all year long while they are on scholarship? Another interesting look might be a glimpse into the nutritional program for a non-scholarship walk-on? How do these guys do it?
Clay Travis is a nobody who should be universally ignored,
Will these dudes ever do anything other than talk the talk? Every year it's the same dumb jibber-jabber, and then they get jobbed.
Hahaha H20 and 4. Webster looking ass.
Fixed it for you: 1.) Desmond Howard and Nick Lachey singing Hail to the Victors from the top of Ohio Stadium. (Lachey's lovely wife divorced him shortly thereafter.)
I don't recall ever feeling this good about the depth chart of an Ohio State football team. It is truly a golden age we are in. GO BUCKS!
Why is Justin Fields number of online classes still a story?
Isn't it nice to not have to go into panic mode when a starter or two are injured and can't play for a week or two? Next Man Up U.
Someone who took the points and/or bet the under on the Maryland game.