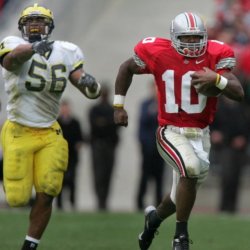 741
---
Columbus, Ohio
Member since 30 August 2010 | Blog
Favorites
SPORTS MOMENT: In the park grand slam HR in the 7th inning to advance to the championship of the Dublin, Ohio Tuesday night Co-Rec Softball League (2004).

Oh, you mean best "actual" sports moment? Storming the field after Will Allen's interception on the end line with 0:01 remaining on the clock to beat Michigan and advance to the National Championship (November 23, 2002). Best moment ever.
COLLEGE FOOTBALL PLAYER: 1a.) Troy Smith, 1b.) Cardale Jones
COLLEGE BASKETBALL PLAYER: Greg Oden
NHL TEAM: Blue Jackets
SOCCER TEAM: USMNT
Recent Activity
Cardale is my hero, forever.
I'm finding it interesting some of my 11W brothers and/or sisters are interpreting this situation as a money grab by corporations. The banners being referenced are not ads for Honda per se. They are Ohio State banners "sponsored by" Honda - e.g., Honda is paying Ohio State Athletics for the privilege of having their name appear on the banners that celebrate past Ohio state greats. How is that "making money" from the athlete's image?
Are you suggesting that the goodwill generated in the community through their charitable contribution to OSU leads directly to increased sales of Honda products? If so, I say "Hooray" for Honda.
If anyone is "making money" it's the Ohio State University Department of Athletics - and I, for one, am not against it.
That said, I also believe strongly the NCAA should allow far more leeway for universities like Ohio State to provide assistance, support, and even direct compensation to student athletes - especially those in the revenue producing sports.
To me, it feels like Spielman could fight the good fight on behalf of his fellow former student athletes in a more positive way. Suing the university we all love and support is not a great look imo.
If that happens, I hope the Steelers sign him immediately,
The fact he drives one of those ridiculous vehicles is a crime.
The DV's must be coming from people who didn't take the CCW class.
Note: Titus is the "everyman" in this scenario. I'm simply making the observation that the guy with the power in the relationship could be a little nicer to the other guy. But again, maybe it's all a big joke and in reality they are cool with each other. I have no idea.
Just an observation: One of these gentlemen is a multi millionaire professional basketball player (who ran out of gas on Route 315 while driving his Ferrari) the other is just a dude who was famous for a few minutes because of a viral video, and that happy accident allowed him to sell a few books.
Is Evan Turner really that big of an asshole in real life, or is it just part of the schtick with Titus? This is a serious question.
That Sparty "premium" ticket price is a travesty. Not "dynamic" at all. Take a look at the secondary market price for tickets to that game.
If television viewers aren't paying ESPN as part of their standard cable or satellite packages, they will pay some other content distributor, or pay in some other way. No way that TV money goes away - I expect OSU and the B1G will make more, not less, in the future.
Try texting BRUTUS if you see a security issue that needs attention. (It doesn't work.)
Completely separate budgets. I predict the wifi upgrades will happen despite Mr. Fisher's confusion.
So, that means a 0% chance of him being drafted by the Browns. Cool.
I have got to admit, this is pretty awesome for his players. Harbaugh, however, remains a weirdo of astronomical proportions.
Great facility. Looking forward to being there again. THERE IS A MAKER'S MARK BAR ON SITE.
This is correct. Coach Holtz did not take a dime, and paid his own way to travel to attend last year's "Unlimited Love - Unverferth House" fundraiser Michigan week. This year's keynote speaker will be none other than Jim Tressel, and so forth.
This is an event worth looking into. It will sell out, so if you are interested in attending don't wait until the last minute.
I've met him (at Unverferth House fundraising events over the years) and I still would not mess with Ike.
Regardless of the Cruise for Cancer brouhaha, Hooley is a giant tool.
You had me at "premodonna".
His agent should fire him.
Mike Maycock sees Hospital Worker trending upwards as a possible late second round pick. "Impressive."