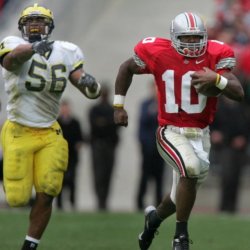 741
---
Columbus, Ohio
MEMBER SINCE August 30, 2010
Favorites
SPORTS MOMENT: In the park grand slam HR in the 7th inning to advance to the championship of the Dublin, Ohio Tuesday night Co-Rec Softball League (2004).

Oh, you mean best "actual" sports moment? Storming the field after Will Allen's interception on the end line with 0:01 remaining on the clock to beat Michigan and advance to the National Championship (November 23, 2002). Best moment ever.
COLLEGE FOOTBALL PLAYER: 1a.) Troy Smith, 1b.) Cardale Jones
COLLEGE BASKETBALL PLAYER: Greg Oden
NHL TEAM: Blue Jackets
SOCCER TEAM: USMNT
Recent Activity
Funniest comment of 2019 so far.
I believe Michael Thomas will be the greatest NFL wide receiver to come from Ohio State University when it is all said and done.
I don't believe he is done. He will be a head coach again at a top program within 2 years or so... and I am fine with that. I am grateful for the golden age of Ohio State Football this man has given us.
He wrote things? Huh. I thought it was all hyperlinks and talking about Migos.
Non story imo.
My prediction: Urban will be in the field sometimes... to accept big ceremonial checks from donors during photo ops. Then, in 2020 or so, he will take another head coaching job elsewhere.
Hold up, Gritty plays football for Michigan?
Champion level performance, young man.
Every milestone he passes I want to come back here and ask if the people who said he shouldn't leave OSU a year early because he needed to develop further, or the ones who said he wasn't fast enough, and/or wasn't a downfield threat (blah, blah, blah) are ready to admit they were wrong?
There is plenty of room to build additional parking - as well as plenty of existing parking. Has never been an issue.
If you have attended one or more of the USA-Mexico matches in the present arena, you know there will be no lack of excitement for these matches to continue in Columbus - the heart of USSOCCER. #DosECero
Somehow, a subset of the (math, logic, and common sense challenged) Columbus population will be up in arms over this transformative private investment in our city.
And I don't care what anybody says, Cincinnati is NOT a marquee matchup.
Boo. I want a marquee non conference matchup (or two) every year. Screw what the SEC does.
Well stated. I do think that at some point Gene may end up running the B1G conference, but totally agree with the premise that Urban's passion (impacting the lives of student athletes) is not truly aligned with the OSU AD job.
Over lunch today, my brother and I and a couple buddies were discussing it is time to hang the names Meyer and Tressel in Ohio Stadium.
The best possible news today. These four guys are critical elements of the success of the program. Day makes his first great executive decisions, and closes the deal. GO BUCKS.
Great run for Coach Meyer, and great era of OSUFB. Ready for a new era to begin under Ryan Day and excited about it!
Hahaha me too. I too know this to be true (at least in my era).
Well deserved, young man. Now win the damn thing!
I wasn't a fan of the banners. I also wasn't a fan of Spielman suing Ohio State,