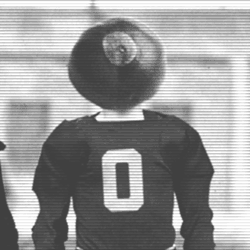 740Buckeye740
---
Member since 27 August 2014 | Blog
Recent Activity
"LaVar attended Canoga Park High School in Canoga Park, Los Angeles, where he was a prominent quarterback on the football team and played basketball as a forward.[7][8] In one season, Ball grabbed a total of 316 rebounds to break the school record.[8] He stood 6 ft 4 in (1.93 m) and weighed 225 lbs (102 kg) by college.[7]"

According to the Zach Smith defenders round here, it doesn't matter where if you're a 5th stringer in the NFL as long as you're in the NFL
I mean he broke records in basketball and also played in the NFL.

It's not like he's a complete bum like RaSean
LaVar Ball actually has talent, he's just a shitty human being.

Youtube guy has no talent and is a shitty human being, so hey...it's LaVar by a smidgeon.
He's still mad because the refs were paid off by Urban.

https://www.youtube.com/watch?v=w4SfTBRNh7I


This motherfucker gonna fuck around and force Zach Smith to start leaking pictures from Harbaughs sleepovers.

#felony6
So you're telling me you wouldn't love to have Amari Cooper, Jarvis Landry, Julio Jones, Calvin Ridley, DeAndre Hopkins, Sammy Watkins, Martavis Bryant, Mike Williams, Ray-Ray McCloud, OBJ, or Jaron Brown?

I love the Ohio State football team, but we can do MUCH better than what we've been doing.
I love Bob Dylan, but I think Under The Red Sky is a shitty album.


And like I said, the majority of those players are SPECIAL teams players.

Michael Thomas is the only star receiver you've listed there. I'd rather be Clemson, LSU, or Alabama when it comes to receivers.
Braxton Miller is a freak athlete, he was getting drafted regardless of who coached them, Jabrill Peppers is a testament of that. Even DGB was drafted in the second round despite numerous MAJOR red flags due to his athleticism and freakish size. Ohio State receivers are great at blocking and tackling, but are pretty sub-par when it comes to everything else.

Didn't the Jets say that Smith wasn't even NFL ready when they drafted him and struggled with the most basic of routes? It was either Marshall or Smith, I remember them saying it.
Ryan Day can actually coach unlike the last joke we had holding that position.


We're talking about Zach Smiths time in Ohio.

I could give two fucks less about what he did in the state of Florida. Coaches fall off, it happens all the time. Let's hire Steve Sarkisian as our next OC, he was good at one time wasn't he? He whooped our ass to and fro back in 08 and 09
Michael Thomas nearly quit the team due to not being a starter, and Keyshawn Johnson was one of the figures that helped pull him around into competing for a starting spot.

It's not as if he's a third uncle that nobody ever talks about, they apparently had a really close relationship growing up. I posted the exact numbers on the WR U post forever ago, I'll go back and try to find it for you.
In the NFL, yes.

That's why I excluded Thomas, I still attribute the majority of his success to his family lineage.
We're WR U in putting bodies in the NFL...however if you add up all the receivers yardage from like 2013 or something, they're still 200-300 yards short of Amari Coopers rookie season.
Where do these players that ZS put into the league go? The bench, or special teams.

OSU receivers are great at blocking, but they're pretty shit when it comes to anything else.
Granted, getting to the NFL is a huge achievement...but STAYING in the NFL is an even more impressive achievement.
Because headgear would interfere with the ability for fighters to go for chokes, it'd also be harder for fighters to pass thru different grapples
Headgear isn't going to do shit if you get punched upside the head though...you're still gonna get cauliflower ear.
One or two kids? Sure. But when you have a max exodus of players it's not a maturity issue, it's a culture issue at that point.
Time for Thad to go...or at least have a complete overhaul of those coaching under Thad.

There's a serious issue within the Buckeyes basketball team, and the fact that Thad still believes that everything is fine is telling of how he views the program.
And wheres is Hardy now? Just like Gordon, he had multiple chances to keep his nose outta trouble (and coke), and he chose to fuck it up.

Difference with Pacman is, he can get on the field, at least he could.

No team is gonna want a receiver who's gonna give them 3 good games a season b4 theyre suspended again.
Couldn't catch a punt either ¯\_(ツ)_/¯
Just remember, Drew Brees wouldn't be a Saint and Nick Saban would still be with the Dolphins if it hadn't been for a doctors opinion that Brees shoulder was bad ;)

Hope the best for Dontre, but his lack of production and injury issues is going to make a lot of teams take a pass.
Like I said before, the issue isn't the fact that he's been caught smoking weed. The issue is the fact that hes been given MULTIPLE opportunities to put down the bong and he's failed each time. Teams are gonna look at that and say "hey, this kid doesn't care about football enough to quit smoking pot, why should we bring him onto our team?"
you've obviously never went thru caffeine withdrawal. the migraines feel like someones sitting on your head
He's never going to play another down in the NFL barring some miracle Honey Badger turnaround. No team in the NFL is going to take a chance on a guy who's pissed hot 17 times.