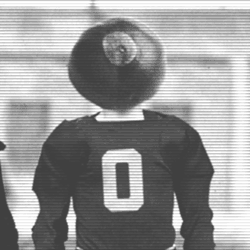 740Buckeye740
---
MEMBER SINCE August 27, 2014
Recent Activity
fucking shit show in the last 3 minutes.

praying that Arnette foregoes his last year of eligibility and declares
Not quite...still has a way to go but the fact he caught the ball is a great step.
that's game...fucking let them back into the game thanks to arnette and mccall.

i hope i never see mccall on the field again, take the fucking kareem felder route and fuck off to some juco school
and THAT'S why McCall has rode the bench his entire career.
Would have made the stop if it wasn't for Arnette. Do we honestly have no better DBs? Sheffield and Arnette have got to be the worst DB tandem in ALL of football.
good job arnette. gift them a td, make sure you head to the right locker room at half time and that AIN'T the buckeyes...
honestly can't wait till arnette is fucking gone. i can't remember a single great play he's made in his entire career at OSU
as long as their defense doesn't find theirs...we should walk away with the win
gotta say, i'm god damn glad to be eating crow so far.

the defense and offensive line have been playing lights out
best part of that play was shitovich getting taken out by his own teammate!
NCAA targeting is bullshit.

Hit a guy in the chest with your head? Targeting.

Hit a guy in the head with your head as he's sliding? Perfectly fine.
THAT IS FUCKING TARGETING!
that columbia commercial is honestly hilarious...lmfao
This defense has came to fucking play today, playing opossum all year just to shit on Michigan.
Maybe Greg will use this for his resume video
gotta worry about the defense gassing out at that point then
Offense getting into the groove but now we gotta hope the defense doesn't gas. Gotta get quick stops and not let Michigan play power ball
Finally Haskins is getting into his groove, Olave is gonna be a fucking beast next year
best throw Haskins has thrown all game and it's dropped...smh
I understand that Weber wants to prove something to Michigan...but the running game is non existent when he's in the game
Starting to feel a bit of Tate in the air...Haskins has been awful
defense did their jobs by the grace of Woody Hayes...now time for the #2 in the nation offense to show the fuck up.
Check the statistics. Michigan has been playing well disciplined football ALL year, Ohio State...not so much.