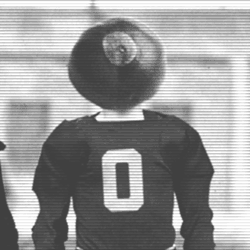 73buckeye
---
MEMBER SINCE November 22, 2012
Favorites
SPORTS MOMENT: Watching the Buckeyes win it all in 02.
COLLEGE FOOTBALL PLAYER: Archie Griffin
NFL TEAM: Browns
NHL TEAM: Tampa Bay Lightning
Recent Activity
Agree Illibuck. Clemson deserves another punch up side the head. Make Woody proud.
Better days are coming for Bungles fans. They are named "Joe Burrow" or "Chase Young"!
Has there ever been another season where the same two schools made both the championship games in the same season? I can't think of one. Losing both in '06 was tough, but getting there was historic.
Then why aren't there lots of Delaware Fighting Blue Hen fans too if it's that ugly helmet?
Ditto Silver. I was at the game in '69 and at the Rose Bowl loss to Stanford in '70. With the losses to UCLA in the Rose Bowl and those inexplicable losses ttun in the 90's, I thought I was scared for life. The years since Tressel's speech have healed many of the scars, but that doesn't mean they'll ever go away completely. Another 10 or 15 in a row against ttun and a half dozen Nattys would be appropriate payback. Yup, rub it in their faces.
This game means everything. If they can't beat the skunk weasels, there's no way they can beat LSU, Clemson, or Alabama. This is the season.
7-3-1???? You're ok with 3 losses and a tie? You need an attitude adjustment. Crush the weasels. Always. Every time.
Nothing could be better than beating Michigan, Wisconsin / Minnesota, Alabama, and Clemson IN A ROW!!!!!
I can't believe how much Ohio State football means to this 69 year old man. Gotta quit peeling onions. Go Buckeyes. Beat _ichican
This is the 50th anniversary of _y one and only trip to _ichigan and the big house. I pray this one turns out different.
You can learn the same thing watching tapes of Joe Burrow.
Didn't the Buckeyes get in in '16 when they lost to PSU, non conference 1 loss champ over 1 loss champ PSU?
Per Espin, Auburn will then have 4 "Quality losses" . That makes anyone's win against Auburn a " Quality win"!!! Anything is possible if you make up the rules as you go long.
The 4 teams are going to be LSU, OSU or PSU, Clemson, Alabama or Georgia. LSU is getting in even if they lose to Georgia in the Sec championship. If that happens, Georgia gets in, assuming they beat TAMU and Georgia Tech. Big Ten is going to be OSU or PSU. If Georgia loses to LSU and Bama beats Auburn, Bama will be put in over all other 1 loss teams. The only way any of them pass Alabama is if Auburn beats them. We have seen Alabama get a pass for crappy schedules for 5 years. What makes anyone think that will change now? The media will have a love affair with an "underdog Alabama fighting on with a 2nd string quarterback, even though they lost the Heisman Trophy winner with the best college coach of all time". They will wheel Tua out to the sidelines on a gurney if the have to to keep him in the story.
Chaos is the following: OSU loses to PSU (both teams have one loss. Georgia beats LSU, Alabama beats Auburn, three "championship quality SEC teams" have one loss. How about 3 one loss sec teams in the finals with Clemson. Don't laugh, stupider things have happened.
I love radar charts. What the hell has happened to the 1st and 10 offense since last year????
Ditto here, cleveburg. I'll be (OMG, 80 if I make it that far) Also realized this month is the 50th anniversary of my first _ichigan game. I certainly hope this month's tussle works out better than that one.
I only care about one team. I believe they should win every time they step on the field. If they do, the rest of the conference is irrelevant. Schedule good non conference teams and beat them too. If the Buckeyes win, all else is irrelevant. Do you think Clemson really cares the rest of the ACC sucks? If the Buckeyes win 'em all, no one can keep them out of the playoffs. The only thing that has kept the Buckeyes out of the party is the Buckeyes losing to teams they routinely should beat, not the SEC or the rest of the Big 10.
You had to mention the sun and sky thing, didn't you...Now I can't even enjoy that.
I guess gender reveal parties weren't required in the old days when there were only two possibilities. Hey you, off the lawn.
Amazing. You just get your ass beat every way possible, and you get pissed because someone plays a song you think you own. Priceless.
Stay focused and humble. We've been here before before and need to remember what happened. Pride goeth before the fall. Go Buckeyes. Crush Wisconsin.
I saw the same thing. Don't know for certain it was all Borland, but the DL wasn't filling the gaps like normal. I wondered if it wasn't something they were doing to disguise what they'd be doing against Wisky. If they don't play better against them, Taylor will tear the Bucks apart. I thought the OL didn't play as well as normal either. Maybe not having Mumford was a bigger deal than I thought it would be. Dobbins had a bunch of 1 or 2 yard runs. The Offense ran the ball 34 times for 275 yards and about 200 were on 3 runs. 31 runs for 75 yards is a problem. Next week needs to be a much better performance.
Used to be there were s few bad calls in the league every weekend. Now, there are numerous bad calls in every game. I can't believe the refs have become physically worse doing their jobs though. I believe the issue is the rules and the changes that have been made in the past 3 or 4 years. More and more situations are being covered by subjective interpretations of vague, contrived rules. Each referee's interpretation is different and it changes over time. This is subject to review and that isn't. Who knows what is and isn't and why? Referees make calls and expect replay to fix it. Holding is allowed to some extent on every play and then gets to the point where it magically be called. Receivers are not to be touched after 5 yards but then are mugged, and sometimes it's called and sometimes it isn't. Try to figure out what roughing the passer is or isn't? I don't see how coaches and players know what they can do and what they can't. It has become almost unwatchable at times.
Chic, Every time I see that sick yellow striped thing on their heads, I have that same recurring 1969 nightmare. The best team doesn't always win.
After watching some of the slugs playing backup quarterback in the NFL this year, I have a hard time believing Cardle or JT can't catch on with a team. And Braxton and Terrelle Pryor aren't good enough to catch passes? In fact, Green Bay looked like they could have used some pass or punt catchers last night. I don't get it.