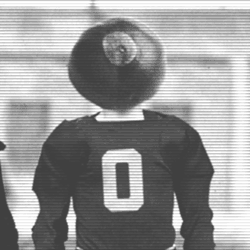 73buckeye
---
Member since 22 November 2012 | Blog
Favorites
SPORTS MOMENT: Watching the Buckeyes win it all in 02.
COLLEGE FOOTBALL PLAYER: Archie Griffin
NFL TEAM: Packers
NHL TEAM: Red Wings
Recent Activity
So common in Florida, I don't even notice anymore.
I'm sure the Badgers players will love going to Lambeau. It's the best football stadium in the country, and as close to a home game for them as possible. The only thing that will be missing is 20,000 or so drunk kids (replaced by even more drunk adults!). And playing in Chicago isn't exactly a road game either for them. When the Badgers play Northwestern, the crowd is about like the Bucks at Indiana.
Old Style???? Thanks for the warning.
If Meyer doesn't use it as motivation, he's not as smart as I thought. Woody had a rug made with 24-12 printed on it and put it at the entrance to the locker room after the debacle in Ann Arbor in 1969. Anger works.
I grew up in Logan county, went to OSU, and every time I drove back to campus, I always felt I was there when I got to UA.
Much as we hate to admit it, this happens to all of us eventually. Eating early isn't so bad. And the remembering how good we used to be is good too, because our "used to be" gets better as we get older.
Been here in Florida for most of the past 4 years. Riding my Harley down here is quite an experience. A big percentage of drivers just don't care or are too old to remember what they are out there doing, particularly after sitting at a traffic light for 3 minutes. I'm guessing the raters were too afraid to come here and check it out.
For years, irrespective of coaching changes, Butler has been known for hardnosed, scrappy defense, good rebounding, and a controlled, unselfish offense willing to run if they get the chance. They seem to recruit excellent basketball players, rather than flashy athletes. Their players tend to stay for the full 4 years and they always seem to have a good mix of experience and youth. If Holtmann can bring that same philosophy and mindset to the Buckeyes, we may be in for fun ride over the next 5 to 10 years.
Up vote to you sir. 8 years! You must have the patience of Job.
John Kasich? Who's he committed to? What position does he play?
I'd be really surprised if Urban Meyer said anything about this one way or another. Sometimes it's best to stick to football.
Ballard / Chittenden Locks and Gardens are pretty cool. Head up to Everett and tour the Boeing Factory. Snoqualmie Falls is worth the drive.
Where do I go to learn to read "tweets"?
I wonder if he can play basketball. He may be 6'9" or 10" by the time he's done growing into those feet.
Real life Wednesdays is a great idea, but a two days at ESPN is a pretty short stay to be an internship. Takes that long at a company to find the bathrooms and cafeteria. I hope these experiences are really more substantive than a just a visit to a big time company by big time college football player. We had interns where I used to work and those kids worked and learned, and the best ones were offered additional internships or jobs post college.
http://www.wcpo.com/sports/high-school-sports/ohio-high-school-sports/associated-press-divisions-i-and-ii-all-state-football-teams-announced
Dallas Gant was third team all state D-2. As an aside, Jackson Carman is listed as second team all state D-1 all state o-lineman. I have much faith in Urban Meyer as a talent evaluator. How does AP pick all staters? Does this make sense?
Can someone explain to me how Gant is only third team all state? Who are first and second team linebackers and where are they going to school?
I spend 6 months a year in Pinellas County. I love the weather and my boat and the Gulf, but Florida's legal system is a complete mess. The official state sound is a siren. I think the ambulances and fire trucks wear out because of high mileage. Riding my motorcycle is often a hair raising experience. Compared to Ohio, it's the wild west. I have a friend that was nearly killed in Feb. on his motorcycle by a driver making an illegal left turn across 3 lanes of traffic on a very heavily travelled road, and she got off with a $160 ticket. Florida's car insurance rates are 2nd highest in the nation, yet they only requires drivers have a minimum $10,000 insurance level, so he is stuck with half million in medical bills. Florida is the home to millions of old people and also the home of the scam industry that prey on them. From personal experience, the state seems unwilling to do anything when they are handed the evidence on a silver platter. I don't know what the pol's in Tallahassee do, but it's not fixing problems.
Born and raised in Ohio, Browns fan I can still remember the feeling in 1964 when the Browns beat Johnny Unitas. I can still feel the disappointment when Jim Brown retired at this best. Was sick after the Drive and the Interception, and the Fumble. Moved to Detroit for 8 years, interest in Lions (Billy Sims was running the ball) but still a Browns fan. Moved to Milwaukee for 30 years, came to love the Packers (can you say Brett Favre and Aaron Rodgers and Reggie White?) but still was a Browns fan. Hated Art Modell in 1995 (still do) and even hated him even more when the stolen Browns won their first Super Bowl. Retired, moved to Clearwater, getting interested in the Bucs, but still a Browns fan. If I live long enough to see the Browns beat the Steelers for the AFC and win a Super Bowl (hopefully against the Cowboys), it'll have been a good life. Still a Browns fan.
Foursomes belong on the golf course. Everywhere else, they are certain trouble.
Good advice anytime, regardless of age or circumstance.
Just saw Gerbil Preppers failed the same test. OOOPS!
Key West is a great place and unique in the world. All good suggestions. Irish Kevin's is my favorite bar on Duval Street. On the way there or back, check out the NO NAME BAR on Big Pine Key. Hard to find but worth the search. Check out the wall paper. Worth at least a few bucks! Also, Guy Harvey's Resort on Islamorada is a cool place to chill.
Never been to the baseball HOF. No sense going if they won't let the best player in. Is it the HOF for best players or HOF of saints who happened to be good ballplayers, as defined by the sports writers? I guess those that can, do. Those that can't, write about others that can.