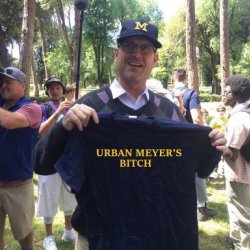 58Buckeye
---
Dunedin, Florida (via Youngstown, Ohio)
MEMBER SINCE February 01, 2016
Recent Activity
He plays for TSUN! Need more?
From the OP
Here we are folks. The Buckeyes won the toss and elected to receive.
Some how TSUN player didn't get flagged for offsides.
for the victims sake
Who is/are the "victims"?
Have you heard of the any of the rape cases in the news lately from 30 years ago?
Has anyone's wife/child/friend/neighbor ever told a lie? Ever? Ever? Ever? No really! Ever?
If you think that even 25% of what your neighbors tell you is true you are naïve. I am not going to comment on the other three because I don't know them, and don't want to infer anything about your family. Try a little fact checking from time to time, and you will be amazed at how often you are lied to. The majority of people who get caught in an embarrassing situation will lie on their mothers grave to save face.
Your arguments are straw man arguments. I never said they were guilty or innocent. No need to infer or put words in my mouth.
Oh but you did infer their guilt when you called her a victim.
My prayers go out to the victim, the victims family, and the families of these 2 young men. I think it should be left at that.
If they (these 2 young men) are not guilty, then they are the actual victims here.

victim
[ˈviktəm]
NOUN
a person harmed, injured, or killed as a result of a crime, accident, or other event or action.
If they don't throw is anymore, they will just be running up the score.
That was a fumble (3 steps) for a TD!
They should have done it again the clock was running
Good job took their lunch money
Come on D go take their lunch money.
Most under rated comment of the day.
MGO board loosing their minds. LOL!