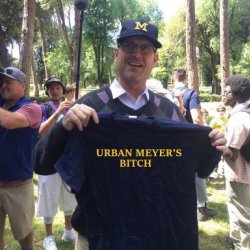 58Buckeye
---
Dunedin, Florida (via Youngstown, Ohio)
MEMBER SINCE February 01, 2016
Recent Activity
D'Ernest Johnson 30 RB 23 5' 10" 208 lbs 1 South Florida
Thanks for the heads up. +1 If I could.
I believe he played at Toledo!
Urban Meyer as Florida head coach.
Look what happened to Mike Tyson after Buster Douglas.
Go get your $$$$$, Mr Bosa!
As amazing as this might sound, I think I almost understood this one.
If Poppy had balls, you wouldn't be a Mamma's boy!
How long is a non televised game?
How long is a non televised game?
It's either "please give me money for nothing" or "please give me money, and you have a chance to get 'this prize'". The latter usually does better than the former.
My guess is, you have never gone to church.
"Justin's such a naturally gifted athlete that the things that you have to do, it's the same,"
What does this mean?
Ohio State's odds to win the national title are currently 250/1
Is there some place on-line, I can place a wager on this? If so, Link Please. Thanks in advance.
5. Meatchicken, hairball, etc. don't even make since stop saying them. TTUN is fine I use it myself.How ironic
How ironic.
The best thing to happen to Haskins is the Browns took Baker #1 last year. Because had they not taken Baker last year they would be taking Haskins #1 this year. I believe Haskins would be a bust with the Browns. Baker is a much more mobile QB than Haskins. If Haskins goes to a team that can protect him he will do well.