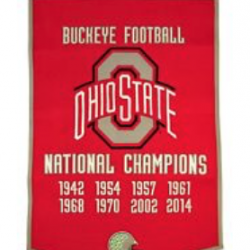 4thandLong
---
Parrish Florida (via Fall River, Massachusetts)
MEMBER SINCE April 12, 2017
Favorites
NFL TEAM: Patriots
NHL TEAM: Bruins
NBA TEAM: Celtics
MLB TEAM: Red Sox
SOCCER TEAM: Foosball
Recent Activity
The Washington "Fighting Politicians".
See how easy that was. ;-)
JJ will be QB #15 at IMG...talk about a crowded room:
https://www.maxpreps.com/high-schools/img-academy-ascenders-(bradenton,fl)/football/roster.htm
At least he'll get a of development in before turning Pro in 4 years from now. ;-)
#FreeAC
Alex Cora deserves his job back next year, he'll have paid his dues.
I live in the Tampa and felt this one coming.
Who's next? Thuney for OJ Howard sound good to me.
Gotta think Edleman comes in play at some point?
Draft Swift/Dobbins for RB and add a Tackle then focus on the Defense and the Bucs will be super fun to watch if they stay healthy....
I may even splurge for season tickets. :)
Maybe Vince had "waffles" for breakfast on interview day.... ;-)
"Coach Day: Zach Evans on line 1. He heard we may now have room"......
Hulu commercial......Super Bowl ad.
Does the story end here and all roads lead back to Foxborough?
ESPN's Adam Schefter reports Tom Brady's cryptic Thursday tweet of him standing in a darkened stadium tunnel is not related to his football future.
Silly season has never been sillier. Thursday featured a pair of absurd Brady rumors, with the first being that he was touring a school in Nashville. It was quickly debunked. Brady, of course, knew what would happen when he posted his melodramatic tweet, so he deserves the blame alone. More than likely, it is related to some about-to-be-revealed Brady marketing venture.
SOURCE: Adam Schefter on Twitter
Jan 30, 2020, 8:02 PM ET
Brady shot footage for a upcoming advertisement....nothing else to see here.
Note KBonay's photo above not quite the photo you'd post when selecting schools for your young children.
In regard to relocation he has recently bought new digs outside of NYC in SW CT.
Santa: please bring us this guy as our new QB Coach!
https://qbtakeover.com
Thank you from Buckeye Nation. :)
Excellent write up but this game is where Justin Fields shines over Trevor Lawrence.(again).
His ability to run and improvise will destroy the Clemson defense IMHO. Dobbins is good for 150 but the air game and turnovers will favor the Buckeyes. (Also rest assured our defense and depth will play up to potential....bend but don't break).
Buckeyes 42 Clemson 30
Brand cache'?
Hoping to somehow ride our wave and chase higher rated recruits with folks that have proven they know how to do it.
However BC is no OSU.......never will be.
"Respect begets respect"....or something like that since it's been that kind of week.
I'm happy to see "snubbing" can be a two-way street. ;-)
We have way too many 'Debbie Downers" around here who pretend know more then our Football staff about player evaluations and player development projections. LOL....
Wonder how kids currently in the program or in the upcoming recruiting cycles visit the site before making final decisions?
I hope none. :(
But don't worry in the end when the 3 Star develops to full potential and becomes a team leader they'll want to ride on your bandwagon and be singing your praises.
Fear not there's always that Bijan kid from out West........
Time to just go with the Flowe......
The only help packing that Taggert needs right about now will be provided by Brinks Armored Car Services. ;-)
Eight hour drive or 90 minute non stop flight on American Airlines.
Morning flight is a bit pricey but gets it at 10am cutting it kind of close but doable to see the Wisky game.
https://www.aa.com/booking/flights/choose-flights/your-trip-summary?selectedFareId=YP6n5bSuALULIrGeefMqCC001&bookingPathStateId=1571158112518-744&selectedSliceId=S71Tfmrgd4TFe9GD
Anyone else think it's odd that in PA a single young man can only date one girl monogamously?
Geez sucks worse then we thought to be a Nittany Lions fan......
Back when I was College age we kept 'em in 6 packs but not all together for obvious reasons. ;-)
I think that's just the face he makes when the Uber Eats guy drops his favorite dinner on the sidewalk out front........ :)
Friendly reminder guys:
We are here: CLASS OF 2020 RECRUITING NEWS (PART 67)
I'm looking forward to hearing how visitors for the game this weekend enjoyed their trip and if we are any closer to a few signings.
Anybody here follow the NBA?
I think AB might since he followed the same script that is allowing the star players to determine where they want to play.
Heck even College players now have the transfer portal....
Upon closer look Pro Sports in general has more then a few issues "per team".....including Management and League Office.
It is what it is....
Belichick has been a master at getting guys to check their ego's at the door and buy in to winning over all else.
AB will be a unique test but I bet he tones it down completely or is gone faster than he got to Foxborough today.