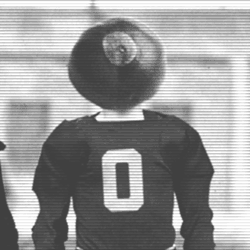 4dorr
---
Member since 27 February 2012 | Blog
Favorites
SPORTS MOMENT: The day Tress packed his sorry ass up and left.
Recent Activity
This one by far! Beating all 3 Heisman finalists in the final 3 games, the "juggernaut" SEC team that was going to blow Ohio St. out of the Sugar Bowl, and then, Oregon, who was going to beat Ohio St. by 21+ easy.
Just all the daily negative BS from the sports media thrown at Ohio State throughout season and especially December and January made this one special.
Just keep Williams on the bench and all will be fine.
-1, Dunn to YSU? Free one up?
Oh, I want that for my kids!
Woody - Why the hell didn't UFM go for 2 on that last TD, dammit!
**throws hat on ground and tries to choke his male nurse... :)
Next year... They will be writing excuses about why Ohio State won't "3 Peat"!
Ohio St. is a weak inferior team... Oregon is going to destroy them...
All we had to do was get by this Ohio St. team which wasn't that good...
Even after defeat the guy can't accept what he just witnessed, the misery from all the U of SEC tools makes me happy.
LOL, This guy is delusional and living in a dream world! Zero reality on what actually went down.
This team has zero identity and no decent big man.
All these idiots are singing a different song now, 99.9% refuse to hold their previous opinions about Ohio State. The back-tracking is hilarious.
Still waiting to see what time my son shoots on Saturday for archery, probably at the same time and we will miss it.
Such a cold day, when Cie sang it got warm!
It's been like this for a long time in the SEC.
12Gauge "A first round draft pick means nothing to me without my education!"
He came to playschool!
Duck, was their last meal.
Score
Ohio St. - 73
Vtech - 17
Question:
Do you want to come over for a few beers and watch the replay on my wall projector?
Answer:
Sure 4dorr, what time, buddy!?
12Gauge is now and forever an Ohio St. legend! Good luck in what ever he chooses.
Cie Grant, shades of 2002 singing Carmen Ohio.
He can go pro and sit behind someone like Big Ben(35) for a few years then take over and be successful.
Picked a winner!