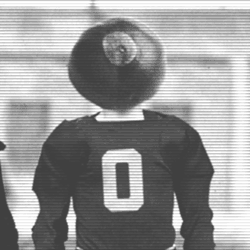 49YROLDBUCKEYEFAN
---
from 45885
MEMBER SINCE August 14, 2019
Favorites
COLLEGE FOOTBALL PLAYER: Eddie George
NFL TEAM: Steelers
Recent Activity
We should fire Coombs. Not one new commit in the last 24 hrs. LOL
Props to you for getting the name "Teenus McSpeedington" thrown into the conversation. That is fabulous !
Couldn't have happened to a more deserving school. James Franklin is a tool!
BeatMeechigum,
I agree totally, but also was told to " never let the refs decide the game" Play well enough to not leave it to chance. We happened to get shitty refs and shoot ourselves in the foot on a couple of chances.
After listening to the first trailer of the year, my naughty parts started to tingle. I'm just saying!
Field Goal, then the beat down begins.
Florida 24- Miami 13

Arizona 51 - Hawaii 32
I agree with SCbucknut, we are under a bigger microscope then 99% of all other schools due to our size, crazy fan base and deep tradition. Therefore we get way more scrutiny than most other semi-relevant schools. A molehill is a mountain when it comes to OSU. I just feel that we may come off a little scorned and it looks bad due to our inability to beat Clemson. Just my humble opinion.
You Tube T.V is the way to go. Even BTN, local channels and you cant complain about the Karate Kid Series. LOL
I watch as much as possible, but this year I find myself in a conundrum. Some dip shit 2nd cousin is having a wedding on Sept 7th, and now I have to make that choice. Stay home and watch the game or face the cousin?? What to do?