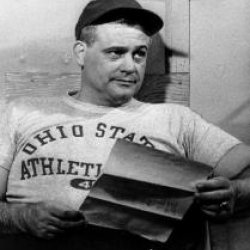 45has2
---
Tallahassee (via Toledo)
Member since 11 October 2012 | Blog
Favorites
SPORTS MOMENT: '14 NC
COLLEGE FOOTBALL PLAYER: Jack Tatum
NFL TEAM: Taking a knee on the NFL
NHL TEAM: Lightning
MLB TEAM: Not a sport
SOCCER TEAM: You're kidding, right?
Recent Activity
Man they started out shooting cold last night. I thought, ok, here comes the reality check. However, The Bucks played tough D through out the game and then started to hit shots. Defense wins championships and Coach H seems to have these men proud to play D. Go Bucks.
Because many here always wear scarlet colored glasses.
Understood. My point is if your target is Bama then you better get Bama quality coaches and pay Bama money.
The Wooden Award, isn't that for the player receiving the most booster cash in a season? I'd say its a good list to stay off.
Cough, Bama, coordinators over $1 mil, cough cough.
That is better than the horrid designs they come up with this past season.
Sounds like a NFL coach in New England. The mediocre always hate the elite.
Why does Bama get more and better studs than OSU?
Why is it different? If you don't have it, you don't have it. Any coach at any level worth their salt will tell you a team or person can not be "up" for every game. People have off days. Lou Holtz says you have a different team every week. I haven't read anywhere that Saban said Hurts is done and Tua is the starter next year. As a coach, you can go to a player and say hey, you just don't have it today. We're going to put the other guy in and see if he can help the team accomplish what we all want to accomplish. Pitchers deal with getting pulled all the time and somehow live to pitch another day. Hurts comments after the game showed he is a mature, team player and wanted to win. Obviously, Tua gave them the opportunity to be champions.
Yes, please restrict fandom and blog comments to sanctimonious coaches. After that, OSU will be a D III school and have to figure out how to beat Mt. Union instead of Bama.
1000 UV's for that. Barrett was game ready when Miller went down. Jones was game ready when Barrett went down and somehow Haskins was game ready when Barrett went down again. "game ready" = lame AF excuse.
Keep whoopin' ass. Let the AP take the names.
Ted Ginn did every thin'.
Upset? BLOW OUT. Way to go, Bucks & Coach Holtmann.
Sparty can't lick our Nuts.
Well, if you are starting at Toledo at least scouts get to see you play. Riding the pine at OSU....not so much.
Beating iowa.....imagine that.
Dude comes from a program with a rich tradition of winning NC's in a 16 team format. He knows what teams need to do in order to survive that gauntlet. A four team playoff is a no brainer. Great hire. Mt. Union coaching tree is starting to make names for themselves.
I'm one of your UV's. I agree we, collectively, are ruining major college football. We want more content and the universities and networks want more money. It is all greed driven.
I only worship the God almighty, simple as that. When Urban Frank Meyer arrived in Columbus he said Alabama was the target. Which makes Saban the target. His first two years Meyer kept asking his staff "What did you do today to beat Alabama?" Alabama, Saban, doesn't get blown out by 31 pts to three star laden teams. Alabama, Saban, keeps playing in the CFP. Maybe you should ask your target of worship what he has done today to beat Alabama. Sucks when one's own words are used against them, right?
Catch Mt. Union. They are perennial champions and have all those 1920 images you crave. Oh wait, they are not on television. The big boys are greedy and TV feeds the greed. TV is ruining every sport with way too many commercial timeouts and over extended seasons. If you want to stop the greed you have to stop consuming TV. YOU are the problem. Well, ok me too and everyone else on this website.