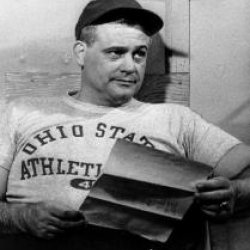 45has2
---
Tallahassee (via Toledo)
Member since 11 October 2012 | Blog
Favorites
SPORTS MOMENT: '14 NC
COLLEGE FOOTBALL PLAYER: Joey Bosa
NFL TEAM: Free agent
NHL TEAM: Free agent
NBA TEAM: Free agent
MLB TEAM: Not a sport
SOCCER TEAM: You're kidding, right?
Recent Activity
See how well that political activism worked for Colin Kaepernick?
Athletes should have the same freedom of movement that coaches have. If a kid is not happy in your program why not free up the schollie and keep your team chemistry positive?
I wouldn't schedule any of the knee killing service academies. They are size restricted and because of that they cut block. Why risk injury for a weak OC win?
Sorry, the incessant keyboarding made that video unwatchable. Excuse me, unlistenable. I'll give you this much, the Dispatch version is even worse with some moron continually clicking their pen.
How did that read option work against Clemson? One dimensional at best.
Vrabel's anti-rotation philosophy is not college game friendly either. But a helluva a Buckeye.
As are all the late night snowflakes.
Football is a man's game coached by men and rated strictly on performance. Don't perform and you know what is coming. Urb did no one dirty. In fact, he gave Ed time to find another job and resign to save face.
If Fleck is going to make Minnysota elite he better give up on the MAC talent. Flipping 6 WMU commits to Minny isn't going to cut it. Minny already has MAC talent, they need B1G talent. Remember that bowl game, PJ? You're going to face that every week in the B1G. As for Warinner...good riddance.
When the situation gets tight Urb leans on his QB and abandons his RB. Woody would do just the opposite. Oh, they are keying on Archie, here comes big Pete Johnson to rattle your linebackers' teeth in their sockets. Ok, Arch, business as usual.
The offense left with Tom Herman. Urb should call him and demand it be returned.
A "power run team" that didn't try very many power runs. The offensive game plan was cutesy and it got hammered. Clemson was every bit as fast. What do you do to a fast team? Line up and gut punch it out, not try to race them to the freaking edge. Every time Urb faces adversity he leans on the QB and it has cost him a win every time. Maybe he still thinks he has a power running QB like Timothy Richard. Oh well, he makes the big dollar for a reason. Go Bucks.
Don't leave out the meth and the detritus that collects and drinks those bombs for the high.
The Rivalry is back!!! After a decade and a half of boredom we finally have some spice back in The Game. James Joseph is trying to channel Dr. Strange Hayes, complete with glasses and tantrums, and Urb is dialing up an extra milk delivery. Seems like a little of the Ol' Ball Coach rubbed off on Meyer in The Swamp. By the way, Meeechigan tears taste like candy.
A typical OSU v scUM win. The team with the most rushing and least turnovers won. History repeats.
Kudos to the 11W presser staff. Your audio has improved greatly over the past year.
What's the O/U on how many boogers Hairball eats?
Yep. Best bet is to follow T.P.'s and Braxton's game plan, come back next year as a receiver. He is not what the NFL is looking for and hopefully he gets some honest discussion from scouts/personnel people this off season.
I'm sure the weasels took a little solace in their loss by thinking about how they threw a wrench into TOSU's plans.
I will believe in a golden era when the current HC matches and exceeds Woody's 5 NC's. Until then it is useless blogger talk.
It was like the "good?" old days of Heacock & Shugarts. Up the gut, up the gut, jump early, pass for two yards shy of the 1st down and punt.
They ran one jet sweep for negative yardage.