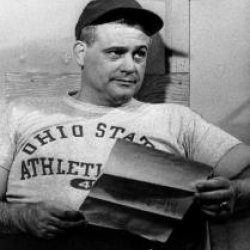 45has2
---
MEMBER SINCE October 11, 2012
Recent Activity
If this doesn't help you go along with the panic. https://www.france24.com/en/20200312-don-t-panic-says-us-woman-who-recovered-from-coronavirus https://www.washingtonpost.com/outlook/2020/02/28/i-have-coronavirus-so-far-it-isnt-that-bad/ https://www.nationalgeographic.com/science/2020/02/what-happens-to-coronavirus-covid-19-in-warmer-spring-temperatures/
UV is really good at killing viruses so all outdoor activities should definitely be cancelled. Throw in the fact that 80% of those contracting the virus will only show minimal symptoms and the fatality rate is a whopping 2% and it is obvious why everything is being shut down over this, essentially, harmless virus when nothing near this was done for either Ebola outbreak. Ebola has a 50+% fatality rate. by the way. Meanwhile, I crank Bowie's Panic In Detroit.
I'm happy to see any Buckeye succeed regardless of what college they played for......except scUM.
If true, dudes have serious mental issues. Rape is about power and dominance not sex. Any Buckeye has a line of coeds at their door willing to have consensual sex with them. As far as being off the team, the HC, AD or admin in general does not need an excuse to pull a schollie. Happens all the time, especially now with the portal. It's just dressed up as the athlete's choice.
Even with Gus Johnson's famous Car DALE Jones, Car DALE Jones, Car DALE Jones many out there still are calling him Cardell. Myself, I like 12 Gauge. What a great ambassador for the XFL and OSU.
If they bend over for the NCAA like OSU always does they will definitely have problems. On the other hand, if MSU lawyers up and runs the Miami/SEC game plan they could skate. Hint: Go with NYC or Miami sharks, no local talent.
Being a scholarship athlete IS a job and one way they get paid to bring $$$ millions into OSU is free room and board.
1. Don't care. 2. Technically that is bragging about his current job not negative recruiting. Negative recruiting would be saying something like scUM's D line coach is retiring next year. Right, Swinney?
It's great that Fields says the awards do not matter, however they are still stealing time away from preparation for Clemson. Dabo has the perfect storm. Clemson, in Dabo's mind, has been disrespected all year and OSU is sucking up personal and team awards like a Hoover on 220V. Clemson's chip keeps getting bigger and they have all the talent to back it up. I think the first half will make Wisconsin look like Swanton High School. I hope I'm very very wrong.
Esuk paid for a system that they could potentially get three of their conference partners into every season. 2 from the SEC and 1 from the ACC.
If the basketball regular season is irrelevant how do they seed the conference championships and national tournament?
The first step in overcoming your problem is admitting you have a problem and Booger is still in the denial phase. Finebaum, after picking the weasels to win, says Michigan alums think they are better than the rest of mankind. Good job, Paul, you're 1 for 2. My point is Michigan thinks they are entitled to win because they are Michigan, therefore they don't work as hard to win The Game.
Michigan cannot get past their arrogance. They think their shit doesn't stink but their farts give them away. Because they are inherently smarter and better than any thing or anyone associated with lowly OSU they can never admit that they need to work to get better than OSU. The beat downs will continue.
Alright, alright, alright.
M is for mall shopping carts.
Bo had a copy of Woody's playbook. Booger has squat. Day has 2 former Khaki assistants.
You forgot getting kicked out of the conference for cheating.
Weasel fans love to push the '69 narrative on the 50th anniversary. However, their current coach does not have a copy of Ryan Day's playbook as Bo did Woody's. If anything, it is the Buckeyes that have inside information on how Booger approaches The Game via messers Mattison and Washington.
Four people without a sense of humor.
No one then or since has squandered as much talent as John Cooper.
James Patrick Tressel, he called his shot and then ruined both scUM and Cryami. Neither program has been anywhere near where they were when they went up against The Vest. No other coach from any other program has ruined two FBS programs that he didn't coach. GOAT!
I hope this was Day's one game homage to Jim Tressel. The weasels have the 13th ranked pass defense and 17th ranked rush defense. Sling it in the whore city. At least get to 50/50.
Imagine the number of sacks CY would have if the refs had the sack to call holding.