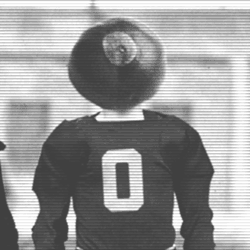 3technique
---
Member since 31 January 2012 | Blog
Favorites
SPORTS MOMENT: 2002 National Championship
COLLEGE FOOTBALL PLAYER: John Simon
Recent Activity
Awesome news! (About the stripes) I like the more stern approach!
It's all my fault guys!!! I was on vacation and all hell broke loose... It really hurts losing talented players but there is talent in the wings.. Maybe Urban can make them sign a contract or something.. Honestly, I have no answers...
It sounds shady to me... Hope I am right...If I am wrong this really blows but you have to do the right thing.
I love this kid! Great work ethic and attitude.. I also like the Trent Dilfer quote.. When I watched his film I thought the same thing(49s QB, not gonna type it because I have no idea how to spell it) Can you imagine what this kid will look like in three years? I say 6'5'', 240, with enough speed that you just have to get him in the game. I think he comes here and earns PT after XBRAX leaves. I could see a 2 qb system with him and Barret(sp).. He was made for the spread. He obviously impressed the staff in person. Sometimes film is not enough. I see him blowing up and becoming a four star before it is all said and done. He has long strides like TP and he seems to care about his teammates.. Welcome to the family young man!
I am definitely not cool! The bucks however, have always been cool!
Urban has made TOSU cool again!!! What a great time to be a fan. I would not be worried about the D yet. The Oline is very good and they will get theres. There are some animals on D that we haven't even seen yet...
Me too! Love me some old school John Cusack movies! I would love to redshirt this kid. They may not have added a lot of number of O-linemen, but I like the guys they got!
Looks legit. Hopefully they can get him and the kid from Georgia..
This is the best class top to bottom that I can remember.. Special teams will dominate next year..
Welcome aboard! Great addition..
Meyer is so good at recruiting that he can make it warmer in Columbus when souther kids visit.. Now that is getting it done!
I gotta go with the irish. They play more like a big ten team than an SEC team. Kelly has done a nice job in recruiting and they had a great year. I don't know any entitled ND fans, but I know a lot of annoying SEC fans. I also want ESPN and Mark May to eat it! Also if ND wins, do you think we could have one night without the SEC chants? That is serioulsy like nails on a chalk board. Most SEC fans really believe that OSU would win one or two games a year in the SEC. I know it is crap, but that's what they believe. I watched TTUN Brady Choke against an SEC team. Florida and LSU lost forgone conclusion games as well. Yet they all hovered in the top ten all year. It is time, starting this year, to put the S-E-C back in their place. Are they the best conference? Yes, but that changes starting tonight. I would root for almost any team to beat Bama tonight. Go Irish!
WOW!!! I want to be a better RN!!!
I'd like to start locking up Olinemen early... Hope this happens.
Man this kid looks fast. You can never have too many athletes like this. I would love to see a triple option with EZE, this kid, and Hurd... I truly believe this bowl ban will be used to TOSU's advantage.. I also believe if this kid signs it will be hard to keep him off the field in some compacity.
Coaching? Seriously? How many national championships has Hoke won? I understand homerism.. I really do, but no way if I was a Michigan fan would I say coaching... Just sayin'.
I still like our chances. I have watched the UAB game a couple of times (my 4 year old love the touchdown where miller spins) and I can say that most of the poor tackling/bad play was do to being"passive". I will begin to question everyone if OSU plays without passion this week. I also think MSU will be the most predicatable team we play until Wisconsin. The less our young LBs have to think the better they will play. Just my two pennies..
I like this style of lineman. He mentioned his conditioning and versatility!It is early but nice to be in on these kids from the jump...
This kid is a man among boys! The next two years will be sick! Hoprfully he commits early and works on the other elite 14' prospects!
I still remember that moment. I was jumping around! It was the last amount of joy. Aside from the dismantling of out Oline I felt the players looked soft. That game changed tressel's recruiting philosphy completely and led to getting guys like Shazier!
This Dline is getting rediculous... Who do you block? I think Hoke is not in the same league as UFM. I do think it's a rivarly and I love that he calls us Ohio (also love that ohio is the team that knocked them from the tournament!) I think because of that he will win maybe one or two in the next 10-12 years.. I really cannot see him beating the Bucks for a while based on UFM recruiting and his record in big games.. This kid could be 280 by the time he is a senior.. Crazy.. Hope we get him!