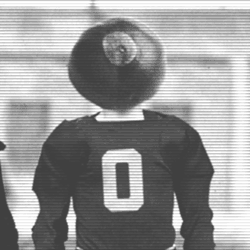 3SticksBucks
Fort Wayne IN (via Youngstown OH)
MEMBER SINCE October 07, 2015
Favorites
SPORTS MOMENT: 97 Rose Bowl
COLLEGE FOOTBALL PLAYER: Doug Donley
Recent Activity
EsecPin wants nothing to do with Ohio HS teams, too bad!
It would be cool to see Cincy or Cleveland powerhouses play. No Dice
Paddy not Patty!!!! god help Harrish!
Boooooo Oct 18!
Friday is for Preps!!!
9-3
And he'll be gone before 2021
Baldwin's family lawyer wrote the good-bye letter!! C'mon man.
You do realize Magic J is the worst executive in the history of business. and the only guy to get FAT from Aids!!!!!...Boph are true!
WOW,
Wilson may be the biggest ego maniac in the country!!! He's a big pos.
ISU 77
Bucks 62
O$U cannot score!!!!
Comment removed for violating the site's commenting policy.
ISU -6 is "soft chocolate"!!!!! Cyclones 77-62
Blackburn looks like all the other 250,000, 6'1 180lbs kids playing here in the Midwest!!! "a dime a dozen"
When Day goes 9-3, all HELL will break loose!!
YES, reg season ONLY!
UNDER for me! All hell breaks loose when the Day blows up.
Murray is 5'8" 180 LBS (He's 2" shorter than R Wilson & 25lbs lighter)
He will last maybe 36 months in the NFL! Take the UNDER!!!
CY is still having trouble "making the grade"! That's why he did not enroll early. That said, he will play on Sundays!
LSU is a better bet ! better value!!
Wow, cat guy! do you sit and pee?
If Fields is not the starter/eligible, this team is 9-3/8-4 at best!! all hell will break lose!
Is the General Odierno sitting next to Carrot Top or Ellen when they watch film???
It's Paddy, not Patty!
C'mon man
3-6
B1G was not good this season!!!
Oregon -2.5!!!!!!!! Wow, all that $$$$$$$$$$$$$$ you'r losing in the market, you can get back between 3-7pm on New Year's Eve