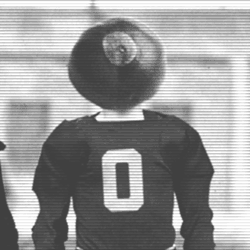 3SticksBucks
Fort Wayne IN (via Youngstown OH)
MEMBER SINCE October 07, 2015
Favorites
SPORTS MOMENT: 97 Rose Bowl
COLLEGE FOOTBALL PLAYER: Doug Donley
Recent Activity
Comment removed for violating the site's commenting policy.
Vilma was asked to name a country that begins w the letter "C"??
He answered, "Kansas" !
Coaching football is sooooooo overrated! Its not a tough job.
Buckeyes 49
USSR Madison 9
42-10 Bucks. Katie bar the door!!!
Ohio St is a better team than 2018 Bucks, *ichigan is not as good as rodent team of 2018!
It's Paddy Fitz, not Patty!!! Patty is female, Fitz is a guy!
C'mon man. Don't be LAbraun dumb.
follow the guy on the other buck site, he makes $$$$$$$$$$$$$$$$$$$$$$$$$$ !!!!
Florida !!!!!!!!!!!!!!!!!!!!!!!!!!!!!!!!!!!!
401K is now an 801K !!!!
blue guys 1-7 ATS L 8
Iowa 42-31 !
TCU -2!!!
SOFT CHOCOLATE!
LOL at all you bloggers!
There are those that enter the arena and compete, and there are those that sit in the stands and blog!! Y'all are undefeated? Right??
EsecPin wants nothing to do with Ohio HS teams, too bad!
It would be cool to see Cincy or Cleveland powerhouses play. No Dice
Paddy not Patty!!!! god help Harrish!
Boooooo Oct 18!
Friday is for Preps!!!
9-3
And he'll be gone before 2021
Baldwin's family lawyer wrote the good-bye letter!! C'mon man.
You do realize Magic J is the worst executive in the history of business. and the only guy to get FAT from Aids!!!!!...Boph are true!
WOW,
Wilson may be the biggest ego maniac in the country!!! He's a big pos.
ISU 77
Bucks 62
O$U cannot score!!!!
Comment removed for violating the site's commenting policy.
ISU -6 is "soft chocolate"!!!!! Cyclones 77-62
Blackburn looks like all the other 250,000, 6'1 180lbs kids playing here in the Midwest!!! "a dime a dozen"
When Day goes 9-3, all HELL will break loose!!