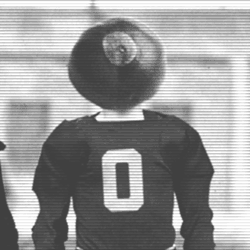 3rdtimesacharm
---
Ohio
MEMBER SINCE September 14, 2015
Favorites
SPORTS MOMENT: Watching The game in 06 while stationed in japan and it was the wee hours of the morning. Everytime the bucks scored you could hear all the buckeye fans scream through the otherwise dead silent barracks.
COLLEGE FOOTBALL PLAYER: David Boston
NFL TEAM: Browns
NBA TEAM: Cavs
MLB TEAM: Indians
Recent Activity
This comment needs to be axed it clearly steps over the line.
You seem pretty obsessive about that subject.
Hopefully the over/under is 9.5 cause i'd take it in a heartbeat!
Doug has always been an osu hater. Never really heard of him saying anything positive about em but i havnt followed him in years.
I have my issues with delaney too. Mostly stemming from how he rolls over when the B1G gets left out of the playoff and he shows absolutely no fight. To call him bad at his job is a stretch. Seems more personal than substantiated to me. The guy did a lot of great things in his time here. Im not going to lost them cause anybody paying attention for the last 30 years already knows them. While he may not have been the greatest commish ever, he was certainly not bad at his job.
Yeah, 38-6 would be really hard to take. Good thing you were saved from that!
Indentured servitude? Give me a break. They are getting room and board, books, food, and tuition paid for. They can choose any school to go to including world class institutes and pursue any field they are academically cabable of. They also get elite coaching that can set them up for a future in pro football if they are good enough. They also get cost free healthcare throughout college and access to too many resources to count that will help them out academically and professionally.
These kids don't care about they're own safety. Like Kevin said, they just want a day off and this as about as good of a reason as they're gonna get. Im sure bars were still packed last night.
I didnt whine about anything. Man, Millennials are hair trigger sensitive. Nobody is really taking this very seriously its all just to get someones goat. Stop taking it so personal.
It doesnt take much to trigger them.
white guy from denver? Lol considering that demographic, its not a weird angle at all. As for tate, he's not a primadonna. Kid is just a competitor that feels he earned his shot to start and was defending it. It is abundantly obvious that after the fields commit, he was told by the coaching staff he is not the right fit and its best for him to leave. I've never met anybody who would like that situation.
If you're personally offended by bosa's political stances then idk what to say. There are way more celebrities that are outspoken in favor of what you believe. Does that mean the opposition should be personally offended too?
Could say they same thing about iowa and purdue. Also, bucks beat maryland by the skin of their teeth and indiana has always played osu tough. I agree with you that msu is on the way down. With that said, if they super bowl osu like so many others do, then its a very losable game.
Undefeated will be tough. Getting psu and at itchagain to end the season is not ideal. Add in a brutal four game stretch in the middle of the season that features @neb, msu, @NW, and wisky and it gets rougher. They certainly have more talent than any team on their schedule but they will have to be very focused for all 12 games to avoid an upset somewhere.
I believe he was the final decision. Today is the last day to decide anyway. Can't say I'm surprised he decided to leave. I think he has the physical tools and size to be prototypical nfl corner. I was a bit surprised that Arnette returned but that just keeps more depth and experience at corner.
You seem pretty ate up about tate. Why do you think he is a douche? Im asking cause im guessing you dont know him well. And why are you all bothered by his instagram? Seems kinda weird. Im guessing, based on some of your other comments on this forum, your issues with him and the bosas has more to do with their skin color than anything else.
"And I recently lost about 14 lbs. so much for that fast metabolism I used to have :/"
amen to that!
Who else do you put there? Osu loses their starting qb, 4 olineman, 3 receivers, a rb, and their hc is being replaced by a first ever hc. There are pry a lot of people shaking their head with osu at 4.
They have six B1G teams ranked and five sec teams. That doesnt seem real biased to me.
Where or who were these rumors from?
Thats the right spot. Would have needed a 4 quarter rose bowl with about a 4td win to jump bama. Even then, would have pry been difficult.
Scholarship grid shows saunders as a senior. Is it a typo and he is coming back?
We've had better depth under stud than we ever did with warriner. Seems like warriner could trot out 5 really good starters but you never wanted to see their backups.
Well we have found Grinch's 11w's account.
I dont care if Sheffield and Arnette come back next year. After seeing Okudah in the rose bowl, he better be a starting CB.
As stated above, Bosa played 3 games this year. I think they made their adjustment from his departure in the last 11 games.