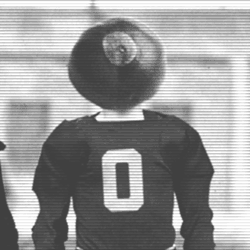 312Buckeye
---
Member since 12 January 2014 | Blog
Recent Activity
I know there's another thread about this, but what a HUGE mistake by Marshall!
Me too! Hard to believe he wasn't picked. Maybe he'll catch on as an undrafted free agent.
They could sure use Laurinaitis in Chicago! What a pitiful LB corps this year.
Definitely don't want Mel Tucker. They guy was absolutely horrible with the Bears.
It seems that Dontrae Wilson has been dealing with his "foot issue" for about 2 seasons now. I saw he was wearing a boot Saturday night. Is there any update, or does anyone know if he will be able to play this year? I know there are lots of playmakers at the H back with Jalen Marshall, Curtis Samuel, and Braxton. Would still like to see Dontrae get back on the field.
I know the past two years they've had some really great players at the top(Rola and Kobelt). I haven't' followed them this year. Are there any players on the team that have the potential to win the NCAA singles title, or possibly take a shot at the ATP Tour?
Ty Wheatley didn't recruit him. He was only recently hired by Hairball.
Frank Wilson at LSU. Was able to recruit Leonard Fournette last year. Has consistent been thought of as one of the top SEC recruiters. Would be nice to poach one from The Hat.
Already joined SCUM as their RB Coach
Would like to see Urban hire Zack Boren as a GA, and have him groomed by whomever they hire. Would be a great coach down the line.
How about Sherman Smith, the RB coach of the Seattle Seahawks? Maybe he'll be available after the Super Bowl debacle. Eric Studesville-was the Denver Broncos RB coach. Don't know if he was retained by Kubiak.
I trust Urban will hire the right person for the job. I must say, though, I thought we'd see a little more splash than the Tim Beck hire.
I don't see Tim Spencer coming back. He's now with Tampa Bay Bucs and has been with Lovie Smith for a long time with both the Bears and now the Bucs. It would be nice to see him come back though.
If you had family members killed in the holocaust by Hitler you wouldn't think it just an "internet joke."
Agreed! Just because it's been on the internet since 2007 doesn't mean that it's acceptable.
Better to "Ride to the game with Urban."
I haven't got mine yet. They are going to be sent electronically that will need to be printed. Hope they come soon.
i also hope he gets his shot in the NFL. Seems like a Belichick kind of guy, who can do a little bit of everything. Nate Ebner still on the Pats because of his special teams play. May Evan's dad will get him a spot on the Bucs. As bad as they were this year, the Bucs could certainly use Evan.
Let's have Evan has the game of his life in this last one!!!!
At this point, at best he'd be placed on a team's practice squad to develop. That's not necessarily a bad thing. That can wait. I want him back at OSU next year!!!
I'll have 1 extra seat. I'll post when I get the exact location.
Not trying to be picky, but Kwon has switched to wearing #2.
What about the creepy Allstate dude giving out the trophy after the game. Kept trying to touch Urban's arm. Urban's reaction was like get this dude away from me.
The Lincoln commercials at the end were also driving me nuts. I like Matthew McConaughey in True Detective, but he's horrible in those ads. Way too affected
I've never see a game where there was so much repetition of the same commercial. Makes you want to go the other way, and definitely buy any of what they're selling!
Thanks. Just went to their website. Looks great. Just hope it doesn't turn out to be the Oregon team hotel!
Would love to know myself. Rooms getting pretty scarce, and I also want to go ahead and book my room. How was they Gaylord?
Yes, Kwon was definitely in there(although I also thought it was for a limited number of snaps). Guess they wanted to stick with Curtis Grant for some bulk to stop Henry(dude is a load).
Wisky and Sparty win. Now it's time for an OSU win for a trifecta!!!!