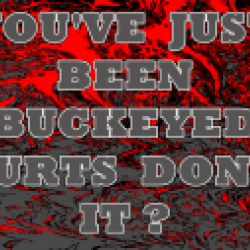 3-yrds_and_a_CLOUD
---
Ohio Stadium (via Gahanna)
MEMBER SINCE September 20, 2013
2013 OSU Graduate
2007 Desales Graduate
OSUWMC Employee
110% Buckeye through and through...
Favorites
SPORTS MOMENT: Terry Porter throwing the pass interference flag in the 2003 NCG.

David Boston tight rope run down the sidelines against TTUN.

Marcus Hall saluting the Big House.


COLLEGE FOOTBALL PLAYER: Chris Gamble
COLLEGE BASKETBALL PLAYER: Evan Turner/Aaron Craft
NFL TEAM: Dallas Cowboys
NHL TEAM: I am not Canadian?
NBA TEAM: LBJ's team
MLB TEAM: Boring
SOCCER TEAM: More Boring...0-0 Ties?
Recent Activity
Any idea what happened to Demario McCall?
Just string it a long and do a count down for march madness or every game day
The browns should really consider this fans would go nuts to see Troy and teddy play together and he has been good in canada. I would make the trip and pay good money to see that team if they were loaded with buckeye heroes and they can get Troy and Kenny g cheap and not even play them.
I like the hire and I like Ash as a DC, but the guy we really needed was Jeremy Pruitt. I cant imagine that we couldnt have gotten him to come up north if he is willing to go coach the perennially overrated Bull dogs.
Great updates! Bright future for Buckeye Basketball. I cannot wait to see Mickey Mitchell in S&G
I agree that we need a new DB coach and Coombs should focus all his energy on recruiting and the special teams. I do think that the CODC thing can work and has worked in the past, but it always seemed one was the actual DC with the other just sharing the title and being more of an assistant DC.
I believe the best staff we can put together would be to have "The Chief", Chavis, come in as the DC/LB coach. I think he needs to be the main guy and Fickell can keep the title CODC but just as a title and mainly focusing on the DLine. Then bring in Vance Joseph as the secondary coach for safeties and CBs. Would be a really good Defensive staff that can really COACH these kids up, and still get after some recruits with more pipelines to texas and the south! Go Bucks and I will trust who ever Urban decides is the best fit.
ARE YOU KIDDING ME? That was exactly why he had so much hype. Definetly made up for getting beat on the TD to Watkins.
I for one really believe that The Vest could do some very good things on the Brown's sideline. I imagine he could take that good defensive roster to the next level. Not really a Browns fan, but I would still LOVE to see this and seee it work.
I think Braxton's problems are mental and focus issues. It seems that he is struggling to make decisions and deliver the ball. We need to make it easy and run more screen passes with our running back(s) and not just C. Brown. Come on Bucks! Lets help the freshman Bosa out and play some D...