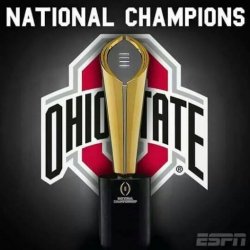 1stYrBuckIClub
---
Member since 28 July 2012 | Blog
Favorites
SPORTS MOMENT: Cie Grant charging Ken Dorsey to pressure the errant throw on the last play of our '02 National Championship...
COLLEGE FOOTBALL PLAYER: Eddie George
COLLEGE BASKETBALL PLAYER: Evan Turner
NFL TEAM: Cleveland Browns
MLB TEAM: Cleveland Indians
Recent Activity
As a Browns fan, we've come to expect nothing less.
I don't understand why Hugh Freeze is going to be Serbia's newest resident... Did you mean Siberia? Because it's a place people get exiled to, it's cold, his name is Freeze, the puns, etc. Serbia is a very nice place to visit (I was there in September). Sure, Belgrade is a little 'gritty' (or 'edgy' but more likely 'shady') but you can get 500 ml beers for about 60 cents at the local grocery and the ladies look like they stepped out of a Victoria's Secret catalog.
Thankfully, it appears at least one person in Berea knows what they're doing. Tyvis will be an instant starter (given the black hole of talent in the Browns secondary).
I'm fairly certain the jabron who started this rumor didn't watch the Spring Game last year. Mr Burrow has been the clear #2 since last spring, and Urban likely sees a lot of Alex Smith qualities in him. Good size, strong arm, above average mobility, and intelligent, he might be the next 1st round NFL-type QB Urban has in line. No doubt missing on Trubisky might be in Urban's mind as well.
Best of luck to Kyle, once a Buckeye, always a Buckeye!
On College Gameday, Tom Rinaldi (reporting on Ohio State) just told Samantha Ponder (reporting on Clemson) to 'Get Dumped then, Sam!' As I was reading DJ's 'Get Dumped' edition of the skulls!
The Fox Ohio State promo had me at Gus Johnson...
Ramzy,
I was a bit distressed at the notion of Booker's artificial scarcity/inflation strategy when I heard about it as well. On the plus side, if you're lucky enough to find it (or make friends with a generous bourbon aficionado running your local liquor store as I have) a nice bottle of Stagg Jr. will get you through those cold winter nights w/ just as much proof and less corporate price manipulation at around $50. Unfortunately Ohio Liquor Control is currently feuding w/ Sazarac in a game of inventory chicken (state removing a lot of low-end Saz products, Saz in turn holding the Pappy/BTAC hostage).
Hey DJ,
Great skully as always, but curious about your comment regarding the study on violence being 'contagious.' I didn't see anything resembling bigotry in the article or even misandristic... There are some very interesting books about the ritual of violence in young men with some eye-opening trends through history and today, notably 'Professor in the Cage' and 'The Way of Men.'
I'm just curious... does anyone remember when the fifth ranked Heisman vote-getting quarterback wasn't invited to the ceremony (Braxton Miller)? Or maybe the other time when the fifth ranked Heisman vote-getting quarterback wasn't invited to the ceremony (J.T. Barrett)? But this class is worthy of the fourth-ranked and fifth-ranked vote-getters getting to the ceremony? The Heisman committee and ESPN's programming can kindly f*ck off!
I also read that Mike Tirico is leaving for NBC? Finally the 'cable-cutters' are hitting ESPN where it hurts.
I will have to try this app again. I had downloaded it before, but my provider is Dish Network and they did not have permission at the time, but it appears that may have resolved.
I use Aveda Men Essential Oil (it's got a much longer name than that), and it works really well. Sometimes too well (like w/ random women smelling my face). I just use a few drops every morning, but I still do wash my beard every few days with regular shampoo, if you have very dry skin under your beard you might want to try an anti-dandruff shampoo like Head and Shoulders.
Acqua Di Gio for the spray, Aveda Men Essential Oil for the beard.
This news really hit me hard tonight. I've been a big MMA fan from the old days (bootleg tapes 20 years ago) and Kevin was my favorite when I found out he was a Buckeye. He had some really good fights in the burgeoning days of MMA, and it's really sad to know he's gone too soon. No doubt he has a young family, I can't imagine their pain right now. RIP Young.
First thing I saw, my dad used to teach at Garaway.
DJ, I think you're misreading the strange way they have their heights listed at the senior bowl. 6013 is actually 6'1 3/8"...
If an article I read is any indication, they moved Dwayne Haskins from 23 to 63 (see their article on Haskins flipping, first sentence is 23rd ranked prospect, now look at updated 300, he's listed at 63).
I might have something to keep said foul mouth occupied. Rosetta Stone!
Is that Kyrie Irving an' 'dem?
I actually think every Buckeye should be drafted, underclassmen included. And I'll give you some reasons: 1. Taylor Gabriel is currently a wide receiver in the NFL. Would Braxton Miller be an upgrade? Definitely. Would Jalin Marshall be an upgrade? Definitely. Who is Tennessee's 5th receiver? Who is San Diego's 5th receiver? I have no doubt Jalin is better. 2. Tyvis Powell is 6'3". Guess who else is 6'3": that's right, Kam Chancellor. Tyvis is a motivated, hard-working young man. He will put in the work to be a player in the League, especially if he is a late-round pick. These seem to be the only two talked about 'on the bubble.' Both are from Ohio. And we all know, Ohioans ball.
I will give Nick Vannett the benefit of the doubt (he is a 23 yr old using Twitter, who enjoyed playing for Tim Hinton). But at the same time, Urban saw that his OC/O-line coach was better suited in the coaches box, and not on the sideline. Urban has said many times that he prefers to have an O-line coach on the sideline w/ the slobs. That explains the addition of Stud. He now has an exclusive O-line coach (which is probably one of the two most important position coaches, along w/ D-line) on the sidelines. Programs are not allowed an infinite number of coaches. Urban likely made a calculated decision based on recruiting prowess (we all know Urban stresses this as the most important ability in a coach) as well as the productivity of the position group (TEs have had the smallest contribution, aside from blocking, in Urban's offense so far). Tim Hinton still has a job, which is more than many can say in this garbage economy, and likely a well-paying one. He was not unceremoniously dismissed. Nick is speaking from his heart, but for a coach that is being 'replaced' Tim Hinton and his family appears to have been taken care of, not discarded.
I don't even think this is an article (and certainly not journalism). It's one thing to do research, talk to people involved, and write an article (positive or negative) about a person. It's a completely different thing to read someone else's article that has been researched, essentially reference items stated in that article, and twist those things toward whatever agenda you're attempting to push. I don't take any offense to the article Niesen of SI wrote, it seems as if she wanted to show that, because of Joey's talent and potential as a number 1 draft pick, he had to take some drastic, but for him necessary, steps in order to correct and maintain his focus on football. This Levin jabroni, on the other had, seems to be disgracing his family with his hack-job publishing that is no more enlightened than posts on a message board.
Hey Birm, I'm guessing you have Twitter, so why not try tweeting at some of the middling B1G teams/coaches (Purdue, Illinois, Indiana, Rutgers) and link the video of the QB. Stranger things have lead to scholarships.