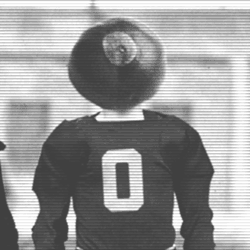 1989DuckDuckGooseChampion
---
MEMBER SINCE August 25, 2014
Recent Activity
If Myles Garret was still in the SEC he'd only be suspended for one quarter.
Alabama had two weeks to be prepare for this game. They have a terrible schedule with only 2 wins over teams that have a winning record with Mississippi St this week (4-5) followed by Western Carolina (lower division and a losing record). If they get in the committee is punishing LSU because LSU would have had to play an extra game against another top 5 team.

Alabama is one of the top 4 teams every year. I think we can all agree on that. But if you say they should get in because they're one of the 4 best teams then why play the games. They do not deserve it this year. They had their shot at home with 2 weeks to prepare. Unless there is major chaos they don't deserve in. Just like us in 2015.
My ribs turn out amazing! I just YouTubed a couple different guys and found some tips that worked. Filet Mignons turn out amazing on the Traeger as well.
This is a perfect post. I just went through something similar. When she said it was over I was a mess. I looked desperate. I talked to two very close friends, they talked me out of doing something really stupid. They told me to back off. I tried new hobbies, I kept going out with friends to keep my mind off of her. And it worked. She came back. I've now changed too. I'm not longer desperate. If I don't hear from her I don't worry about it because she will eventually call or text.
Good luck!
This was a huge win for the Bucks. It sucks the Denver game was canceled. As long as the rails don't fall off this should get them into the tournament.
Huge win! Finishes the non conference slate undefeated. First victory over ND in 17 tries.
If they had a real coach last year they should have won 10 games. With this talent and schedule, as long as there aren't major injuries then worse case is 11 wins. But if there are major injuries then 11 wins probably won't happen.
The Lake Erie Monsters is such a better name than the Cleveland Monsters. Why in the hell did they change it?
All I've read on Twitter from Ohio State writers is how bad B1G officiating is. You can see the difference in fouls for Wesson from non conference play to conference play. And how does this make our fan base look bad when I posted it on an Ohio State website? It's not like I posted it on Twitter and I have a million followers.
Another advantage of playing in the tournament is we will no longer be playing 5 on 8 like we did all season in B1G play. No more Big Ten Officials!!!!!!!! This is of course, if we get in.
Have you seen their schedule?
They play the NFC West with Seattle and La coming to Cleveland. Worst case is they split 2-2. They play the AFC east most likely going 3-1. They host the titans and travel to Denver. No reason they can't win both games. Now to the division. They should easily go 4-2. 11-5 to me is the worst they can be.
Unfortunately they will probably end up winning at least 5 weight classes and finish top 3 in two more.
Ohio State plays at PSU in late September early October equals night game white out. PSU comes to Columbus and it's late November so no night game.
Last time PSU played in Columbus at night was 2015. Next possible chance is 2023. OSU at night in Happy Valley 2012,14,16,18 most likely 20&22. Nice work B1G.
Boston College to Miami is 1,488 miles apart.
At the end of the game I saw a spectator trying to walk down the snowy hill. He actually made it without falling.
First game I was able to see this year. Big fan of the shot clock for 90% of the game but I wish it was under 60 seconds maybe 45 seconds in the final 4 or 5 minutes of the game.
Also huge game at faceoff today.
Lets start a go fund page and try and get half a billion dollars. They could build a 15,000 seat arena and tear down the schott
Thanks for the recap! I saw at halftime we were dominating the faceoff. I was glad to see that. I was trying to follow on Twitter but so many goals for the Bucks made my timeline out of time.
This is disappointing news. I work different hours than most so usually I only listen to Carp & Rothman and on my way home I would listen to The Jason Smith show on 105.7. I can still listen to Jason Smith via an app but a city this size could use more than one sports station.
Losing the face off battle is surprising. When they made their run last year and almost played their way into the tournament the F/O was killing it. If I remember right he is a sophomore this year. Please correct me if I'm wrong.
There is no way I would ever live in California for the following reasons: State tax's are way to high, cost of living is way to high, not enough water, possible earthquakes, wildfires, way over populated and I don't agree with the state politics.
It is freaking cold out right now but I've got a coat, hat and gloves. Every state has its flaws.
Atlanta shuts down if there is 1 inch of snow. We had 20" in March of 2008 and I still made it to work on time.
I also believe one reason coaches are leaving, is Saban will only coach 3 more years at the most. If you look at their schedule in 2022 it's their first non conference away game, since 2011, at Texas. If you remember Alabama rescheduled their series with Penn State 15 months before they were scheduled to play in 2004.
One reason Saban has been so successful is because he hasn't had to play a good team out of conference at their place. He will be 71 during the 2022 season.
Bama will be in the playoff again this year. Their 3 biggest games, they have a bye week before 2 of them and western Carolina before the third one.
We play Penn State before Michigan this year and in 2021. So the next home night game against them won't be until 2023.
It seems fair that the only two conferences to make the playoff every year are the conferences that play only 8 games? The first three years the B1G made it. The last two years they didn't. Guess what changed we added a ninth conference game.
Does it it seem fair when we're playing Penn State the game before Michigan, Alabama is playing Western Carolina?
The bag money drives me crazy too. Our players are just as successful if not more successful in the NFL then Bama players. So they don't have more talent than us. They have more luck and a better commissioner than us. They'll never have to play a top 10 team in the cold and rain the game before playing another top 15 team that's your arch rival. Like we had to in 2015 which knocked us out of the playoff.