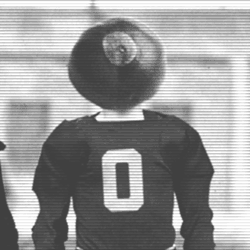 13Buckeye
---
MEMBER SINCE November 15, 2014
Recent Activity
Demario McCall houses a kickoff tomorrow. Buckeyes by 25.
Any indication what uni kit Bucks will be rocking tomorrow? Haven't seen anything on twitter - lots of talk about doing home uni's V home uni's which would be a beautiful sight.
This one gets ugly.
Fields responsible for 5 TDs before halftime.
Post-game, Day once again says "He hasn't played a full 4 quarters, we'll see what happens when he is tested"
MSU's offensive line has a rough night - Silver Bullets shine.
*Bonus* Harbaugh barely escapes Iowa at home, gets booed as he walks off into the tunnel.
Nooners and Friday night games should be outlawed.
If Borland isn't in the QBs face on that 2 point conversion, Buckeyes lose. Hell of a play.
Glad to see these kids aren't throwing away their shot
IT IS (almost) TIMEEEEEEE
Two dog sh!t teams - one dog sh!t uniform.
I can already see in my head the ESPN segments of Burrow talking about the transfer decision, while LSU is rolling this year. Finally, something to root for in the SEC.
J.T. will forever be one of my all time favorites. How incredibly impactful it is for the team to see their QB coming back from an injury like that. Get better JT, Beat Wisconsin.
This is an excellent idea, the only other way to make it more of a hit with the fans is to make it BYOB.
Don't drive intoxicated, but what you do on your own time is non of my business. Hate to see this.
Very glad I got to see this in person. Ohio State waited behind Army and all of their fans when Army sang their Alma Mater. Then OSU ran over to TBDBITL and Army joined them for Carmen Ohio. Amazing sight to see - damn allergies were acting up the whole time........
Remember, you can speak freely without the fear of downvotes (regardless of your level of depravity).
Nice.
Canes and Chick-fil-A have already met their matches in Columbus. Hot Chicken Takeover wipes the floor with both of them.
Eric - I like your Noah Brown pick, I think after the first two games we will see who JT has tabbed as his go to headed into Oklahoma. The first 3rd and 7 we get into in Norman will show us who Urban has tabbed for his fantasy pick.
You're in a college fantasy football league. You've got the next pick. What offensive player for the Buckeyes not named JT are you taking?
100% agree. Sorry Cleveland fans, not all Buckeyes are active Cavs fans. While it was obviously an incredible win and series - Lebron will need to win a few trophies in Cleveland before I'm on board.
As a long time New England fan, Drew Bledsoe and Scott Zolak era, this news is unfortunate. I did read in an article that he bumped his salary down from $9 mil this year to $1mil. Probably knew this was coming and didn't want to lose as much $$/game.
With that said, Cleveland stands zero chance with Tom's return game.
In the Commonwealth of Massachusetts you are unable by law to force someone to come into work if they have "explosive diarrhea."
Found my excuse ladies and gents