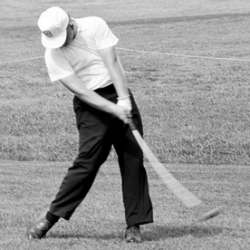 1-Iron
---
Charlotte (via Port Clinton)
MEMBER SINCE June 05, 2015
Favorites
SPORTS MOMENT: The 1984 Iowa game. They came in ranked #1 and we beat them in the Shoe in the rain. The place was rocking. Then I met some cute Iowa coeds later at the Hineygate. A great day all around.
COLLEGE FOOTBALL PLAYER: Pete Johnson
COLLEGE BASKETBALL PLAYER: Clark Kellogg
NFL TEAM: Browns
NHL TEAM: Blue Jackets
NBA TEAM: Cavaliers
MLB TEAM: Indians
SOCCER TEAM: Crew
Recent Activity
I love a little history with my morning coffee!
Both absolute gentlemen who did things the right way. The class and kindness they both showed transcended either of their records. If I had a kid who played basketball I would be thrilled if they played for either man. I wish them both the best.
If play is stopped for an injury (or "injury"), that player has to sit out six plays instead of just one.
It took me 30 years to do that!
As much fun as it is to poke fun at the millennial Gen-Z'ers (or whatever they are now), frostbite is nothing to mess around with. I remember one winter day in '83 I believe, the sun was out, there was no wind but the temperature was about -5. (This was a Saturday, so there were no classes to close.) I almost froze my ears off. Literally. There was a layer of ice on them when I got inside and when they thawed out it was the most painful thing I can remember. Later that week, I was surprised at the number of students around campus that had ears and fingers bandaged from frostbite or near frostbite. Given the amount of walking between buildings the average student does in a day, I am good with no class tomorrow. We Ohioans are simply not as mentally prepared for this sort of cold like they are in North Dakota or Canada. Canadians can point and laugh and call me names all they want. Whatever, I hate Winter.
I was in St John when we played Kentucky in '81. We got it close early in the second half. The place was absolutely nuts. Freaking nuts. I had never heard anything like that in my life.
How about we simply use the old BCS formula to pick the 4 playoff teams going forward. Most people aren't frustrated with the 4 teams they ended up choosing, it is the complete lack of of transparency layered with heaps of double-speak. Just use the formula then we can all see what is going on. Rid the process of the bullshit.
How about 8 conferences and one less regular season game?
Why the hell aren't we doing more of that?
I feel like I am watching the eighth and ninth place teams in the league in a game that doesn't mean Jack for anything.
That was, um, odd. I don't recall a game where there were that many balls hit the receivers in the hands and end up somewhere else.
Oh well. Go Huskies.
Good fucking thing no one keeps those stats here. Especially during the Damned Maryland game. Shit, that would have been bad.
How bad is the Xichigan State offense? Yikes.
Umm - That looks like the box score from the SC State game.
They must have real grass on their field.
It is still possible for a 7-6 B1G champion to play a 7-6 PAC 10 champion in the Rose Bowl!
304
I have nothing to prove no more
In other words, he did have something to prove. (Unless one wants to go down the double-negative road, in which case, he still does.)
Either way, good riddance.
I think it is a baboon that is a buffoon. Or something . . .
Wazzu looked way better than we did yesterday. And those all-gray unis were sick!
Item 1 - The purpose of a University is to prepare people for their futures in 'The Real World'. I think that Urban and his program have done one heck of a job preparing his players for the future, not only for those who go to the NFL but those who don't make it to Sundays. And yes, I believe preparing people to play for the NFL is a proper purpose of a university. I know many out there will disagree with that, instead choosing to believe that it is not a proper 'academic' pursuit. If preparing a person for the NFL is not one of the many proper purposes of a university, what of the musician? Or the dancer? Shall we close the Music School? The Art School? Where does this logic end? Shall the Universities only teach philosophy? If you want to play sports should it only be open to math majors?
Item 2 - How many of you folks out there scoff at Jack Nicklaus because he turned pro before his senior year? Who thinks he doesn't represent OSU well because he is a selfish dropout that left his teammates in a lurch? A degree is a terrific accomplishment and all, but it is not a requirement for success. In anything. Shoot, Bill Gates 'went pro' a year early too. I think he did OK.
That we have numerous players leave early is merely an indication that we are bringing in the best, training them well and that they are putting in the hard work. I wish every player in every sport that dons the Scarlet and Gray all the success in the world, whether they stay one year or six. I also wish that of everyone putting in the hours in a research lab, or in the library or an art studio. Whether they stay one year or six.
Item 3 - This forum topic misses another relevant argument, namely should the NFL and NBA have deeper development leagues, more in line with hockey and baseball? So long as the current system of using college athletics as a farm system is in place, there will always be Kentuckys and Ohio States and Alabamas. The real question, is do we want to change that? Would we still love college football if the top third of the talent was playing for minor league teams in Scranton, Dothan and Odessa? I don't have an answer for that, but I suspect the marketplace does.
The bottom line is I see no problems or cultural issues here. Only people pursuing opportunities that attending this and other Universities have opened for them. Good luck to all of them.
We are certainly not the only ranked team to come out flat today.