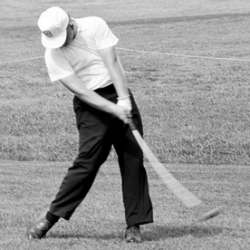 1-Iron
---
Charlotte (via Port Clinton)
MEMBER SINCE June 05, 2015
Favorites
SPORTS MOMENT: The 1984 Iowa game. They came in ranked #1 and we beat them in the Shoe in the rain. The place was rocking. Then I met some cute Iowa coeds later at the Hineygate. A great day all around.
COLLEGE FOOTBALL PLAYER: Pete Johnson
COLLEGE BASKETBALL PLAYER: Clark Kellogg
NFL TEAM: Browns
NHL TEAM: Blue Jackets
NBA TEAM: Cavaliers
MLB TEAM: Indians
SOCCER TEAM: Crew
Recent Activity
Very tempting! Thanks for the info!
Lol. Unless it is William & Mary. That just seems cruel!
It's Rose-Hulman, btw. Unless there really some hapless dude named Ross getting his butt kicked.
So one TD every two minutes equals about 200-some points.
Wow. No slow start today. Dang.
It is also the 150th anniversary of the golden spike driven at the transcontinental railroad in Utah. Though more likely it is for the sesquicentennial for the City of Muskegon. Could be that.
I love a little history with my morning coffee!
Both absolute gentlemen who did things the right way. The class and kindness they both showed transcended either of their records. If I had a kid who played basketball I would be thrilled if they played for either man. I wish them both the best.
If play is stopped for an injury (or "injury"), that player has to sit out six plays instead of just one.
It took me 30 years to do that!
As much fun as it is to poke fun at the millennial Gen-Z'ers (or whatever they are now), frostbite is nothing to mess around with. I remember one winter day in '83 I believe, the sun was out, there was no wind but the temperature was about -5. (This was a Saturday, so there were no classes to close.) I almost froze my ears off. Literally. There was a layer of ice on them when I got inside and when they thawed out it was the most painful thing I can remember. Later that week, I was surprised at the number of students around campus that had ears and fingers bandaged from frostbite or near frostbite. Given the amount of walking between buildings the average student does in a day, I am good with no class tomorrow. We Ohioans are simply not as mentally prepared for this sort of cold like they are in North Dakota or Canada. Canadians can point and laugh and call me names all they want. Whatever, I hate Winter.
I was in St John when we played Kentucky in '81. We got it close early in the second half. The place was absolutely nuts. Freaking nuts. I had never heard anything like that in my life.
How about we simply use the old BCS formula to pick the 4 playoff teams going forward. Most people aren't frustrated with the 4 teams they ended up choosing, it is the complete lack of of transparency layered with heaps of double-speak. Just use the formula then we can all see what is going on. Rid the process of the bullshit.
How about 8 conferences and one less regular season game?
Why the hell aren't we doing more of that?
I feel like I am watching the eighth and ninth place teams in the league in a game that doesn't mean Jack for anything.
That was, um, odd. I don't recall a game where there were that many balls hit the receivers in the hands and end up somewhere else.
Oh well. Go Huskies.
Good fucking thing no one keeps those stats here. Especially during the Damned Maryland game. Shit, that would have been bad.
How bad is the Xichigan State offense? Yikes.
Umm - That looks like the box score from the SC State game.
They must have real grass on their field.