Ohio State hasn't won a 2nd half since its opening game against Nebraska
Fortunately they don't hand out Ls for losing halves, but three of anything in a row is a trend. It's not like the Buckeyes are quitting while they're ahead, though - Justin Fields was the face of the #LetUsPlay movement and we're watching B1G football in 2020 in large part because of his efforts.
Have you seen how long he holds the ball? Fields won't even quit on a play. Settle down.
THE CONSEQUENCES OF CHILLING TOO HARD?

| GAME | 1Q SCORE | 2Q SCORE | 3Q SCORE | 4Q SCORE |
| --- | --- | --- | --- | --- |
| NEBRASKA | 14-7 OSU | 10-7 OSU | 14-3 OSU | 14-0 OSU |
| @ PENN STATE | 14-3 OSU | 7-3 OSU | 10-7 OSU | 12-7 PSU |
| RUTGERS | 7-3 OSU | 28-0 OSU | 7-6 OSU | 18-7 RU |
| INDIANA | 7-0 OSU | 21-7 OSU | 14-14 | 14-0 IU |
They're just 12-3-1 in 16 quarters of play. Unacceptable. Fans demand an explanation:
Is there a team on the schedule where winning the 4th quarter will matter?
Are the Buckeyes talented enough offensively to stay so glorpy in pass defense?
Will we appreciate non-conference MAC opponent tune-up games more in the future?
Is this something you chalk up to a zombie football season being played in a pandemic?
Ohio Stadium gets notoriously sleepy in walk-through games - is completely empty too sleepy?
Entropy has reigned supreme in the later stages of Ohio State's non-Cornhusker victories, and damn it - people are entitled to understand why the Buckeyes are allowing chunk plays after losing Jeff Hafley to Boston College, Jeff Okudah, Jordan Fuller, Damon Arnette to the NFL, Amir Riep and Jahsen Wint to expulsion, Brendon White and Isaiah Pryor to transfer and Cameron Brown to injury. Why has this secondary taken a step back in only one season? This is shocking.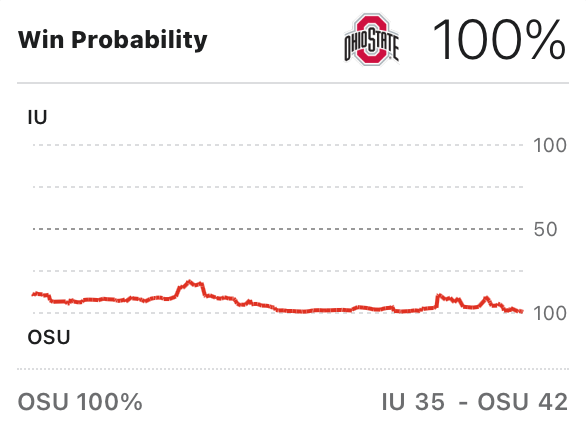 This past Saturday gave us the scariest in-game win probability of the season, with approximately 1.5 more little bumps in the wrong direction of the destiny line than we absorbed during the Blight Out against still-winless Penn State. For a few precarious minutes in the 2nd quarter Ohio State's likelihood for victory dipped slightly below 80%. You can say it aloud: Holy shitballs.
Fans were hoarding food. Coolers were being used as makeshift toilets. Middle-aged men were wearing hoodies under replica jerseys with cargo shorts and braided belts. Granted, none of those had anything to do with Indiana making a game of it, but it's worth pointing out that most of them are hallowed Buckeye game day traditions.
It's easy to forget when you're immersed in your favorite team's games that this year is hard as hell - harder than most and hopefully the hardest we'll ever have to endure again. I'm grateful for football, however conflicting it may be during These Uncertain Times.
I'm grateful to cheer for a team that is forced to explain why it won the way it did against a top 10 team that will end up having its best season in program history. There's plenty to be mad about in 2020. Ohio State's football performance cannot be on that list. Don't do this.
Onto the Buckeyes' only trophy game that's played outside of Indianapolis: Illibuck is at stake! Let's get Situational.
OPENING: PARALLEL UNIVERSE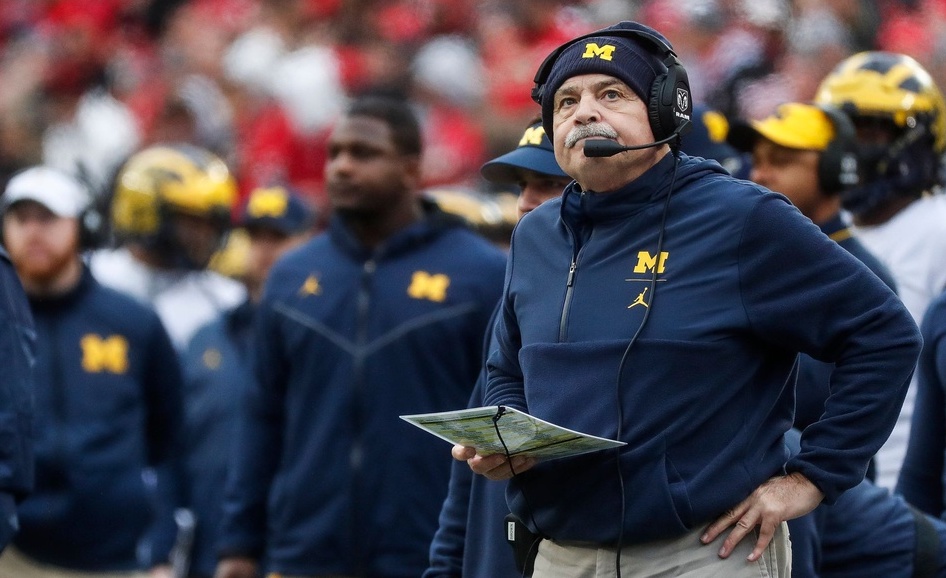 For the first time since Ohio State-Michigan moved to after Thanksgiving, Gold Pants and Fat Pants Week are not overlapping on the calendar.
Michigan is fresh off a thrilling triple-overtime victory in Piscataway which only happened because Valentino Ambrosio, the Rutgersiest football player name of all time, missed what would have been a game-ending field goal in the second overtime. The Scarlet Knights came painfully close to sweeping the state of Michigan and ended just short. Damn you, Valentino.
In Normal Times we'd be ramping up for Senior Day and Michigan's return to the Horseshoe, coming off of its big win. But in these Uncertain Times, it's back to Champaign for the first 11am local kick the Buckeyes have had since every current player on the roster wasn't in college yet.
Stay healthy, Wolverines. You wouldn't want to miss out on another chance for revenge.
INTERMISSION: THE SOLO
The Beasties accidentally slipped into hip-hop from the New York hardcore scene that brought them together - which worked out fine because they ended up making the best-selling rap album of the 1980s and followed it with the best any-album (author's opinion) before sliding right back into their hardcore roots.
Gratitude is a 90s banger but the baseline that carries it was actually created 40 years ago when Adam Yauch was teaching himself how to play. He was slapping the bass, landed on the riff and thought hey this is probably a song. Eleven years later, it was.
Any song carried by a bass riff either needs an abrupt ending (see: Another One Bites the Dust) or chaos. Gratitude ends with the latter, via the band's first-ever keyboard solo. Let's answer our two questions.
Is the soloist in this video actually playing the keyboards?
That's Money Mark, a carpenter who fixed the gate for the house where the Beastie Boys were recording the greatest album of all time in 1989. Mark ended up hanging out at the house once he fixed the gate and one album later he was collaborating with them.
He later did the keyboards on Beck's Where it's At and also recorded with the Stones, Santana and the Chili Peppers. As the expression goes, one door closes; another one opens. In this case the door was a broken gate. VERDICT: Mark, the Beastie Boys' handyman, is playing the keyboards.
Does this keyboard solo slap?
A keyboard solo that's more than just mashing keys but less precise than Schubert is as close as you can get to threading the needle in a punk song, where the only rules are a) sounding punk, while b) clearly being musically literate. Mark ran the damn ball with this solo, which is to say he threaded it nicely and chaotically.
It's not spectacular and that's exactly what was required. VERDICT: Slaps. Move the chains.
THE BOURBON
There is a bourbon for every situation. Sometimes the spirits and the events overlap, which means that where bourbon is concerned there can be more than one worthy choice.
Tomorrow is Thanksgiving. After that you've got Black Friday, a college football Saturday and an NFL Sunday during all of which the object in 2020 is to avoid the reality and contagion that lurks beyond your domicile.
This should be easy! Hey, just sit there and do nothing is the dream - until you're commanded to do it and your broken child brain responds with but wait now I want to do everything, you're not the boss of me. There's a bourbon for this, because there's a bourbon for everything.
You're late for making Apple Pie Bourbon in time for this weekend but you're on schedule for its faster and promiscuous cousin, the Easy A. You'll need to grab a first-shelfer (under $25, authentic bourbon, dealer's choice) and then drop six cinnamon sticks into the bottle ASAP. Twelve hours is sufficient for infusion.
EASY A RATIOS

| | |
| --- | --- |
| INFUSED BOURBON | 1 |
| WHITE CLAW | 1.5 |
| APPLE JUICE | 2 |
Once that's done, you can make the Easy A either as a pitcher or a single drink - it's going to be a 1: 1.5: 2 ratio of bourbon to White Claw to apple juice. White Claw flavor = also dealers choice; it doesn't matter that much due to the pungency of the cinnamon and the bourbon.
If math is hard for you (raises hand) pour two shots of your infused bourbon, three shots of Claw and four shots of apple juice over crushed ice in the receptacle of your choosing.
Garnish with fruit/herbs and enjoy getting an Easy A from the safety and comfort of your couch.
CLOSING: WINNING YOUR CLUNKERS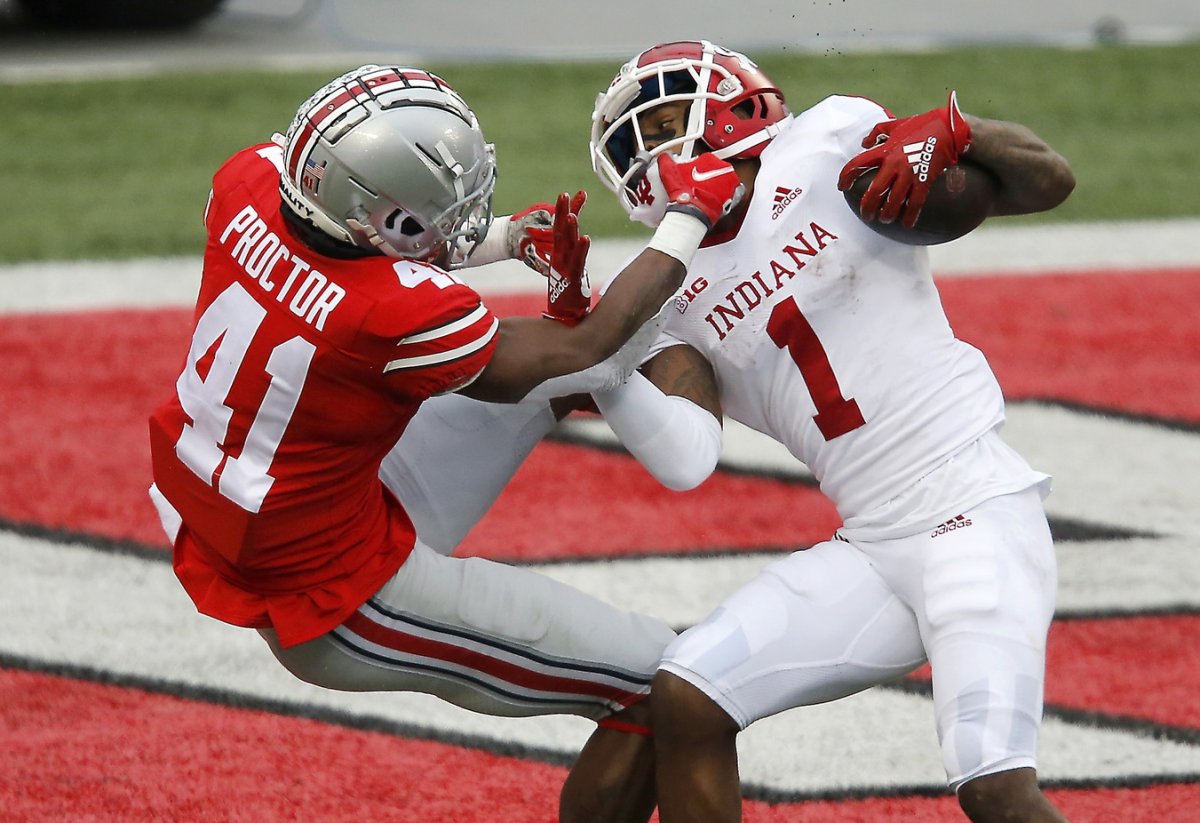 Eleven years ago Jim Tressel said the quiet part out loud.
(Buckeye fans) have got to be some of the most unhappy people in the world, and I feel bad because we just made them less happy, and I hate to be a part of making someone less happy. I mean, they're already miserable.
Quiet parts have been extinct for a few years now, but way back then there were actual consequences for public figures blurting out whatever was on their minds. Forty-eight hours later Tress had to apologize for being truthful.
My dad taught me a long time ago, you'll have a thousand chances to keep your mouth shut, use every one of them. And if anyone was half as miserable as we were on Sunday (and) Monday, I could understand them being miserable. You live and learn.
He got himself in trouble for calling Ohio State fans miserable following a loss to Southern Cal, a game they had total command of and had absolutely no business squandering. You can count those losses from the Tressel era on one hand: Penn State 2001, Northwestern 2004, Texas 2005, Penn State 2008, Texas 2008, Southern Cal 2009.
Well, if you have this guy's hand, anyway. They gave those games away.
Tressel's only mistake was in the timing. You don't tell Ohio State fans about their whiny tendencies after you absolutely shit down your leg and choke away a win. You either tell them after a victory, when they're out in force harping on all of the blemishes that need concealing - or your don't tell them at all.
The Buckeyes won a clunker on Saturday against a team of destiny and one of the 12 best in the country. They survived a clunker against a team like that. An edition of the Indiana Hoosiers you'll see on B1G Network for the foreseeable future that will be invited back to Bloomington to wave at crowds during anniversary years.
The Buckeyes won a clunker on Saturday against a team of destiny - and one of the 12 best in the ENTIRE country.
Perhaps you're old enough to remember how the Buckeyes performed against Cincinnati, Northwestern, Wisconsin, Penn State, Purdue and Illinois in 2002 while the defending champion Miami Hurricanes were dusting everything in their path. You definitely remember how dominant the Buckeyes were last season before making every possible mistake and running out of good karma in Glendale.
Saturday was the first clunker Ohio State has won since Maryland in 2018, with tepid apologies to the 2nd half of that season's Rose Bowl. Win. Your. Clunkers.
The point is it doesn't matter how they would do against Clemson while they're playing Indiana. That makes no sense - it's a mystifying place for a brain to go while your team is adding a checkmark to its good column. The eye test won't figure as long as the bad column stays clean.
Nobody knows Ohio State fans better than Tressel did. Enjoy all of the wins, especially the unpretty ones. Those help you appreciate the 59-0 romps that much more. Trevor Lawrence can wait while the raw Buckeye secondary and every other unit strive to reach their full potential during this hell year in which they never got the opportunity to tune up.
Thanks for getting Situational today. Go Bucks. Beat Illinois. Happy Thanksgiving. Take care of each other.