Ohio State is 9–1, flying high after pasting its last two opponents by identical 62-3 scores and figure to be a top-three team in the next batch of College Football Playoff rankings.
Yet, the Buckeyes still don't truly control their own destiny.
It's true, Ohio State will have a major say in what happens down the stretch, and whether or not they make it back to the Playoff, but some things still need to happen.
Michigan (9-1, 6-1), Ohio State (9-1, 6-1) and Penn State (8-2, 6-1) are all very much alive in this race and to try and predict how this will finish is a fool's errand at this point in time. Depending on whether there's a two-way tie, or a three-way tie – and even on which teams are part of the two-way tie, outcomes diverge quickly (here are the Big Ten tie-breaker rules for reference).
This graphic outlines all of the possible outcomes: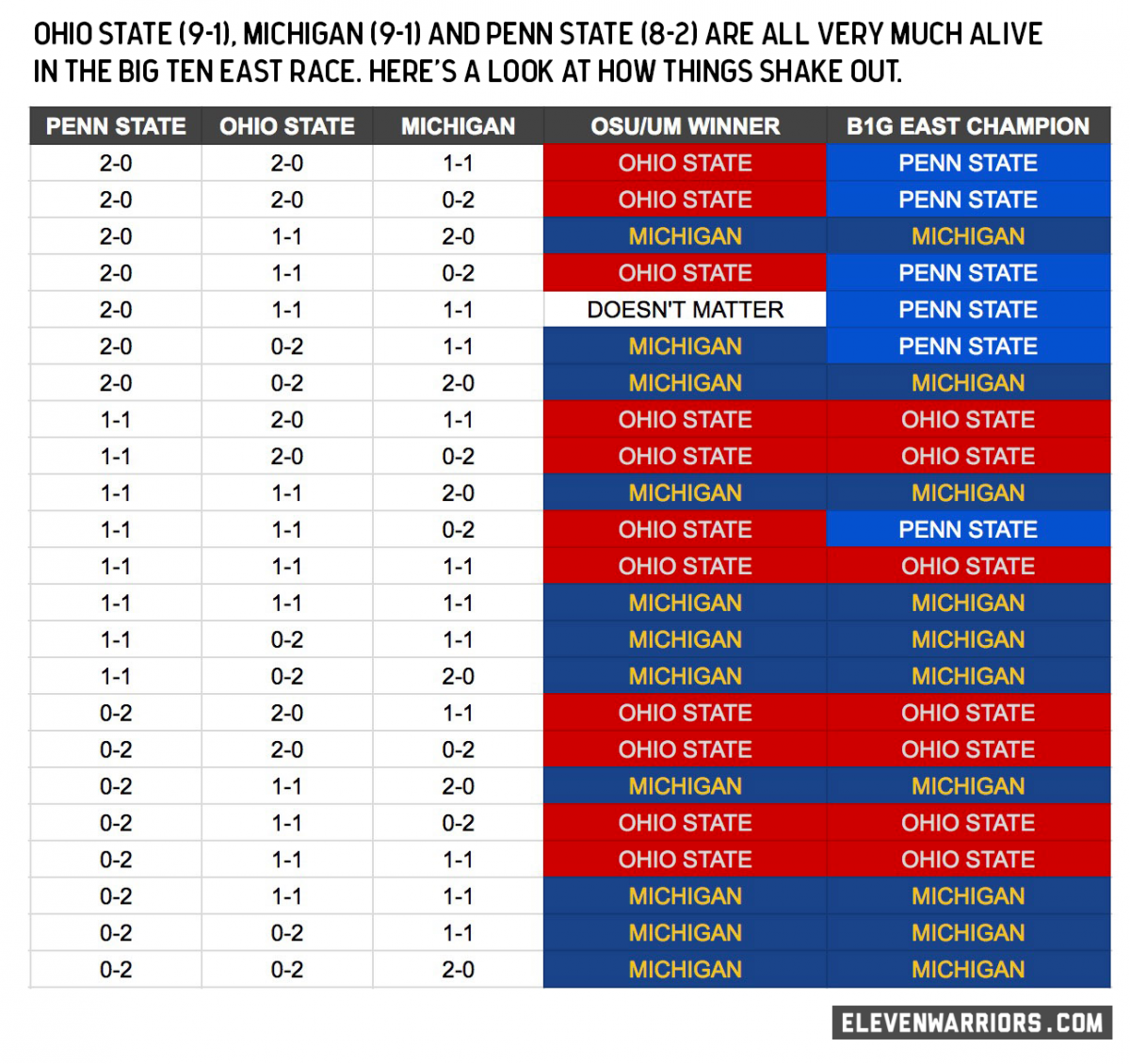 With Michigan's loss to Iowa Saturday night, Penn State's position solidified, while Ohio State needs to win out, and get some help. Had Michigan defeated the Hawkeyes, Ohio State was in if they won out and Penn State wins out, which seemed likely since the Nittany Lions have remaining games against Rutgers and Michigan State.
Now, the Buckeyes need to win out – and need a bit of help if they want to win the Big Ten East.
However, Ohio State may become the first team to ever crack the final four for the playoff without winning its conference championship should the Bucks and Nittany Lions both win out.
The Buckeyes could conceivably finish 11–1, with a lock on the No. 2 spot in the playoff rankings and wins over three top 10 teams. How do you lave that team out of the playoff?
Remaining Games

| Team | CFP Rank (11/8) | Record | B1G Record | Last Two Games |
| --- | --- | --- | --- | --- |
| OHIO STATE | No. 5 | 9–1 | 6–1 | @ MICHIGAN STATE, MICHIGAN |
| MICHIGAN | No. 3 | 9–1 | 6–1 | INDIANA, @ OHIO STATE |
| PENN STATE | No. 10 | 8–2 | 6–1 | @ RUTGERS, MICHIGAN STATE |