Next to Mark Mitchell's laptop computer on the desk inside his Schottenstein Center office, sits a stack of DVDs where he keeps game films and highlight tapes from players and teams he's led throughout the duration of his basketball coaching career.
Mitchell hangs on to these in case his former players need them for any reason — offering a former player film in case of a potential transfer is one example he mentioned. He also likes to pop them in from time to time to relive some of the great moments he's had; a blast from the past, of sorts.
Mitchell, the father of current Ohio State sophomore guard and Big Ten preseason player of the year Kelsey Mitchell, is now an assistant coach for Ohio State's women's basketball team. Before that, he was the head boys coach at Cincinnati Taft High School for 11 seasons. One of the best players he ever coached was current Buckeye defensive lineman, Adolphus Washington.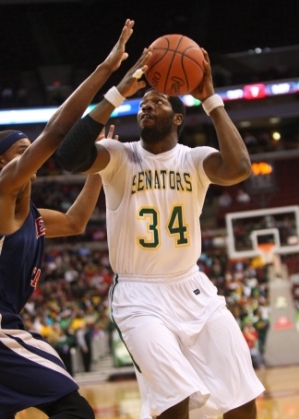 "Before we get going," Mitchell says with a huge smile on his face, reaching for the stack of DVDs, "you've got to watch this."
He strolls over from his desk to the flatscreen television mounted on the wall and pops in a DVD of a game from Washington's junior season at Taft against Cincinnati Withrow. The first clip Mitchell shows features Washington hitting a face-up jumper with Withrow's Devin Williams — who is now a budding star player at West Virginia — right in his face.
The next trip down the floor, though, was what Mitchell was truly referencing a few minutes prior.
Washington deflects a pass out on the perimeter and the ball bounces right to one of his Taft teammates. As the Senators looked to run, point guard Orlando Berry speeds down the left side of the floor.
"Here it comes," Mitchell says, the anticipation building.
It's a two-on-one fast break and as the Withrow defender slides toward Berry to stop the ball, the guard dishes it to Washington who is sprinting full speed down the lane. He catches the pass, rises up and hammers home a thunderous right-handed dunk over the defender who was late in his recovery to challenge at the rim.
"Boom!" Mitchell shouts. "That's it right there. I'm ready to go now."
It was quite a stunning sight to see. Washington, who now stands 6-foot-5 and is listed at 290 pounds, weighed around 250 in high school. He wasn't as big back then as he is now, but the point remains the same: Guys who are that large weren't supposed to run like he did and move that fast.
Washington isn't your normal athlete, though. Those close to him would describe him as one of those "freak" types.
"He's very rare," Mitchell said. "You don't see kids like that too often."
---
Basketball was always Washington's first love, but Mitchell says that's partially because he was too big to play football at a young age, sometimes falling victim to weight regulations. As a result, he spent most of his time as a youth on the hardwood instead of the football field.
He turned into a star in both sports, though, at Taft leading the Senators to a state basketball title as a junior in 2011 and an Elite 8 appearance as a senior. In football, Washington recorded 54 sacks over his three years and led Taft to a pair of state playoff appearances.
His first college scholarship offer came in football, however, not hoops, from Cincinnati during his freshman season. It was then Washington knew his future would likely be on the gridiron, though Mitchell says he could have played basketball at a major college program had he chosen to do so. Xavier, Cincinnati, West Virginia and others all heavily expressed interest.
And as he is now in his senior season with the Buckeyes' football team, it's hard to argue Washington didn't make the right decision.
He's already won a national championship as a starting defensive tackle during Ohio State's storybook 2014 season. And now, back at his natural three-technique position on the defensive line, he's emerged as even more of a star for the No. 1-ranked Buckeyes.
"[Washington] has all the talent in the world; no three-technique can pass rush like he can in college football. I don't believe there is anybody that is as quick and good with his hands. I think he's finally starting to show what he can do." – Joey Bosa
Through the first eight games of the season, Washington ranks fifth on Ohio State's defense with 37 tackles. He's also posted 5.5 tackles for loss, three sacks and even had an interception return for a touchdown against Western Michigan where he was able to showcase his freakish athleticism. 
"Very athletic, can rush the passer; he's got great hips, great feet, basketball player," Ohio State defensive line coach Larry Johnson said of Washington. "He's got some really born-in skill set that he has. We're transitioning him to play a lot faster and he's done a great job of that so it's a really ideal position for him."
Washington is a legitimate early-round NFL prospect. His size, speed, quickness and overall athletic ability are all traits desired by NFL teams. They're truly a rarity at his position.
It's for that very reason some thought Washington may opt to forgo his senior season at Ohio State after last year's national title run and enter the NFL Draft. Had he chosen to do so, it was widely believed he would have been selected anywhere between the second and fifth rounds.
Washington didn't hear any of that discussion, though. In fact, he wasn't even aware it was taking place.
"I didn't even know I was being talked about for the NFL; that's how I knew I wasn't ready," Washington said in Chicago at Big Ten media days. "I feel like I needed to get another year under Coach Johnson. For a guy that's coached as many first rounders as he has, I feel like I definitely needed another year under him."
Washington's draft stock has skyrocketed during his senior season as he's been even more disruptive. Various 2016 NFL mock drafts have Washington currently being selected as high as the end of the first round.
Ohio State's other All-American candidate on the defensive line and potential first-round draft pick, Joey Bosa, recently praised Washington for his play and his ability to be stout against both the run and the pass.
"He has all the talent in the world; no three-technique can pass rush like he can in college football," Bosa said of Washington. "I don't believe there is anybody that is as quick and good with his hands. I think he's finally starting to show what he can do."
Added Washington: "I definitely feel like I've made a lot of improvement. My biggest thing is I've just gotta be consistent and keep it going."
---
It was in fifth or sixth grade when Mitchell realized Washington was a little bit different when he saw him play basketball for the first time, but it wasn't until his sophomore year of high school — Washington's first season at Taft and the first time Mitchell coached him — where he got to see things up close.
Taft had a segment in practice which Mitchell called "two-minute wars" where his team would scrimmage for a two-minute period to simulate the end of a game. When the segment concluded, he wanted there to be a clear winner and a loser.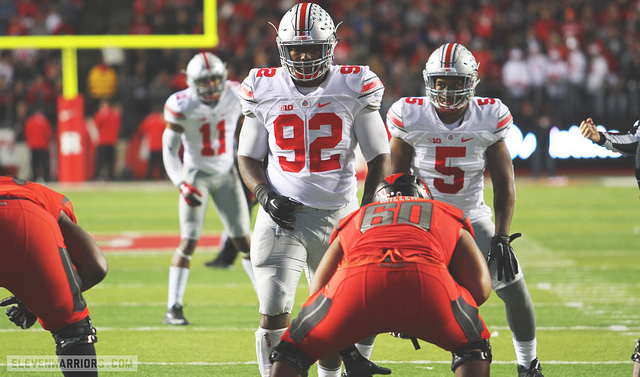 And in one of Washington's first practices at Taft, in one of those "two-minute wars," he made his presence known. Quickly.
"In two minutes, [Washington] took two charges, had four dunks and pinned two shots off the glass," Mitchell said. "Think about that. All of that in two minutes.
"When you see stuff like that, you go, 'Wow.' You know you've got something special."
Mitchell said Taft often played its basketball games somewhere in the 90-point range; the Senators loved to run and played a fast-paced, up-and-down style. It was a system that took some getting used to, especially at the beginning of the season, but was effective nonetheless.
At the heart of it was Washington, a defensive tackle on the football team who ran up and down the basketball floor like he was a guard. Mitchell admits he may not have been able to play and coach that way had he not had a big guy like Washington with such a unique athletic ability to handle it.
But that's precisely what makes Washington so unique, so different from the average player whether it be on the basketball court or the football field. His rare athleticism is what separates him from the rest of the pack. Ohio State head coach Urban Meyer and staff have reaped the benefits of that for four years now.
Washington has the total package; he's everything a coach would look for in a defensive lineman. He defies what people his size are supposed to be able to do.
Simply put, Washington is "very rare."
"Size speed, athleticism, intelligence, character, attention to detail, respect for the game, respect for other people. That's him," Mitchell said. "He's special. He's as special as it gets as a total person."