Tim Beck knows what it's like to be a new guy in a crowd full of decorated superstars.
Not even two whole days had passed since Ohio State downed Oregon to win the inaugural College Football Playoff in Dallas, and the Buckeyes made the hiring of Beck as their next quarterbacks coach official.
The ex-Nebraska sage and Youngstown, Ohio, native then packed his bags for Columbus. He stepped into a coaches room that included rock stars like Urban Meyer, Ed Warinner, Larry Johnson and Luke Fickell. The pressure was on there to show his worth, and to do so immediately.
In a similar way, 2015 four-star recruit and quick-twitch athlete Torrance Gibson is in a comparable mold as Beck. More than 1,100 miles from his home of Fort Lauderdale, Fla., Gibson had to find room in a quarterback room that included Braxton Miller, Cardale Jones, J.T. Barrett, Stephen Collier and Joe Burrow, an Ohioan and fellow true freshman.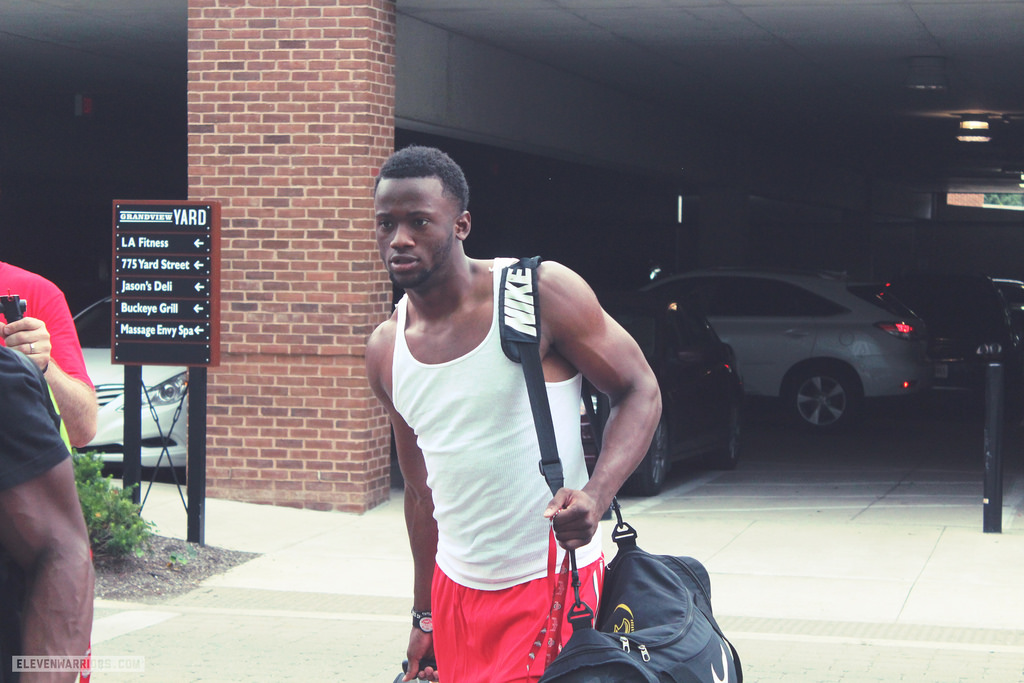 If you're keeping track at home, that's a truckload of talent, a national championship, Big Ten title, two Silver Footballs several Heisman Trophy votes and a mess of other victories to go along with them.
Gibson, though, is a talent Meyer had to have as part of his 2015 recruiting class. And as we've come to understand on the recruiting trail, what Meyer wants, Meyer gets.
So he got Gibson, who wanted to play quarterback. Practice started Monday, and Gibson played quarterback.
Beck was asked that day if Gibson was strictly going to be a quarterback at Ohio State despite a closet full of moves and athleticism that some say rivals Miller.
"Absolutely," Beck responded without hesitation.
Friday, that all changed.
Media was permitted to watch the first four periods of practice at Coffey Road Park, the team's first in full pads. Only Gibson wasn't anywhere near the quarterbacks — instead going through stretching, drills and mental work with the wide receivers.
This might look bad on Meyer, especially considering the way he spoke of the talented 6-foot-4, 205-pound athlete the day he received Gibson's Letter of Intent.
"The thing I asked Torrance is, don't penalize us because our guys play real well," Meyer said on National Signing Day Feb. 4. "Everybody has three or four quarterbacks, if you don't you're struggling. Our three or four happen to play really well. Don't hold that against us. Because Cardale might leave after next year, and Braxton is out, you're down to one, maybe two. Don't hold that against us. Come and compete for the spot."
Gibson had that in his mind, but according to our own Jeremy Birmingham, the quarterback was the one who approached the coaching staff with the idea of trying his hand at receiver so he didn't have to take a redshirt in 2015. He wants to contribute and according to a source, "looks natural out there" at the position.
Birm isn't wrong about much when it comes to Ohio State football, so it seems wise to trust his take on this. Even if he's wrong, though, Gibson's move to the edge makes sense.
His size alone is a spectacle that Meyer and his staff have to be drooling over. Combine that with the quickness and speed to kill, he could blossom into a real weapon in the offense.
"I think he's a special player with the ball in his hand, there's no question about it."– Tim Beck on Torrance Gibson
"I think people bring (a potential position switch) up because he's an incredible athlete," Beck said Monday. "Any time you have a guy that can run and jump like he does there's always that assumption that a guy can move to that kind of position."
He added that at that time there wasn't a plan to move him, but a quote from February resonated.
"I think he's a special player with the ball in his hand, there's no question about it," Beck said on Signing Day.
And with Corey Smith, Jalin Marshall and Dontre Wilson on the shelf for the season opener at Virginia Tech, the depth at wide receiver is depleted. Miller moved to the hybrid-back spot before camp got going, too, and if you throw Gibson into the fold, it adds another toy for Meyer to play with in the offense. Both can throw, too.
Need a better idea of how athletic and strong Gibson is in pads? Fast forward to about the 1:55 mark in this video and see him tattoo fellow freshman Denzel Ward (yes, Ward is only 5-foot-11 and 180 pounds, but you get the point).
Meyer wants Gibson on the field as soon as possible. Gibson does too. Which is why this move makes sense — both want what's best for the team, and that just might be him playing wide receiver. That way, he can make a worthy first impression.
"I think both those guys are really hungry guys," Beck said of both Gibson and Burrow Monday. "They want to do right, very talented guys, both of them. I was pleased with them."