Among the myriad of storylines as the reigning national champions opened fall camp this past Monday, the battle between Cardale Jones and J.T. Barrett to be Ohio State's starting quarterback has dominated the headlines on various media outlets. 
The quest for news on the topic was so thick that even national outlets like ESPN spent full segments discussing the meaningless fact a simple coin toss afforded Jones the first shot at first team reps in the first official practice of the season. 
Beyond the ridiculous notion a coin toss could mean anything in Urban Meyer's quest to determine his starting quarterback, a very real possibility of a platoon situation could absolutely emerge making the starting quarterback discussion largely trivial.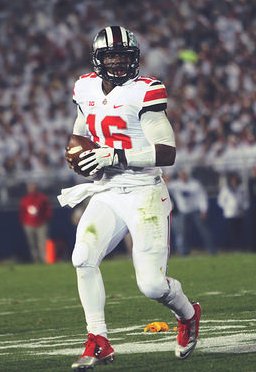 My personal belief is there is a strong likelihood Meyer will employ a two-quarterback system of sorts for the vast majority of the first 10 games provided injuries don't come into play. At that point, he will evaluate each quarterback's body of work and then attempt to ride one true starter through the gauntlet of Michigan State, at Michigan, B1G championship, College Football Playoff semifinal and finally, CFP championship game, provided all goes well. My gut says Barrett will be that guy. 
Whether or not that pans out or if your own theory on how Meyer will handle the situation materializes, I thought it prudent to at least investigate how Meyer handed the only other even remotely comparable scenario in his career which occurred back in 2006 when Chris Leak and Tim Tebow formed a platoon of sorts down in Gainesville. 
During that season, what was hyped and often remembered as a platoon was barely that as Leak accounted for 89% of Florida's pass yards (2,942) compared to just 358 for Tebow. In fact, if you remove Tebow's 200 passing yards in a 10/12 effort on a typical late November Chickenshit Saturday in the SEC, his season totals shrink to 12 completions on 21 attempts for 158 yards. 
Conversely, Tebow finished as Florida's second-leading rusher behind Deshawn Wynn (699 yards) and just in front of Percy Harvin (428) with 469 yards on 89 carries and a team-leading eight touchdowns. 
As the numbers illustrate, Tebow was really a situational player, many times employed within the red zone such as against Ohio State when 10 of his 11 touches came from inside the Buckeye 21-yard line, as opposed to being part of a "50/50" two-quarterback system. 
Looking at Meyer's current dilemma, Barrett and Jones do have different strengths and weaknesses but their skill sets are significantly more similar than those of Leak and Tebow.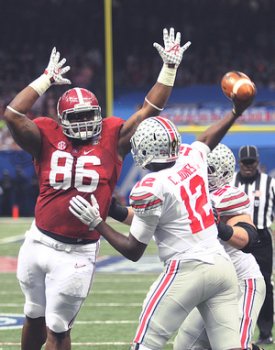 Both are effective passers with Jones boasting the bigger arm that not only produced slightly more average yards per completion but also created less ability for opposing defenses to disrupt the run with cheating safeties. Meanwhile, Barrett was the more accurate, effective distributor and overall offensive decision-maker which can't be overlooked on a team that should win all of its games unless an unbalanced turnover margin paves the way for an upset.
On the ground, Jones can pick up the tough yards thanks to his size but wouldn't be asked to carry it many times per game while Barrett is more slippery and far superior in orchestrating the read/option making that play a more integral part of the playbook. 
The individual production of Jones and Barrett from last season, on a per game basis, is also much more similar than that of Meyer's 2006 situation (Tebow was a true freshman for starters) when looking at various stats including Efficiency Rating (Barrett 169.8, Jones 160.2) and Total Yards per Game (Barrett 314, Jones 261). 
Considering the 2006 quarterback situation is so much different than what Meyer faces in 2015, if he does in fact employ a two-quarterback system it's hard to envision a platoon scenario where Jones and Barrett both consistently see snaps within a particular possession.
More likely, at least over those first 10 games leading up to the home tilt with Sparty, the duo could find themselves in a quarter-by-quarter sharing of duties or even half-by-half, building their individual resumes with an eye on truly seizing the job for the stretch run. 
No matter what scenario you believe will unfold, it's going to be a wild battle that will not be answered simply by who runs out of the tunnel first in Blacksburg.