Throughout Ohio State's championship run last fall, a number of stars stamped their names on the headlines not only in Columbus, but across the nation as well.
Of course, unexpected quarterback sensations J.T. Barrett and Cardale Jones stepped directly from the sideline to national prominence, while Ezekiel Elliott made filling the shoes of a departed second round NFL draft pick look easy. On the other side of the ball, unheralded recruits like Tyvis Powell and Darron Lee regularly made big plays while former five-star players like Vonn Bell lived up to their billing.
So many Buckeyes landed front and center on the big stage that pundits have already predicted as many as five members of Urban Meyer's squad will be selected in the first round of the 2016 NFL draft. Perhaps no one made his presence felt as loud and quickly though as defensive end (and potential top pick), Joey Bosa.
The Ft. Lauderdale, Fla., native should've been used to the spotlight, earning blue-chip status from many recruiting services while leading one of the most prestigious high school programs in the nation to two Florida state titles before ever setting foot on campus. Once there though, Bosa quickly made his presence felt, tallying seven sacks in his freshman season.
Those that expected a breakout season in 2014 were not disappointed, as Bosa would go on to lead the Big Ten in both sacks and tackles for loss. Though he'd make a number of game-changing plays, his signature moment came during a road trip to Penn State when the 6-foot-6, 275-pound sophomore ran through a running back en route to sacking quarterback Christian Hackenberg to end the game.
After leading nearly every highlight show for a week, Bosa became the star attraction of every opposing game plan for the remainder of the season. Specifically, once the Buckeyes hit the postseason, Bosa failed to register a single sack with only one tackle for loss to his name during the three-game stretch of Wisconsin, Alabama, and Oregon.Though the Buckeyes would go on to win all three matchups thanks to the efforts of the remaining defenders on the field. 
In the running game, teams regularly sent double teams toward No. 97 when running in his direction, as Alabama does in the example below. Both tight ends are locked on Bosa without giving even a glance to sliding off to a linebacker at the second level.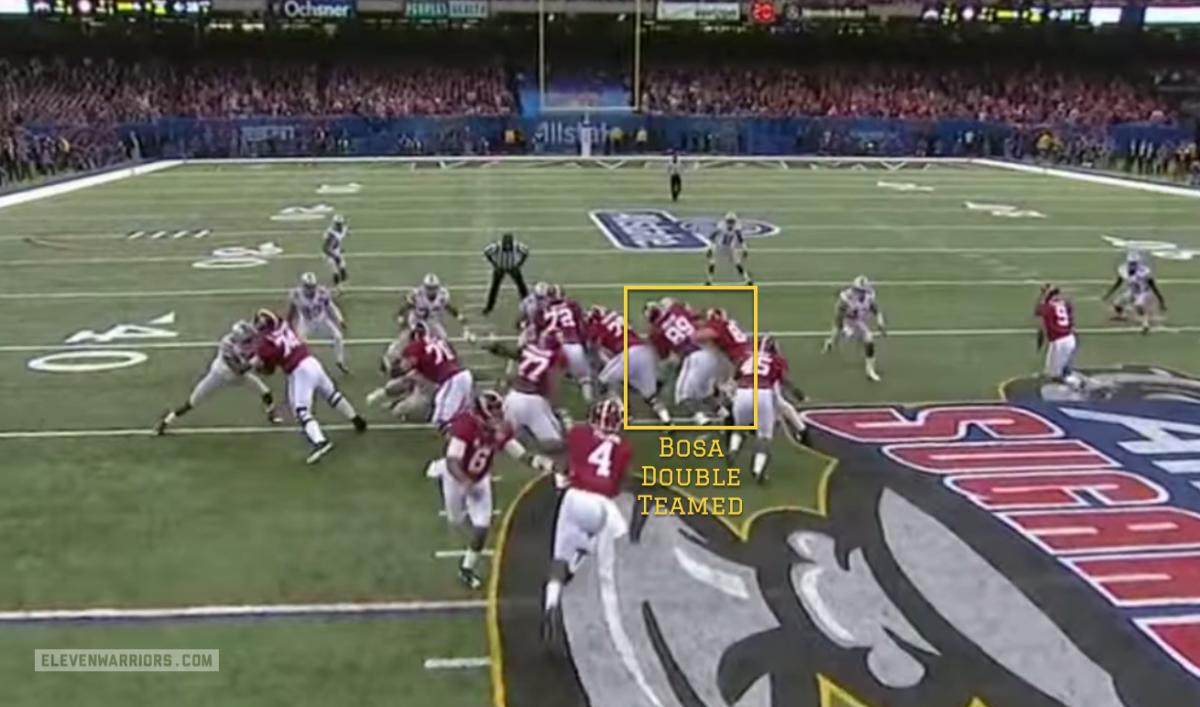 But OSU's opponents didn't stop there. On Michigan's first play of the game, they sent a tight end in short motion back toward the middle in what became a crack-back block on the unsuspecting end, springing the ball-carrier to the outside. The concept should look familiar to OSU fans, as it's the same one that would later inspire a very popular shirt among the 11W faithful.
Offenses also often simply ran away from Bosa, sometimes not even bothering to put a block in him, knowing he'd have too much ground to cover to make a play. Such execution (and a big effort from teammate Michael Bennett) allowed Bosa to recover a fumble against Wisconsin and fall into the end zone untouched, in what was perhaps the easiest big play of his career.
But Alabama would use this success against Bosa in the following game, baiting him into trailing the running back instead of holding contain, and letting quarterback Blake Sims set up for an easy touchdown pass after rolling right past.
Of course, Bosa was paid quite a bit of attention in passing situations, regularly seeing double, or even triple teams, as he saw from Oregon on the first play of the national championship. Meanwhile, his counterpart on the weak side, Steve Miller, sees one-on-one blocking from the Oregon offensive line.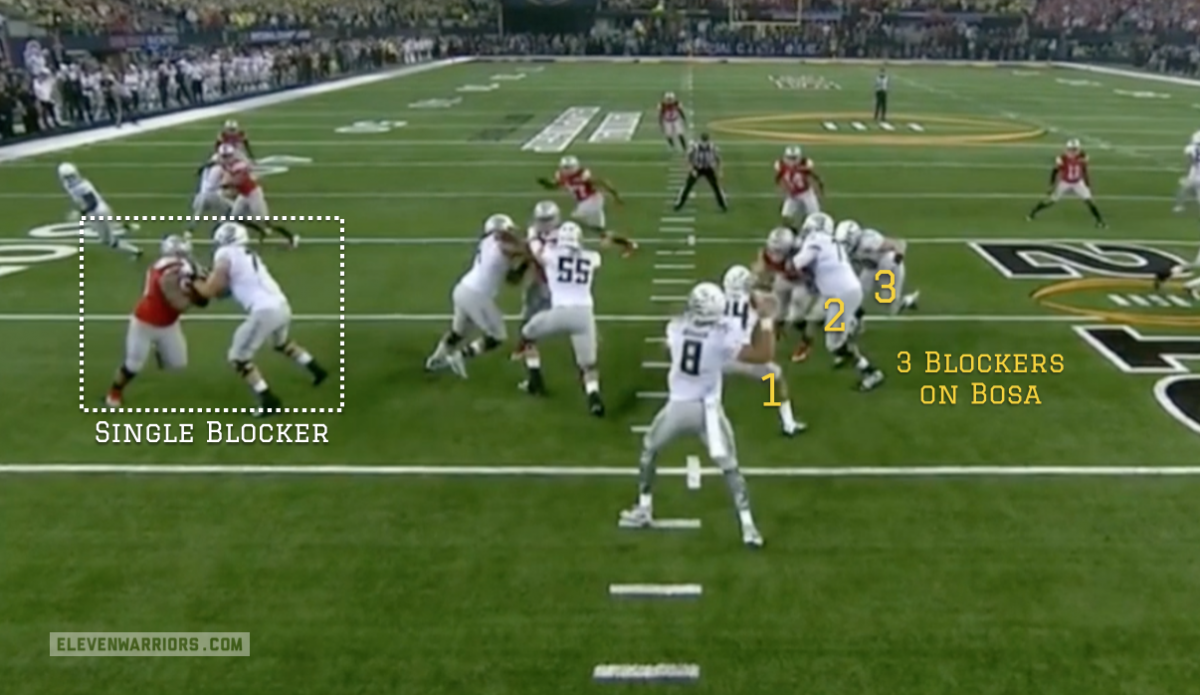 To double him though, opponents usually had to keep an extra blocker in the backfield instead of going out for a pass. Once again though, Alabama had the best response, running a motioned tight end right at him before heading into a route, forcing Bosa to make contact and slowing him down just enough to allow a solo block from the right tackle to be enough.
Of course, it's much more difficult to slow down one member of a defensive line if the others are also capable of making plays, which Michael Bennett showed during the back half of 2014. Often lining up next to Bosa on the strong side of the formation as the '3-technique' tackle, Bennett saw more one-on-one blocking assignments than a player of his ability normally would. However, Bennett and Miller both graduated, leaving two open holes on what may have been the most dominant unit of a championship team. 
Bosa then finds himself in a predicament very similar to one we saw two seasons ago in Columbia, S.C., as eventual top pick, JaDeveon Clowney failed to live up to enormous expectations after putting up almost identical numbers in his first two years on campus.
| Player | Year | Tackles | TFL | Sacks |
| --- | --- | --- | --- | --- |
| Clowney | Freshman (2011) | 36 | 12 | 8 |
| Bosa | Freshman (2013) | 44 | 13.5 | 7.5 |
| Clowney | Sophomore (2012) | 54 | 23.5 | 13 |
| Bosa | Sophomore (2014) | 55 | 21 | 13.5 |
| Clowney | Junior (2013) | 40 | 11.5 | 3 |
| Bosa | Junior (2015) | ? | ? | ? |
Opponents schemed for Clowney in much the same way we saw them do to Bosa late last season, sending extra blockers at him, wearing down the speedy end while frustrating him in the process. Meanwhile, questions arose about his motor and whether his previous season had been a fluke.
Much like Clowney, Bosa will be at the top of every scouting report about the Silver Bullet defense come the fall. However, he will benefit from a much stronger supporting cast than the one Clowney found around him during his final season in college.
It's no coincidence that while Bosa was struggling to put up numbers, Darron Lee was racking up some of his own. With both players lined up to the strong side in the base defense, the extra attention afforded one usually freed up the other.
Few across the nation (and even in Columbus) will likely recognize that fact though if Bosa's numbers continue to wane early in OSU's 2015 campaign. Before jumping on that bandwagon though, take a look at the other names in the box score. There's a good chance the rest of the Buckeye defense is shining while all eyes are on their star.