The Alabama offense has undergone a fairly dramatic cosmetic change under new offensive coordinator Lane Kiffin. Largely gone are the one back, under center, two tight end formations. In its place, the Tide operate primarily from shotgun, utilizing 11 personnel (3 WR, 1 TE, 1 RB). 
As noted, the Tide utilize the same base inside and outside zone run plays from shotgun. But the big difference comes in the passing game. 
Sideline to Sideline
To utilize the talents of Armari Cooper and minimize the necessary throws for first-year starter Blake Sims, the Alabama passing game is primarily horizontal in nature -- passes outside the hashes within seven yards. A significant majority of Cooper's catches come off such quick throws.
As Kyle and I discussed, such throws come packaged off the inside run game. Kiffin motions Cooper in and out of the backfield to prevent a defense from overly focusing upon the wide receiver and to put him in different spots. In essence, Cooper is Urban Meyer's outside and slot H receiver positions rolled into one.
Kiffin's first method to get Cooper the football is with the wide receiver screen game -- both of the bubble and flash screen variety.
Cooper also receives the football on touch pass jet sweeps.
The next step in the Alabama passing game is quick game throws -- overwhelmingly to Cooper. Such hitch and slants also come off tight zone action and are often utilized on first down.
Once Alabama forces cornerbacks to crowd Cooper at the line of scrimmage, Kiffin looks to take shots down field. To throw deep, Alabama often goes back under center and uses two-man hi-lo routes such as post-dig. Given that the majority of the Tide's snaps are from the shotgun, when Sims goes under center the immediate thought should be play-action.
Such vertical routes also generally feature Cooper. But in the SEC Championship game Kiffin sent Cooper on the underneath drag route to open up a deep post to DeAndrew White.
Alabama also employs the occasional stick or bootleg throw to tight end O.J. Howard or fullback Jalston Fowler.
Staying Ahead of the Chains
The Crimson Tide passing game consists almost entirely of this short-long dichotomy. Alabama largely eschews any mid-range, NFL style passing game. This may result largely from Sims' limitations as a passer. In third and long situations he can lock onto a receiver.
Cooper is such a good route-runner that he can use double moves in such situations to beat man coverage.
But Sims' best attribute in third and long situations may be as a scrambler. For instance, he picked up several critical first downs with his legs against Mississippi State.
That is not to minimize Sims, who has made many critical third down plays.
But the fact remains that an opponent would rather put the burden on Sims then allow Alabama to stay ahead of schedule behind Cooper and TJ Yeldon. 
Defending the Tide
Ohio State co-defensive coordinator Chris Ash's 4-3 over, cover 4 defense is designed to defend spread offenses. So do not expect the Buckeyes to radically alter their defense.
But several factors are critical for Ohio State. As noted, the Crimson Tide offense builds off the inside zone run game. If the Buckeyes can render Alabama's running game relatively inefficient it not only puts Sims in third and long situations, but makes it more difficult to get Cooper the football in space off constraint plays.
The Crimson Tide offensive line is very solid. But it is not as talented or experienced as recent Alabama offensive lines. The Buckeye defensive front must re-set the line of scrimmage and maintain gap integrity.
And Ash cannot let his defense get out-leveraged at the point of attack by Kiffin motioning players into the backfield. Although Alabama frequently throws horizontally it is overwhelmingly to Cooper on the edge. Without a consistent slot threat, Ash may be able to cheat walkout linebacker Darron Lee into more of a 4-3 stack position to defend the run. 
Ohio State's other primary mission is defending Cooper. The Buckeyes' cover 4 press bail technique has been very effective against screens this season. That must continue.
Even if the Buckeyes are primarily in quarters look for Doran Grant to line across from Cooper. Ohio State can yield some short completions. But what they cannot do is get greedy and jump double moves. Explosive gains off play action have resulted in critical momentum swings for the Crimson Tide. To that end, the Buckeyes must be prepared to adjust when Alabama does go under center.
Given Sims' threat as a scrambler, Ash must pick and choose when to utilize man coverage or zone blitzes. At times, Sims has struggled with tight zone coverage. But he can make plays when he gains running lanes and defenders' backs are turned. Ohio State must pressure Sims -- but be disciplined in their rush lanes.
One method by which Ohio State can play their base defense and account for Cooper is with a cloud tag.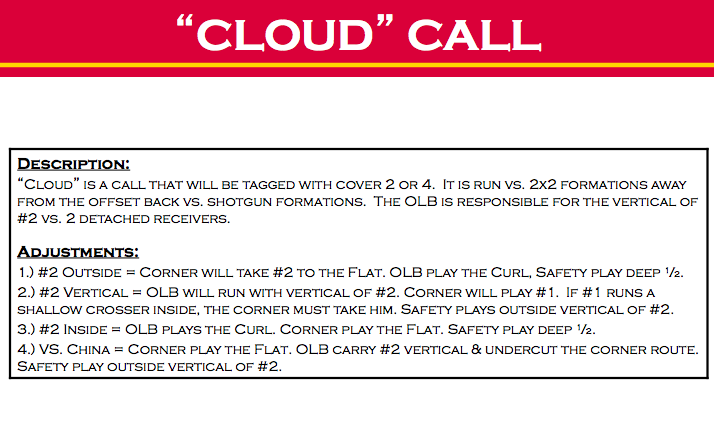 A cloud call makes the outside linebacker or nickel responsible for the inside receiver running vertically. This frees the corner to play more aggressive pattern matching coverage against the outside receiver, knowing that he has safety help deep.
Missouri and Mississippi State had some success limiting Cooper downfield by using similar bracketing principles from cover 2 man under and quarter quarter half.
Ohio State's goal must be to limit the Crimson Tide run game and Cooper's explosive plays. That puts more of the game on Sims' shoulders and allows the Buckeyes to take advantage of their pass rush.