Relax, Buckeye fans: We're not going to peel open any scabs today.
We won't breathe any life back into that dead image you see above - that permanent, crusty black stain on your heart - just because it's the offseason and we need something jarring to wake you up.
This isn't about you and it's much bigger than us: Yesterday sports fans humans around the world were treated to a prodigious helping of comfort through an unimaginable miscarriage of destiny; comforting only because somebody else's dreams were obliterated.
Germany's ruination of Brazil will forever be known as Mineiraço: Brazil's Worst Shame. It was so horrible that it gets its own word. That how historic of a humiliation yesterday was.
Brazil provided the other 98% of the earth's population one of the least-elegant just be thankful for what you have lessons in sports history. There's no need to provide the Ohio State parallels here because you already know what they are. Troy Smith still sees Jarvis Moss in his nightmares, and so do you.
Sometimes we just need to be reminded how small our sports tragedies are in broader context: Brazil was just massacred in a World Cup that it had been hotly anticipating for the past 11 years. This morning millions of devastated young Brazilians woke up for the first time in their lives not awaiting the tournament that's now reaching its climax in their country but without their team.
Brazil constructed seven new stadiums from the ground up, thoroughly renovated five others and spent $14 billion to go with the $4 billion pitched in by FIFA for this month-long festival. Following its winning bid in 2003 it mounted yellow, branded countdown clocks all around the country that had seconds, minutes, hours, days, months and years in them.
Brazil was JUST MASSACRED in a World Cup that it haD been hotly anticipating for the past 11 years.
Those clocks are still on public display, now callously taunting the nation as part of the decorative landscape built by the country hosting the world's premier sporting event. There are still clocks, but no countdown. There are only endless tears. 
It's that bad. Oh, and it gets much worse.
This Sunday the World Cup Final will be held at Estádio do Maracanã in Rio de Janeiro, which was one of those five stadiums Brazil had renovated in anticipation of 2014. Maracanã made its debut during the 1950 World Cup; the only other time the tournament was hosted by Brazil. That same stadium was the site of 1950 final as well.
There are about 15 million Brazilians today who still remember what happened there  in 1950 when the concrete was fresh and the original wood was unweathered. The country's golden era for soccer was still a couple of World Cups away from commencing. Pélé was ten years old.  
Brazil advanced to that final match after drawing with Switzerland 2-2 but rolling Mexico 4-0, Yugoslavia 2-0, Sweden 7-1 and Spain 6-1; those last two blowouts leading up to the championship. All of Brazil's games were played in the brand-new Maracanã with attendance figures reaching upwards of 150,000. < - - not a misprint
Its title opponent was Uruguay, who struggled with the two countries Brazil beat by a combined score of 13-2: It bested Sweden 3-2 in the closing seconds after coming back to play Spain to an uninspired 2-2 draw.
That meant the glorious dedication of Maracanã would coincide with the coronation of Canarinho, the nickname for Brazil's national team which was created at that World Cup and is still used today.
As such, the celebration began days before the game was even played.
The Internet wasn't even an unremembered dream in 1950. Dewey Defeats Truman was only 18 months old back then. The media - which today still struggles with haste - often beat facts to the punch to report the news back then too, and this wasn't a strictly American political phenomenon.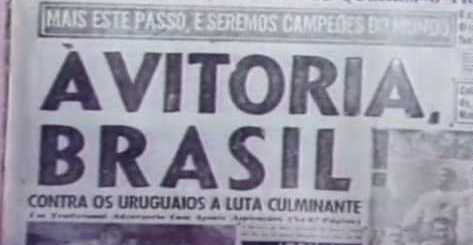 Newspapers the morning of the game (!) already declared Brazil the victor, and Uruguay's captain Obdulio Varela bought as many editions as he could. He didn't hang them up; instead he laid them out on the locker room floor because Uruguay doesn't believe in bulletin board material.
They make urinals out of that stuff instead: The team peed on all of the newspapers prematurely declaring Brazil as Champions of the World and then promptly went out and beat the host nation 2-1 in front of over 200,000 people. 
That catastrophe has its own word too: Maracanã. Yes, the name of the stadium that was scheduled to be freed from imprisonment this weekend which yesterday spectacularly failed to make parole.
You haven't heard 200,000 silent people in your life. It's much quieter than 100,000 silent people, especially when the only sound being made is by a handful of euphoric Uruguayans.
Sixty-four years later to the month: An historic and gruesome 7-1 demolishing by Germany, which in 1950 was an occupied country split in half and forbidden from participating in the World Cup. Maracanã's ghosts will not rest, though Brazil should eventually get to host another tournament - in the latter half of the century.
Brazil's love for the soccer is marrow-deep within its citizens. It had also fought to earn all of the glory to meet and exceed its own misery, and there's that Ohio State football parallel sneaking back into your head again. Remember, this isn't about you and it's much bigger than us. It's also far more traumatic.
Florida will never beat Ohio State 41-14 in Ohio to set up a BCS title game with Michigan in the Horseshoe.
Games like the one Brazil lost yesterday are transcendent. They permeate the traditions of its citizens, making them eternal victors or rhapsodic victims. These calamitous losses can't be confined to the boundaries of a stadium, the sports page or the news cycle that month. Les jeux sans frontières become part of the national culture and are sewn into its fabric.
For Germany, where showing too much nationalism still frightens a lot of non-Germans, yesterday's victory could be a breakthrough, as post-reunification Germany has never won a World Cup. The only final it's ever reached it lost - to Brazil 12 years ago.
This afternoon the Netherlands - the 2010 runners-up - plays Argentina, which is the Michigan to Brazil's Ohio State. The last time Argentina reached a World Cup final it lost...to (West) Germany.
So imagine the following scenario for Brazil this Sunday: Germany, which just delivered a humiliation sans pareil, playing the host's arch-rival for soccer's highest honor on the field in Maracanã in front of the whole world and all of those restless ghosts.
There is no parallel. This is sports anguish without peer.
Florida will never beat Ohio State 41-14 in Ohio to set up a BCS title game against Michigan in the Horseshoe. You laugh at the idea of that kind of pain because you know it's impossible. 
Well, it's impossible for us. Two hundred million Brazilians will find out this afternoon if that unimaginable nightmare is their reality. Think about that the next time Ohio State breaks your heart, which it most certainly will. 
So obrigado, Brazil. Danke schoen, Germany. The whole world should benefit from the horrifying perspective you furnished together; especially we eternally rhapsodic victims from Columbus, Ohio.