Ohio State's 2017 recruiting class currently sits atop the national rankings. In fact, despite having just 11 commits in the fold, the class would rank in the Top 25 for the 2016 team rankings. With numbers looking a little tight, the 2017 class may end up being a little smaller than recent years, but the "star average" has the potential to be second-to-none. 
We've talked a lot about the potential of the 2017 wide receiver class, and while no pass-catchers are currently committed, the class is still on track to feature one of the best wide receiver hauls in recent memory. 
Let's break down the Buckeyes' 2017 wide receiver board. 
---
1. TREVON GRIMES • FORT LAUDERDALE, FL (ST. THOMAS AQUINAS) • COMPOSITE RANKING: NO. 11

A familiar name from a familiar school, and many fans have been wondering why the 6-foot-3, 180-pounder still isn't a member of Ohio State's 2017 class. The answer to that may very well be because the five-star hasn't been to Columbus since last summer.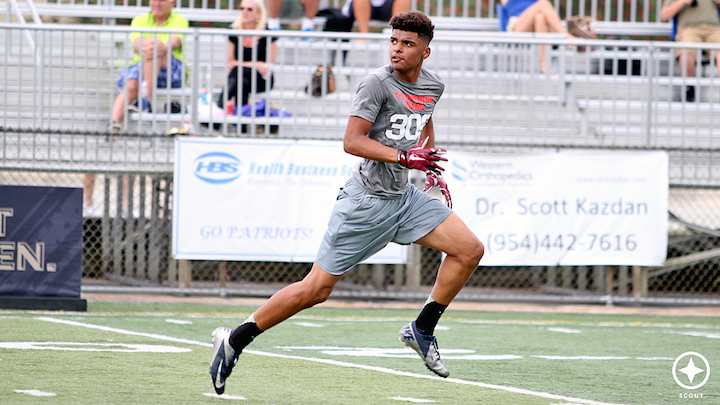 There's no question Grimes is the top priority for Meyer and Smith, and the Indiana native hasn't been hiding his affinity for the Buckeyes. 
Grimes spoke with Scout.com's Chad Simmons last March: 
"I am from up north, so I have always liked Ohio State," said Grimes. "Ohio State is No. 1 for me and they may be hard to beat. I love the coaches, the atmosphere, how they play, and I grew up watching them."
This feels like one of those recruitments that some may get worked up about for no reason. Grimes will certainly continue to take visits and could very well do the same even after a commitment is made. He checked out Gainesville in late January and continued to say all the right things while scoping out one of the few schools who could challenge the Buckeyes. 
5-star WR Trevon Grimes, Class of 2017, gushes about Buckeyes even while enjoying Florida visit https://t.co/QKoSqsTEoo via @247Sports

— Larry Phillips (@Ohiopreplegends) January 31, 2016
The Buckeyes are hoping for a visit this spring, and it could take something catastrophic for this one not to pan out.
2. TYJON LINDSEY • CORONA, CA (CENTENNIAL) • COMPOSITE RANKING: NO. 16

While Grimes may be the nation's best outside receiver, Tyjon Lindsey could be the best in the slot. At 5-foot-9, 165-pounds, the five-star appears to be a perfect fit for Meyer's spread attack. After attending the prestigious Bishop Gorman program in Las Vegas, Lindsey recently announced that he would be back in California for the 2016 season; closer to where his family resides. 
Smith visited with Lindsey back in December and was back for a return visit just two weeks ago. For a while, many thought he would follow his former quarterback — Texas A&M commit Tate Martell — to College Station, but since the move back to California, Oregon and USC have also been mentioned as potential landing spots. 
The commitment of Haskell Garrett, a close friend of Lindsey's, certainly doesn't hurt the Buckeyes' chances. In Wednesday's Hurry Up, Lindsey mentioned the possibility of making a spring-time visit to Columbus. 
Interestingly, 247sports.com insiders for Texas A&M (Taylor Hamm) and Oregon (Justin Hopkins) both identified Ohio State as the team to beat this week. More importantly, our very own Lord of Whispers put in a crystal ball pick for the good guys on Tuesday.
3. JAYLEN HARRIS • CLEVELAND, OH (CLEVELAND HEIGHTS) • COMPOSITE RANKING: NO. 143

Perhaps the most physically gifted wide receiver target resides within the state of Ohio. Cleveland's Jaylen Harris was on the Buckeyes' radar long before receiving an offer this past June. He was then in town for Friday Night Lights in July and attended multiple games last fall. At 6-foot-5, 210 pounds, Harris is another big, strong receiver who projects as more of a split end. 
Ohio State showed a lot of love, had a great time at Ohio State for junior day!! pic.twitter.com/Cv1aI2SkBS

— Rest Easy Grammy (@JHarris5_) January 31, 2016
The four-star was back in Columbus a few weeks ago for Ohio State's junior day, and the Buckeyes continue to be the team to beat. 
Alabama, Georgia, Michigan State, and Tennessee have also extended offers. Harris currently doesn't have a timeline for a commitment. 
4. DONOVAN PEOPLES-JONES • DETROIT, MI (CASS TECH) • COMPOSITE RANKING: NO. 9

According to the 247sports.com composite rankings, the No. 1 receiver in America hails from Detroit; specifically, from a school that has developed into a bit of a pipeline for the Buckeyes. The recruitment of Donovan Peoples-Jones appears to be just beginning, and the five-star looks like someone who is definitely willing to leave the Midwest. 
Last month, the 6-foot-2, 192-pound wideout released his top-10 schools. The list included all of the usual Midwest powers plus schools like Alabama, Florida and USC. It's way too early to even begin speculating on how this one is going to end up, but the Buckeyes look to be in a good spot for now; though it's nothing to get too excited about just yet.
Peoples-Jones was an expected visitor for January's junior day but was unable to make the trip.
5. EMMANUEL GREENE • FORT LAUDERDALE, FL (IMG ACADEMY) • COMPOSITE RANKING: NO. 173

Ohio State's recruitment of Emmanuel Greene has been a bit of an up-and-down one. Last summer, Greene and his family took a week-long trip to the Buckeye State for a visit that many expected would end with a commitment. When no commitment took place, Greene seemed to go quiet for a bit before later identifying Ohio State and Miami as his leaders.
"I could commit to any school on any given day," he stressed. "I'm not sure when it might happen, it could be early or it might be later on when I'm a senior." Via
At 5-foot-10, 170 pounds, Greene is another slot receiver, not unlike the aforementioned Lindsey and 2016's Sam Bruce. With the Buckeyes electing to pass on Bruce, it will be interesting to see how many slot wideouts they take in 2017. 
---
So for now, that is who we have sitting at the top of the wide receiver board. There are certainly a number of other targets who could move up the list. National recruits like Jeff Thomas, Keyshawn Johnson Jr., and Jerry Jeudy have all been offered already. In the state of Ohio, Springfield's Danny Davis and Maple Heights' JaVonte Richardson are both in the running, though they currently appear to be on the outside looking in. 
The Buckeyes are expected to take at least three wide receivers in 2017, and right now they are in great shape for Grimes and Harris while things look to be trending upward for Lindsey.